There were some sad omissions from the interesting article about Royal Enfield two-strokes (OBM April) because, between the 1920s and 30s, the firm made several other such machines using their own engines.
Then in the mid-1960s Royal Enfield produced the GP5 two-stroke racer with an engine designed by Hermann Meier and a Ken Sprayson frame. Some people consider it to have been a failure, and yes, they did rush it into production before it was really sorted, but it has an interesting record for a 'failure'.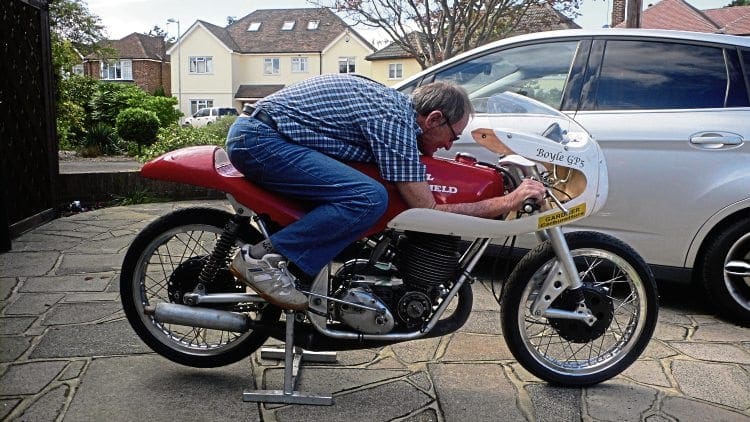 It is, I believe, the only Royal Enfield to have gained FIM World Championship points, with a fourth place and three points for Selwyn Griffiths at the 1966 Ulster Grand Prix – his only ride on the bike.
Percy Tait was clocked at 132mph on one of the machines in the 1965 North West 200, and bikes powered by GT5 engines held six world speed records, one for George Brown and five for Adrian Renard.
In the mid-1960s John Swannack finished fourth in the British 250cc championship against a horde of Yamaha TD1s – not too bad considering the small number of machines produced.
GP5s are still racing, and in 2009 Andy Hunt won the BHR 350 Specials Championship
on one.
I have attached a photo of Gordon Keith getting down to it again on a GP5 in 2013. At the time I found his first comment that "the tank is lower than it was on my bike" quite amazing, as he hadn't sat on a GP5 since 1965, and the tank really was lower than his own – by about an inch – because his works bike had a larger Isle of Man tank, and the one he was sitting on was a production version with a smaller tank.
Andy Boyle,
Email
Many thanks for an interesting letter, Andy. Because of the space available in last month's issue of OBM, the intention was never to describe every two-stroke model that RE built, but rather to select a trio of notable examples. Ed.
Read more Letters, Opinion, News and Features in the May issue of OBM – on sale now!