In reply to Jamie Allium's letter in OBM May 2020 regarding Chic Parr.
In my late teens and back in the late '60s, I bought a battered old Velocette MAC GPP 201, which had had numerous owners around the town.
I got it cheap from one of my mates, after he had crashed it with a sidecar frame attached.
As I had passed my test, the chair came off and I got it going on the road where it soon became my pride and joy, transporting me regularly to work, technical college at Northampton, Mallory Park and I even quarter-mile sprinted it at Santa Pod! I seem to remember it was very reliable and never let me down, apart from the occasional smoking clutch!
Although the Velocette was only a 350, I wanted it to look like a Thruxton, which was the bike of dreams in the '60s, so I made weekly pilgrimages to my local Velocette dealer – which was of course Chic Parr's at Linslade – and spent my weekly wages (which were not much) on various Thruxton parts which Chic was only too glad to sell to me!
With the addition of a Thruxton humped seat, Clubman silver painted tank, ali guards, swept back exhaust, rear sets, clip-ons and Venom front wheel, it really looked the part.
What it lacked on the straight in speed it made up for round the bends as it really handled well and I could give my mate Tim a good run for his money on his Triumph twin!
As ever it had to end in tears, and late one night in 1970, an Austin A45 turned across in front of me and the Velocette was into the side of the car.
I suffered a very serious foot injury which kept me off work for a year but, luckily, I kept my foot as it was at a time when hospitals just seemed to go straight for amputations, as was the fate several of my mates suffered after their motorcycle accidents. (Fortuitously, my surgeon was Mr Nigel Cobb who later saved Barry Sheene's legs).
Even though crash helmets were not compulsory until 1973, I was lucky enough to be wearing a crash helmet, which split open when my head hit the road! The Velocette was a wreck and my solicitor advised me to get it back to Chic's for an estimate as part of the damages claim. So off it went.
It was while it was there that I found out Chic had died and my bike was impounded due to complications with his estate and business.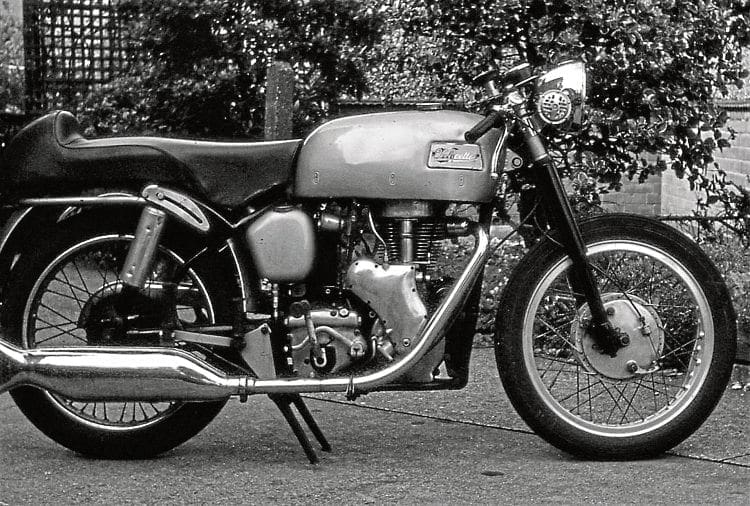 It languished outside at Chic's for a year before I got it back, and despite having a tarpaulin over it at the start, it was uncovered, filthy and rusty when I finally collected it.
It was a very sad sight and as I was short of cash, having been off sick for so long, I sold it in 1971 for £10 (yes £10), along with spares and manuals!
I got on well with Chic and used to skive off to his Linslade workshop in the day, which from memory was on the south side of Old Road, close to the Stoke Road junction, when I should have been mending televisions.
His workshop was typical of an early '70s dealer and a great place to visit and chat, and I can remember seeing his racers on the bench.
Article continues below...
---
---
In the workshop there was a dustbin-style heater that burnt old engine oil and gave off horrible fumes, but gave out plenty of heat.
Chic said to me once, if the fumes from the heater didn't get him his fags would. Sadly, he died of cancer aged 41 in 1970 and his obituary clipping from MCN attributes him to being the builder of the highly successful 250 Parvel raced by Dave Williams and Keith Powell in the early '60s. It was also stated that he was well advanced with the building of a Velocette-powered 500 special.
I seem to remember that he was taken ill in the Isle of Man, where he was racing/testing the special.
Chic's workshop then became a car sales garage.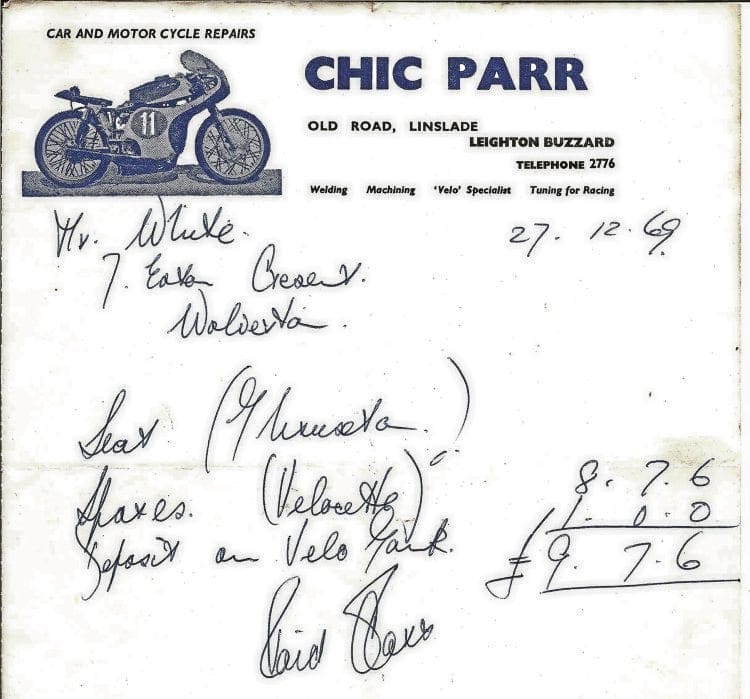 I have attached a parts sales invoice from 1969, which has a racer on the header, but it is a job to make out what it is. The '60s pricing is quite interesting, especially compared with Velocette prices now.
I cannot believe now how easy it was for me to just buy Thruxton parts off the shelf, when on apprentice pay!
Looking at Google Street View, I could find no sign of the old workshop, despite little development in Old Road.
A further Google search shows that there are a couple of Chic Parr related articles in early 2000 VOC Fishtail magazines, so hopefully someone in the club can provide some more information.
Also, from Google I found a 1960 race programme for Aberdare Park road races, where the Parvel was in the 250 race alongside an M Hailwood on a Mondial!
Finally, GPP 201 where are you?
Brian White
Stony Stratford
Read more Letters, Opinion, News and Features at www.oldbikemart.co.uk and in the August 2020 issue of Old Bike Mart – on sale now!

Enjoy more Old Bike Mart reading in the monthly paper.
Click here
to subscribe.