Proof, if any were ever needed, that there's a future in looking after things from the past has landed on the OBM doormat from Draganfly Motorcycles in deepest, darkest Norfolk, with an announcement regarding one of the company's staff members…
It starts with this sentence…
"Following your interview, we are pleased to offer you the position of storesman at £150 per week."
To place that in context, back in the summer of 1990 Draganfly was expanding, having moved from London up to rural Suffolk four years previously, and the firm advertised for a dedicated storesman in the local paper.
They received a hand-written application from Michael Holmes, then just 26 years old, but already quite the motorcycle enthusiast.
"I have had a keen interest in British motorcycles since the age of 15 and over the past 10 years I have rebuilt and restored many, and I now have a small collection. At the moment I am restoring a BSA B33 and a Series One Land Rover," he wrote.
After getting his electrical engineering apprenticeship and a City and Guilds qualification, Mick spent some time as a tester and electroform engineer for the MoD.
When he saw Draganfly's advert he thought he could combine his technical knowledge with his hobby of motorcycle restoration.
"I have been a member of the BSA Owners' Club for the last eight years and I have been the Norfolk branch secretary for the last two years.
"I am now 26 years of age…and I feel that I would now like to work where I would use my skills and knowledge of motorcycles more," wrote the young Michael.
He was offered the job a week or so later after meeting with brothers Roger and Graham Gwynn. So this July Mick has been with them for three decades.
While he started out as storesman, and there wasn't a BSA part number he didn't know, he is now an engineer in the workshop making a lot of Draganfly's in-house parts.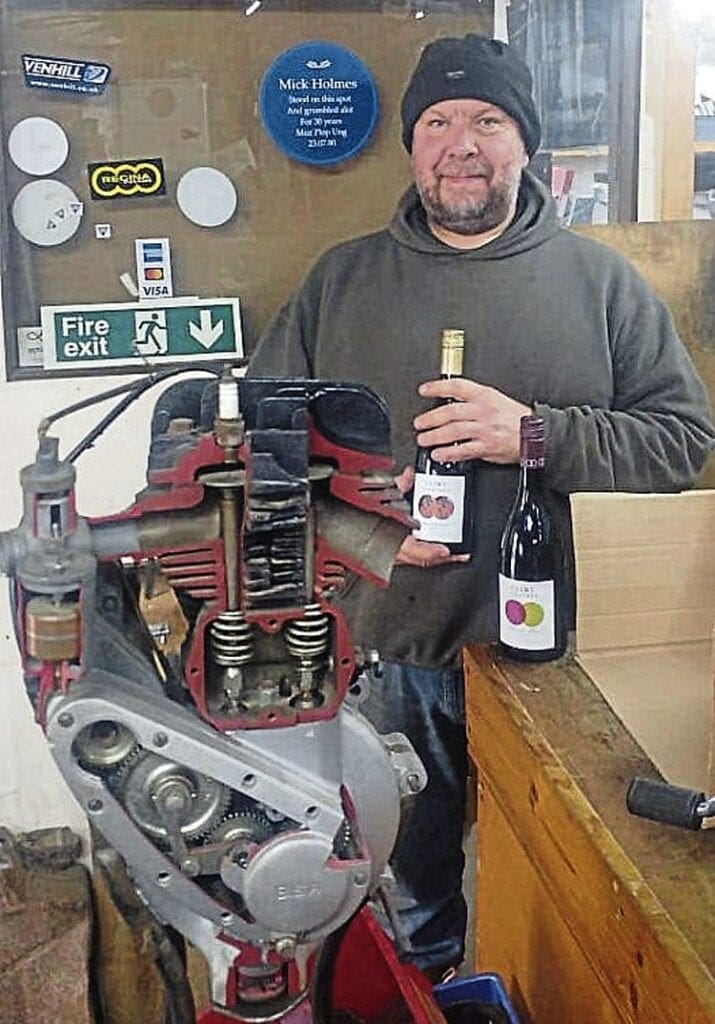 He rides one of his many motorbikes to work every day (unless there is thick snow on the ground), and is only late when he's had to help fix the Reedham ferry to cross the river Yare that lies between home and Bungay.
Anyone who knows Mick knows he loves military history and he often travels to France for commemorative events in period uniform.
He won't say no to any glass of French red either. He doesn't suffer fools easily but loves animals (especially the firm's adopted workshop cat, Hector, who gets sardines from Mick for breakfast) and brings a lot of humour to the shop, as well as the odd afternoon of loud, odd 1960s psychedelic music…
Draganfly staff presented Mick with some of his favourite things – membership to a local vineyard including a big case of wine and cakes, along with a blue plaque to commemorate his old desk where he sat for many years dealing with stock and suppliers.
As the bosses at Draganfly said: "Yep it's been 30 years, you're stuck here now Mick!"
Read more News and Features at www.oldbikemart.co.uk and in the July 2020 issue of Old Bike Mart – on sale now!
---
Advert

Enjoy more Old Bike Mart reading in the monthly paper. Click here to subscribe.
---