Thanks for a monthly very enjoyable read which included an article on the wall of death. A while ago, the Dorking Centre of the Velocette Owners' Club invited a gent who had many years of experience of contact with the wall.
He gave an interesting lecture with pictures of the action worldwide. His voice was quiet and accompanied by a persistent cough, which he explained was due to years of breathing in the exhaust gases of the various machines he'd used.
A big twin Indian must have pumped out many cubic feet of C02, proving the dangers up on the wall come not only from a fouled sparking plug!
Brian W Ling
Reference to your 'globe of death' in December's OBM. Sixty-seven years ago, I was a 17-year-old apprentice joiner at Collier and Catleys in St Mary's Butts, Reading. The Palace Theatre in Cheapside, Reading, required a carpenter urgently to repair a floor.
A joiner and myself were sent to the theatre where the globe of death, a lattice of steel on four iron wheels, had sunk into the old stage flooring. We repaired it, only for it to happen again. The next day after repairs, they pulled it on stage on a sheet of steel.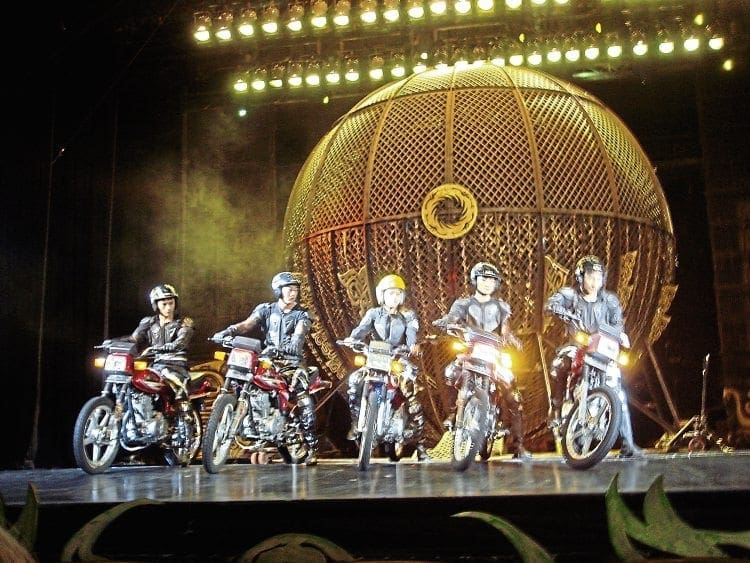 There were two foreign riders and the bikes were two-strokes and were not running right. A mechanic from Great Western Motors in Station Road, Reading, was sent for to attend to them and I remember the mechanic being appalled at their condition.
I didn't take too much notice, and kept my head down as a knife thrower was practising above our heads. Health and safety, what was that?!
Joe Rush
I was interested to read John Harding's letter in the December issue regarding the 'ball of death'. In 2014, my wife and I were on holiday in China.
Our last night saw us in a nightclub in Beijing. The curtains opened for the last act, and there it was, a steel ball similar to what John described.
At first just one rider zoomed on to the stage from the wings and entered the ball. Nothing special in that, I thought. Then a second rider zoomed on to the stage and joined the first in the ball, then a third. Hum, getting a little more interesting!
A forth, and finally a fifth rider entered the ball. No, you did read it correctly. Five riders, three men and two ladies – headlights blazing, seemingly circulating at all angles. What a show!!
Bruce Pettman
Tetney, Lincolnshire
Read more Letters, Opinion, News and Views in the February 2019 issue of OBM – on sale now!