I smiled as I watched my two-year-old granddaughter Elsie playing in the sand. With the help of her mum, she was trying to make sandcastles, patiently filling her little red plastic bucket before tipping it upside down and hoping to make perfectly shaped castle turrets just like those she'd made by the seaside a couple of weeks earlier.
Each time she lifted her bucket, however, all she got was a pile of sand, for this wasn't traditional seaside donkey sand but Hawkstone Park sand – an entirely different substance from anything she'd played in before.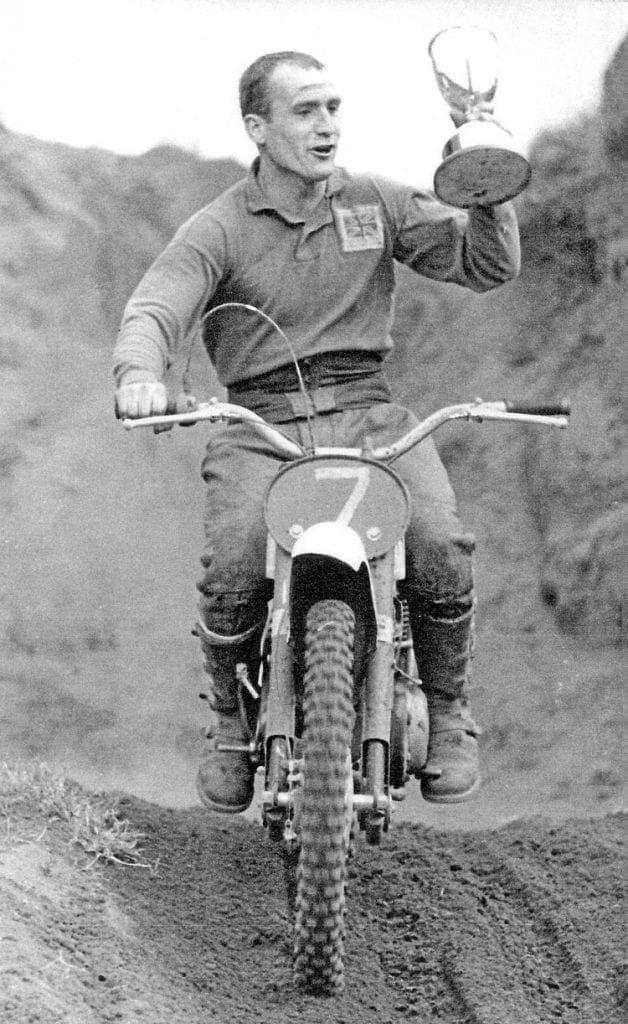 Hawkstone Park sand is notorious in motocross circles. It can bring rough, tough motocross men including world champions close to tears, for after lodging itself in the most intricate bits of racing machinery, it can send big-end bearings right through the sides of crankcases.
I've witnessed it almost strangling to death the most powerful of engines. It gets into your trackside cuppa, it ruined my brand new Russian camera back in 1966 – and on that same day it was responsible for pop idol Roy Orbison* breaking his ankle! Yes, you have to treat Hawkstone Park sand with the utmost of respect.
Try as I might, I find that modern-day motocross fails to conjure up quite the same kind of magic as that of the 1960s, when a couple of farmers' fields, roped off and fashioned into a circuit, a St John Ambulance squad at the ready and a Morris Minor van with a loudspeaker on the roof was enough to bring crowds flocking through the gates.
That scene included riders of the calibre of Alan Clough, Bryan Goss and Terry Silvester – and the fact that all three had pledged their support to the Cumbrian Twinshock Club's Hawkstone Park Festival of Legends event over the August Bank Holiday weekend drew me back to the Shropshire circuit.
Now in its second year, the event is gaining strength. Darren Hudson, Geoff Shuttleworth and their eager gang of Cumbrian workers put on a great show, and 27 races for period machinery on the Sunday, followed by a further 18 on the Monday, gave the rogue circuit a free hand to damage flesh, blood and motorcycles at will.
Yet any rider who signs a Hawkstone Park entry form knows the odds – and despite the bumps, lumps and bruises, the smiling faces in the paddock told the story.
Monday was 'Legends' day, and with his brisk and bouncy interviewing techniques Jack Burnicle was just the man to tease the secrets from the scrambling stars of yesterday – not that Roger Harvey and Pete Mathia needed much prompting! Both former British champions, and Yamaha teamsters together, they proved themselves on the grand prix warpath and rode at Hawkstone many times.
Now in his mid-sixties, Mathia still sports a physique as slim as a wet stick, and competed his five-race programme with ease before putting in a couple of demonstration laps for
good measure.
It all began by carting his scrambles bike around the country lashed to a sidecar outfit, washing his bikes off in local farmers' cow troughs and just enjoying the sport.
Terry Silvester got to those meetings by simply fitting a set of lights to his 197cc Greeves Hawkstone and riding there – with his wife on the back as pillion passenger! Upon arrival he'd plonk her on a wall, strip the lights and then try to win a quid or two to keep his wife happy on the way home.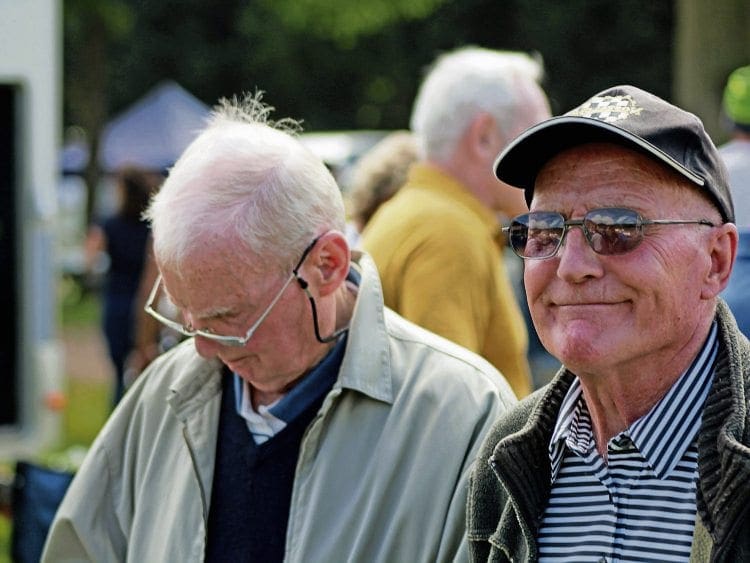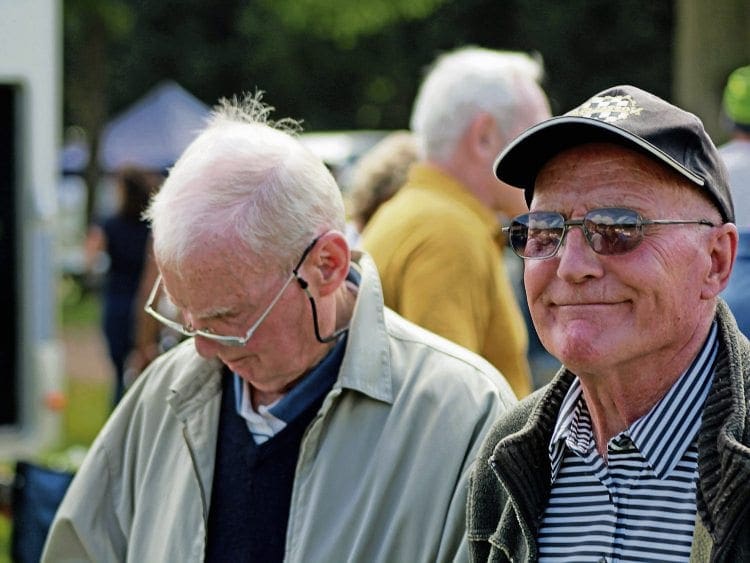 Such hard-earned prize money was never easy to come by, particularly if Alan Clough was racing his Dot in the same roped-off field. As Alan chatted away to Jack Burnicle, the journalist's photographic memory unearthed records and results from Alan's career that the rider had long forgotten about – mostly, one suspects, through sheer modesty.
Clough was a master of Hawkstone Park, and can boast of beating both Jeff Smith and Dave Bickers there. One memorable day in July 1964, he won the coveted Brian Stonebridge Memorial Trophy, the Midlands Championship and two more finals for good measure.
When the last race had been run, the trophies presented and the loudspeakers unplugged, I looked again for Elsie. She'd finally given up on the sandcastles and was occupied with another kind of castle – one that bounced!
At just two years of age, it's doubtful whether she'll ever remember the second running of the Hawkstone Park Festival of Legends, or the errant sandcastles she'd so desperately tried to build. But at least she'd shown determination – and determination is what you need to succeed at Hawkstone.
*During his 1966 tour of Britain, American singer Roy Orbison decided to visit Hawkstone Park as he was appearing in nearby Derby that same evening.
Having held the chequered flag for a couple of races, he decided to do a demo ride on Dave Bickers' CZ, but inevitably this ended in disaster when Roy fell in the Hawkstone sandpit and broke his ankle. "How do you navigate in that stuff?"he asked Bickers. The show in Derby went on before the singer paid a visit to the local infirmary to have a 'pot' fitted.
Michael Mee,
Email
Read more Letters, Opinion, News and Views in November's OBM – on sale now!