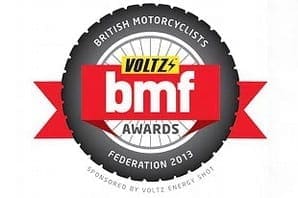 Triumph Motorcycles scooped the Best of British Award – one of several categories voted for by the public – and the firm's Tiger Explorer won the BMF's Most Desirable Bike 2012 award, also thanks to the popular vote.
The BMF Essence Award went to John McGuinness and the Honda TT Legends team while the Piaggio MP3 Hybrid won the Keep It Clean Award.
Best Product 2012 went to the Garmin nüLink 1695LMU sat nav and the BMF Training Award was picked up by Alan Wright's Leicester Phoenix Rider Training Scheme.
The local award for best BMF Show Club Stand went to the Cambs and District Looney Club while the national version went to the Triumph Motorcycle Club.
The awards were voted for over a period of two months and were sponsored by Voltz Energy Shot.
Triumph Motorcycle Club president Roy Shilling accepted the award on behalf of Triumph.
"Triumph has been producing bikes now for over 110 years," he said.
"The firm always was and remains quintessentially British. Triumph has got that ability to be able to design and manufacture things that people want to buy. Whether it's brand new bikes or classics, they remain desirable bikes."
Guy Masters, general manager at Triumph Motorcycles, said: "We were delighted to hear that Triumph won 'best of British'. It's a pleasure to know that the marque is so well liked and respected by BMF members and we were pleased that the Triumph owners' MCC was able to collect it on our behalf, given its long-standing association with and passion for Triumph.
When told he'd won the BMF Essence Award, John McGuinness said: "Wow, that's fantastic news. I'm really humbled. I'm just a normal chap from up north that loves two wheels and I'm just lucky that motorcycling is my job. Thank you to everyone that voted for me, it means a lot."
Piaggio spokesman Phil Read said: "To receive this award is an honour for Piaggio Group and is a very welcome recognition of our pioneering research into future alternative fuel vehicles.
"Users no longer have to choose between performance and ecology, between a vehicle limited to short city centre journey and one capable of longer journeys. Our MP3 Hybrid uses a revolutionary hybrid drive system to combine the range advantages and back-up of a petrol engine with the benefits of a zero-emission electric motor."
Garmin PR manager was also pleased that his firm had won an award. He said: "It is always a great pleasure to see our products receive awards, especially if they are voted for by the reader. Since the nüLink 1695 LMU was released, it has become a popular choice for motorist.
"Garmin has continued to develop its automotive products and recently launch a new nüvi range that includes free lifetime mapping updates and subscription free digital traffic."
Alan Wright was nominated for and won his award for his work with the Blue Riband Award, as well as his long-term commitment to road safety and instructor training.
"Thank you BMF for this award!" he said. "I am particularly proud to have been the first recipient of the Award. Rider training is going through a difficult time at the moment, but I have every confidence that the BMF will continue to work towards finding a solution to the problems facing new motorcyclists."
Leicester Phoenix RTS began in the late 1970s and, after the demise of the RAC/ACU in 1982, it became affiliated to the BMF. Alan was elected BMF director of rider training and while in post he wrote and developed the BMF Blue Riband Award for advanced riders.
For more details visit www.ridermagazine.co.uk