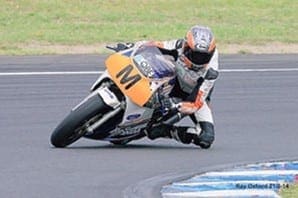 As well as her Island success, Maria Costello also appeared in the Barry Sheene Festival of Speed in Australia in March. The Hampton Downs meeting champions classic and post-classic solo racing, classic and modern sidecars, and this year's event also celebrated women motorcycle racers from Australia and New Zealand.
"It ties in perfectly with my role as an FIM Women's Training Camp instructor and being on the FIM Women's Commissioner," said Maria before she left.
After taking a fifth place in the recent 500 Classic TT, Maria was back on board Steve Kairl's 1988 Honda RS125 and Rob Francis' Honda VFR400 that she rode in Australia. Other rides were due to include a Manx Norton owned by Bruce Verdon of TT Industries and possibly an Aermacchi as well.
• Meanwhile a "new beginning" has been hinted at for Britain's largest motorcycling organisation, the British Motorcyclists' Federation (BMF).
Chairman Roger Ellis told the group's annual meeting in Rugby on October 11 that this year had "not been without issues – from staffing to the BMF Shows".
However, he added: "With the appointment of our new government relations executive Graeme Hay, and the positive reaction to proposed changes in the BMF Show format, we look forward to 2015."
Graeme gave a presentation on issues facing motorcyclists, such as self-driving cars, lorry cab visibility and the standard of road dressings.
"The technical and legislative changes faced by motorcyclists are today greater than ever," he said, "but the BMF has become re-energised and has been transformed into a financially-sustainable organisation that's better informed, better connected and more capable of representing riders' views in all the places that really matter."
To find out more about the BMF, visit its www.bmf.co.uk website.