Over the last few months, Steve Cooper has stomped through Yamaha's earlier back catalogue of machinery, showing the steep learning curve that the factory covered in those years…
Even if the factory had adopted the more logical format of horizontally split crankcases for the seminal 350cc YR1 in 1967 it had persisted with the more arcane vertically split setup for every commercial and privateer 250.
Someone, somewhere, at the Iwata HQ didn't want to let go of what was a proven design but eventually the accountants had their way.
It was decreed the company would realign all of their two-stroke twins to utilise the horizontally split crankcase design that was now common to both of Yamaha's main competitors, Kawasaki and Suzuki.
In a nutshell, the later style of engine was dramatically cheaper to cast, machine and build.
Planning teams and production schedulers met with the R&D boys to discuss how the 1970 model year two-strokes would proceed and, for arguably the first time in Yamaha's export history, there was going to be a collective, company wide, corporate image.
Based around a pair of one dominant and one background colour, the so-called Europa look was evolved.
The all-new 250s and 350s were among those chosen to be in the vanguard of the Europa launch and even before a single test ride had been arranged the pair were pronounced by dealers as being jaw-droppingly gorgeous.
The YDS7 250 arrived in a candy yellow and flat white paint scheme that was so totally and utterly bright, vibrant and fresh.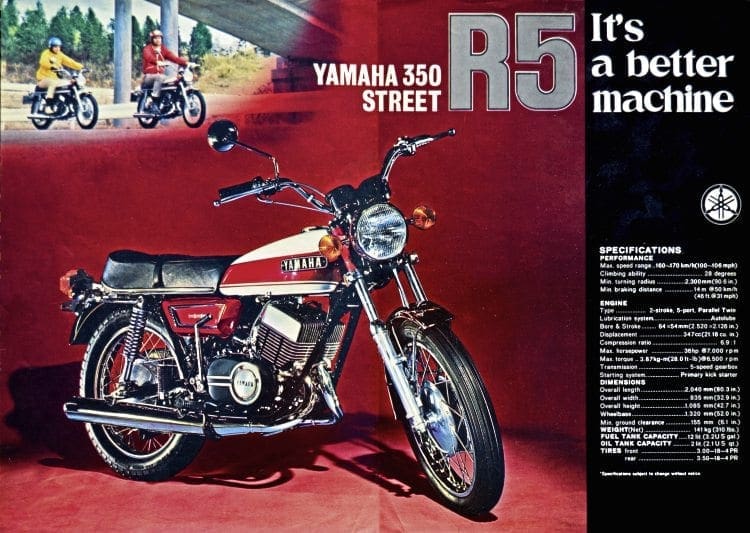 The YR5 350 was similarly stunning, utilising a vibrant purple, claret red or tangerine with the same flat white, depending upon where it was being sold.
At last Yamaha had managed to walk away from their historically 'slightly staid, safe and gentlemanly' aesthetics, carefully sidestepping the excesses of the late 1960s psychedelia to come up with a singularly unique image… and everything else was brand new as well.
Read more and view more images in the August 2019 issue of OBM – on sale now!