The concept of the three-cylinder motorcycle engine has been a debating point among enthusiasts for many years. Steve Cooper looks at some of the best made by the Japanese, and gives a respectful nod to some European manufacturers too.
Without exception, three-cylinder motorcycles have caused a stir whenever they've been launched upon an unsuspecting public, but you really do have to ask why.
With one more pot than a twin, yet one less than a four, surely it's as logical an engine set-up as any other, yet history would tend to suggest that there's little like a triple to split opinion. Some swear it's the best engine set-up possible, while others opine that it's neither fish nor fowl.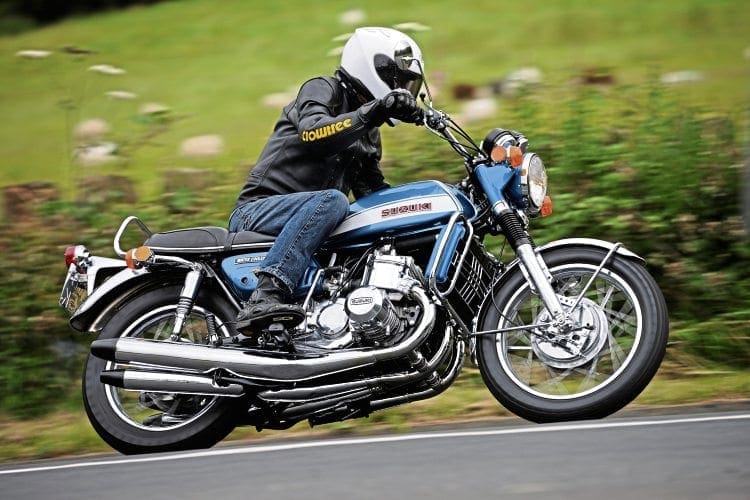 For many years, however, triples have enriched our motorcycling world, and
what follows is a snapshot of both the famous and infamous.
Before the war, Scott built a handful of in-line, water-cooled two-stroke triples, some of which went to Nordic Europe. Is it perhaps simply too much of a coincidence that various car manufacturers used an identical set-up both before and after the conflict?
Come the 1960s, the American market was calling for more power and cubic inches from the British suppliers. Those that knew had already expressed concerns that the 650 twins had reached their logical conclusion, and that something else was needed.
With the developers working almost in secret, prototypes were constructed around one-and-a-half 500cc Triumph engines, but the resultant machine was scotched by the powers-that-be. A scant handful of years later, the three-pot BSA and Triumph were hailed as the saviours of the both marques, yet it was too little too late.
Dubious styling did little to gain favour stateside, and then Honda had the temerity to launch the CB750/4 a year later. The British triples hung on for the best part of decade, but never fulfilled their promise as a mass-production triple.
In-line or V?
Ironically, an apparent minor league player from Japan had also seen the need to move on from successful twins. Kawasaki needed something bigger and faster than its divine A7 338cc Samurai.
Eschewing a bigger-bore version of the disc-valve twin, a triple was chosen as being a then unique motorcycle engine configuration, yet the design teams were uncertain as to what arrangement they should adopt – in-line or V configuration? The V triple, with the centre pot leaning away from its partners, gave more power and was easier to air-cool, but Kawasaki was concerned that the set-up would meet with market resistance, so an in-line engine it was.
Read more and view more images in the June 2018 issue of OBM – on sale now!