Last month, Steve Cooper showed us that Suzuki's TM400 dirt bike was something of a loose cannon and, ultimately, doomed to ignominy in the archives of motocross history. Now he tells us what happened next…
It's highly unlikely that the negative feedback on the TM400 didn't get back to Japan, yet that didn't prevent the Hamamatsu boys from launching a trail bike based heavily around the flawed concept that was the Cyclone.
Sometime in 1970 the decision was made to launch a tamed version of the TM400 for use by the general public in response to Yamaha's RT1 360 trail bike that had debuted that year.
Suzuki was effectively one model year behind arch rivals Yamaha, having launched its very capable TS250 a year after Yamaha's ground-breaking 250 DT1; therefore the resultant TS400 was always going to happen.
Named the Suzuki TS400 Apache, the big two-stroke single would remain on the firm's sales lists for just six years before being axed in the industry-wide response to two-strokes and environmental impact.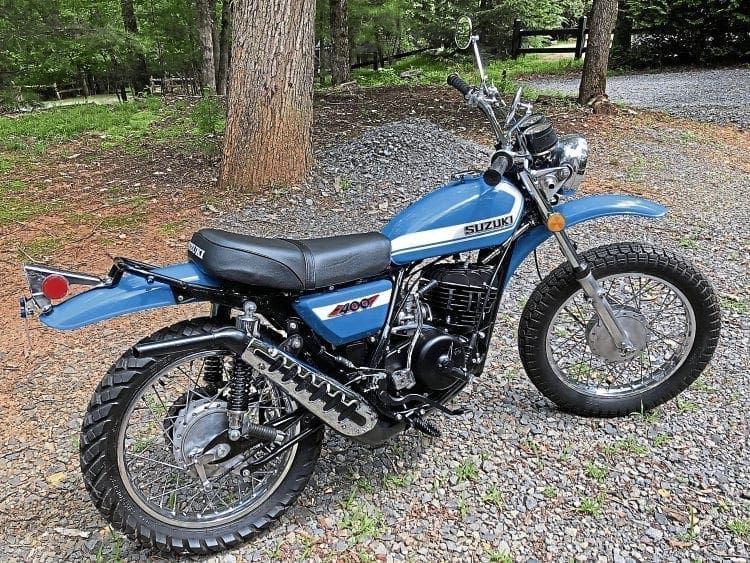 The initial 1972 J model, like every subsequent iteration, ran what was essentially a TM400 bottom end with a supposedly detuned barrel and, mercifully, a revised and significantly more user-friendly electronic ignition setup.
The bike's chassis was loosely based around the motocrosser but, thankfully, with strengthening and reinforcements in strategic areas.
Revised coils facilitated a lighting kit and, unusually for a Japanese trail bike of the period, the system ran on 12 volts rather than the usual six.
Read more in the October 2019 issue of OBM – on sale now!