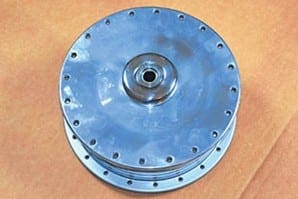 • New hub
Pic above – this is a newly manufactured hub for Velocette Venom, Viper, Thruxton and Clubman models available at Velocette specialist Grove Classic Motorcycles. They are made by the Velocette Motorcycle Company in Meriden UK and are a superb looking bit of kit and come complete – ready to spoke a rim to.
They're £320 plus VAT and delivery and you can get more info from Grove Classic Motorcycles 01234 752033
• Allen headed clutch screws
These are Allen head clutch screws for various classic BMW Boxer twins from R50 to R69S, though they also fit the R51/8 and R68 models from Bob Porecha, Classic BMW specialist. They come supplied with an Allen key and will replace the by now well chewed slot screw type of the original adjusters. With an Allen hexagon hole adjustment is much easier and therefore a more enjoyable process. So now there's no excuse for incorrect
The cost for either kit is £10 including VAT, free p&p to all UK post codes.
Contact Bob Porecha at 0208 659 8860 or email bob@porecha.fslife.co.uk
• Checkmate Safe
This is a handy safe for people likely to deal with cash on the move. Okay so it's for van drivers and other such people but it could be just the thing for autojumblers. You see it's a sad fact these days that not everyone crowding round your stand at an event like Stafford is an enthusiast after a bargain. Big events tend to attract lowlife scum intent on going home with your cash and the Checkmate Safe is a way of cutting down on the potential for these scum to get their hands on your money. There are four types of safe, sliding lid, slotted lid, roll top and cash chute, each with their own merits of course.
Cost depends on which option you choose so contact them to find out but if you 'deal in cash, friend' then it's got to be worth it.
For further details call Debbie on 01308 423871 or visit www.checkmatesafes.co.uk
• Good Goldie Guide
For anyone wanting to buy a BSA Gold Star there are any number of pitfalls for the unwary as not everything called a 'Goldie' actually is a Goldie. It isn't even that difficult to create a Goldie that never existed by using a B33/31 base model as a starting point. This is okay if the vendor is honest about it but if you or they are not aware of what's what then a lot of money can be wasted.
Charles Falco has a mine of useful information in his The Gold Star Buyer's Companion, and was originally helped by noted Gold Star expert John Gardner here in the UK. With sections on engine and frame numbers, other sources of information and a whole host of catalogues and brochures plus exploded parts diagrams there will be no excuse for not knowing what you need to know. From a personal point of view there are a load of American spec models in the images, always much more to the editor's taste than the clip-on style. The book is available from Amazon.co.uk
Details: ISBN 978061578801, Charles Falco, Publisher – C15S Publications, 120 pages, £32.20
Enjoy more Old Bike Mart reading in the monthly paper.
Click here
to subscribe.
Comments
comments