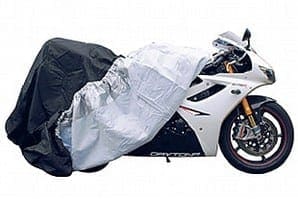 Well, 'bike cover' is too simplictic. It's a preservation system for use when laying up a bike for a while. What it does is provide an easily assembled cover on its own 'floor' which seals out the damp atmosphere.
Once the bike is in there the atmosphere surrounding it is replaced with a corrosion inhibiting environment which halts any rusting. The base plate 'floor' is designed to promote the circulation of air and help the corrosion inhibitor penetrate into various areas of the motorcycle.
Unlike other systems which rely on vacuum and coating the bike with grease, the Shield System is as simple as wheeling the bike in, setting the inhibitor in place and zipping it up. Should there be a nice dry day during winter, the bike can be wheeled out and fired up once you've filled it with fresh petrol. The system is developed from mining technology which required huge machines to be laid up over harsh Asian winters.
What's the cost? No prices yet as it's just come off the production line but we understand it will be competitive with vacuum systems.
More info from Kitshield Ltd, Email [email protected] 0191 516 6877
• Carb adaptor
This is an adaptor to enable a larger range of carburettors to be fitted to Vincent and Villiers engines. The problem with stub type inlet ports is there's a limited range of carbs available now.
However, there are lots and lots of flange type carbs out there. So with this fitting a whole range of possibilities opens up. There are two sizes available – a 13⁄16in type for Villiers singles and twins of 197cc to 325cc and a 11⁄4in one for Vincents. So, adapt away for improved carburation.
Cost is £45 each and you can get them from Surrey Cycles on 01342 716120 or view its website www.surreycycles.com
• BSA A10 pipework
This is a two into one hi-level exhaust pipe for BSA A10s for those who like the off-road look. The system takes the pipe along the top of the primary case, thus having it out of harm's way. The pipe replicates the style used for the works prepared A10 used by Eric Chilton in the 1958 ISDT.
Cost is £160 plus postage and packing.
More information from Progressive Classic Products www.progressiveclassicproducts.co.uk 07713 106278