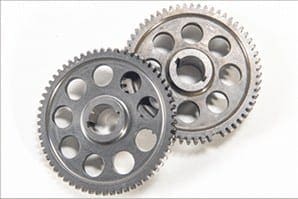 • A tooth in time
These are flow pump gears for the iconic AMC G50 overhead cam engine. One is a brand new freshly made one, the other is an old one with a tooth missing. Apparently this is a common fault with the G50 and presumably the 7R engine too. What happens is, the load point is consistently on one tooth during each revolution and it breaks. Eventually this wrecks the gear train which is not good.
The problem is both this gear and the one it mates up to are exactly the same size and with the same number of teeth so the stress point is always the same. The answer is to have a hunting tooth principle to spread the load. To this end Larry Steltner has commissioned the manufacturing of a batch of these gears with a hunting tooth and they are a direct fitment with no modifications to the timing necessary. Larry has tested them in his own engines and they work very well.
Cost is £80 plus VAT and carriage and you can get more information from Larry on 01754 830437
• Compression kit
These are the effective base layers for comfortable motorcycling in all weathers. They're made to allow the body to regulate temperature and will help to keep you dry if you get overheated and sweaty in the summer as they are breathable. They are being stocked by Aldi and form part of its dedication to provide quality items to all sorts of customers. Okay, so Aldi is not noted as a major motorcycling clothing place but it does have 'special buy' days every Thursday and Sunday and once the stock is gone that's it. This kit will be on sale in your Aldi store from March 9, 2014, so, get in quick.
Several styles of underwear are available all at £9.99 for the shirt and pants.
• Neck nomination
These are neckwarmers that will keep you nice and snug as they take up that gap between the top of your jacket and the bottom of your helmet… always a draughty area. They come with a guide to show a number of interesting ways in which they can be worn as well as just the standard neckwarmer option. There are also a range of snazzy designs available to brighten your day.
Cost is £2.99 from your local Aldi store.
• Japanese Custom Motorcycles
With customising very much in vogue, the cafe racer being a prime example, here's a welcome alternative which features bikes from the big four, highlighting the Japanese manufacturers' evolution in the custom market.
Japanese Custom Motorcycles by Uli Cloesen covers everything from bobbers and choppers to trikes and quads. It shows how inspiration to create a custom can come from a simple single cylinder to a big twin and virtually every engine configuration in between.
There are some truly superb examples featured from all over the world, along with useful technical detail and owners' stories. There's even an entertaining small chapter on the Chinese clones which tend to utilise small capacity engines from Honda and Yamaha.
The book is beautifully illustrated throughout, showing close up detail of quality chroming, superb custom paintwork and some amazing engraving.
We found the book quite inspiring and it makes folk want to have a go at building their own board track racer based on an early Indian, similar to the one featured. An interesting book that will appeal to many a biker and enthusiast.
More info: Veloce Publishing, ISBN: 978-1-845845-30-8, cost £25