For 363 days of the year, Kop Hill, on the edge of Princess Risborough, Buckinghamshire, is just one of many similar roads carving their way up the steep Chiltern hillsides. But, as Ian Kerr discovers, for two days in September it becomes a 'closed road' hill climb for both cars and bikes, as it was in the early 1900s.
The celebration of those times, which raises thousands of pounds for local charities, is now in its 10th year and continues to attract hundreds of drivers and riders with classic vehicles who want the opportunity to once again ascend at speed without oncoming traffic impeding their progress.
No longer timed, the records set by Count Zborowski in his Ballot GP car of 26.8 seconds and Freddie Dixon on his Douglas motorcycle of 22.8 seconds, both set in the 1920s, still stand.
Given that the first race in 1910 was on an unpaved road, with rudimentary vehicles, and which had not improved much by the time these records were set, they could easily be broken on the modern smooth, paved road.
But, despite the surface improvements it still retains its challenge – starting off gently, before the mid-section becomes a 1-in-6 gradient, steepening to a 1-in-4 at the end of the twisty 0.513-mile road.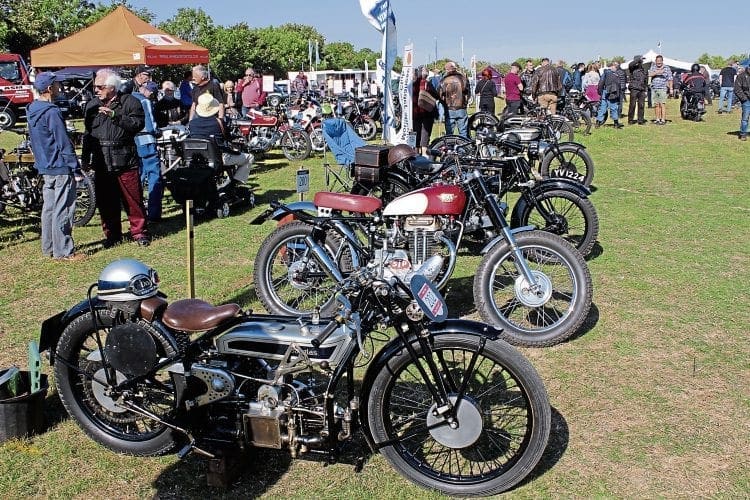 Certainly, a few of the mainly classic entrants occasionally fail to make the top, or end up just crawling over the brow in the lowest gear, attesting to the challenge still presented.
In the hill's infancy, it must have been an even bigger challenge with single-speeders, complete with belt drives likely to slip when the going got tough!
Kop Hill does have the distinction of being the last ever event to be held on the British public highway, after a spectator was injured in 1925 by a car driver, causing the RAC (the governing body) to refuse to issue permits for any high-speed, road-based events.
As a result, events such as sprints and hill climbs moved on to private estates with long winding drives, with races moving to airfields and race tracks.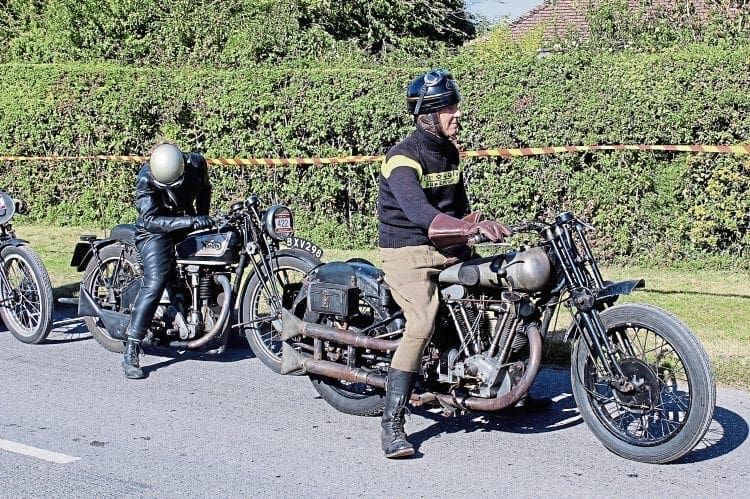 Initially revived in 1999 by the local town council and the Bean Car Club as a one-off, its annual September revival was kicked off in 2009 and run as a non-competitive event to allow classic and modern vehicles of interest to showcase their heritage.
Well-established on both the classic car and bike calendar, it is ironic that an event first started for motorcycles is now dominated by the car entry and attended by many TV car celebrities like Fuzz Townsend (Car SOS) and Edd China (Wheeler Dealers).
On the two-wheeled front, the legend that is Sammy Miller MBE appeared this year, riding his 1950 Bicylindrical Moto Guzzi and 1957 Gilera Four up the hill, as well as providing some interesting insights into his career in a fascinating packed interview!
The two-day festival was blessed with warm sunshine on the Saturday which brought out the majority of the crowds, no doubt influenced by the weather report of rain on the Sunday, which unfortunately proved accurate, causing some delay in the second day's proceedings.

The paddock area was crammed with 200-plus bikes, many individual entries, but some on club stands.
Among the many riders pitting themselves and machines against the gradient were quite a few well-known motorcycle journalists 'off-duty' and just enjoying riding rather than reporting.
Bonhams were also represented by Andy Barrett piloting his grandfather (Ralph Seymour)'s racing Velocette, which was conceived locally to the hill in his Velocette dealership at Hawthorn Works, Thame.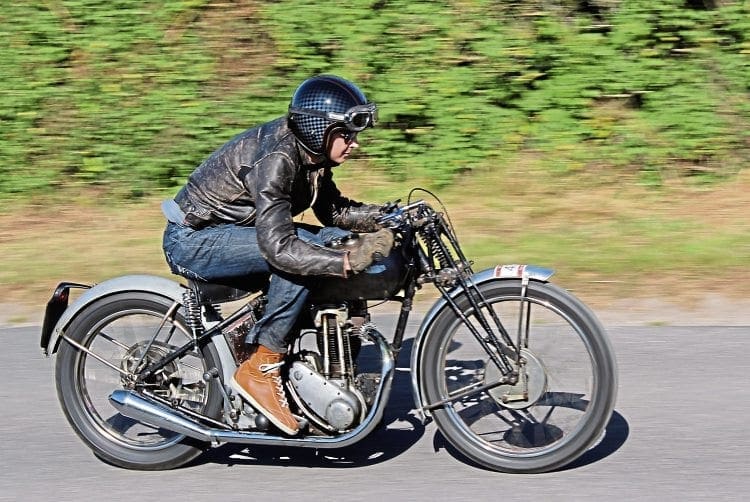 Like the car entrants, some riders dressed in period attire and on the stage and bar area could be found 'Elvis Presley' and other period musicians, while 'Stan and Ollie' drove around, policing the car displays which included several Morgans and BSA three-wheelers.
View more images and read more News and Features in the November 2019 issue of Old Bike Mart – on sale now!