Old Bike Mart meets Ian Savage, manager of the VOC Spares Company Limited in Kettering, to learn how the imaginative joint venture sources and markets the spare parts, club regalia and even complete second-hand Vincent motorcycles.
Although the VOC Spares Co Ltd was set up by the Vincent Owners' Club in 1975 to ensure a continuing source of high-quality spare parts for the legendary machines, it is run as a joint business in partnership with the club rather than being totally owned by it.
The fear of losing access to spares when the final part of the original Vincent Company was sold off resulted in a 50/50 arrangement for the new company involving club money on one hand and a share option for individual club members and other interested parties on the other.
Part of the ethos was that, instead of being owned by a single person, the company would carry on through successive managers, and it was Ian Savage, the fifth manager under this arrangement, who kindly told the story when OBM visited him at Kettering, Northants, on Monday, May 16.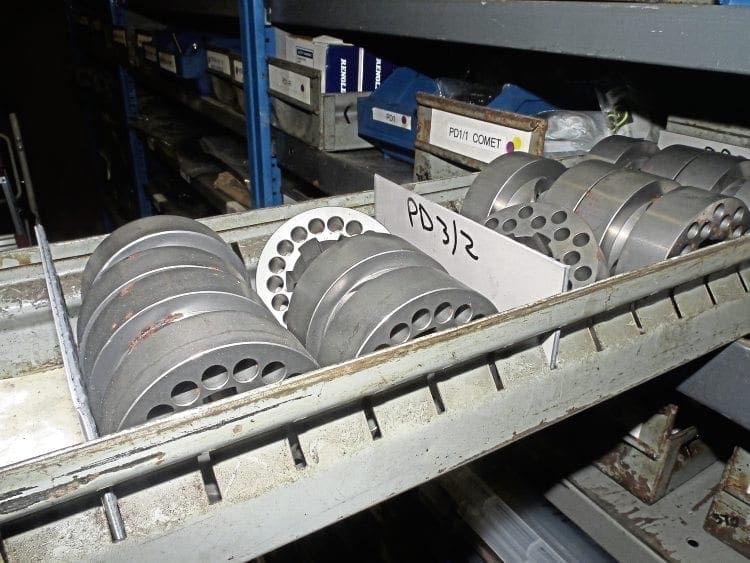 After moving from its original base in Lymm, Cheshire, the company has been in the Midlands town for about six years now, and its board of directors are all volunteers and Vincent owners.
There are four members of staff, two full-time and two part-time, and all are motorcyclists.
Ian has been a Vincent owner since the age of 16, when he built up a Comet from spares – and he still has it, along with two twins and a prewar Comet.
"My elder brother Alan had a Series-B Shadow with Series-D enclosures, and was also technical services officer for the VOC at one time," he said. "He bought the Comet to provide spares for the twin, but then business took him abroad and I screwed the Comet back together without him knowing, and started riding it to school.
"When he returned, he felt obliged to sell me the Comet for a shilling (5p) and I still have the receipt!"
After a career in air-conditioning and refrigeration engineering, Ian was just beginning to find commuting and corporate life a grind when his VOC Spares predecessor decided to give up the job for personal reasons.
Having done two spells on the VOC Spares executive committee, Ian knew just how the club operated and, thinking it might be a good idea to put his hobby into use, became the fifth manager.
"When we first moved to Kettering, we took on a warehouse assistant, Michelle Eldridge, and she's brilliant," said Ian. "She knows her way around the spares so well that I sometimes have to ask her for the parts numbers! She has a Honda CB1 and a Suzuki Bandit, and is now our customer services manager."
More recently VOC Spares has taken on additional staff, the new warehouse assistant being Jacqui Wright, who recently passed her test on a 125cc Sachs, and the administration assistant Jayne Beauchamp runs a Triumph Speed Triple! Quite a bunch of ladies – and, said Ian: "They all came to us by recommendation and word of mouth."
The basic aim of the VOC Spares Co Ltd is to have 100% of spares on the shelf for the majority of Vincent models, more specifically the postwar machines. "We do try to hold some spares for the older models," Ian explained, "but due to their scarcity and the many differences between them, it's difficult to hold continuous stock.
"Spares are sourced through established Vincent parts manufacturers, and a number of machine shops manufacture parts to our specifications to a high degree of accuracy using drawings provided by the Vincent Owners' Club Technical Committee."
General components such as Miller electrical equipment and Amal carburettors are bought from the usual wholesalers.
One of Ian's club roles was its information officer, and in 2007 the club and spares company got together to make a brand new Vincent Black Shadow entirely from spares as part of a quality-assured process to ensure that each and every part was compatible.
"It was quite a big exercise, and it's unlikely to be repeated because some of the more difficult things to get would need a very long lead time," he said.
Sometimes, when a parts supplier retires, VOC Spares will buy his stock and tooling to ensure continuation.
Before Ian's tenure, the company had access to loans, but part of his remit was to ensure that it must be both financially stable and independent. This means that the spares company can happily sell to members of the Vincent Owners' Club and non-members alike, although it does encourage club membership.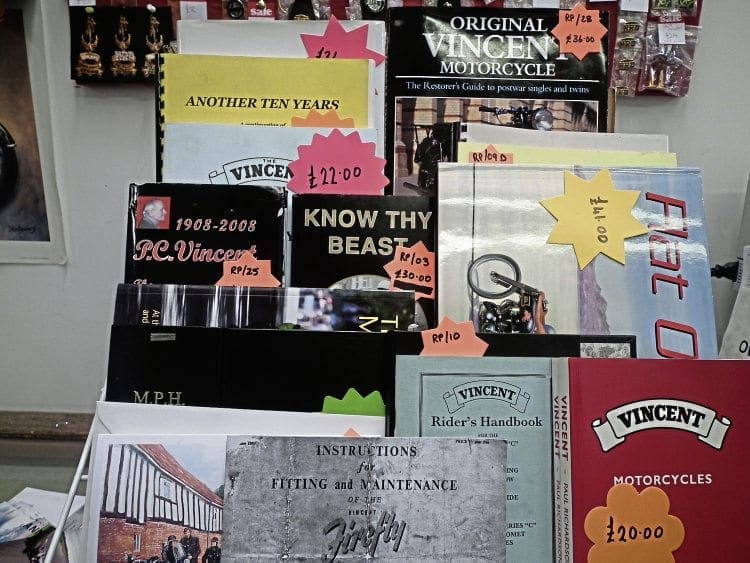 Sales are split roughly 50-50 between UK and overseas customers, the latter including Australia, New Zealand, South Africa, Japan, the US, Canada and most major European countries.
"For a 70-year-old motorcycle that's been out of production for 60% of those years, it seems amazing that our annual turnover should be around £500,000 per year," said Ian.
"We estimate that around 70% of all Vincents made are still around. They've always been coveted and expensive, so whenever they've become broken or gone out of favour, their owners have tended to put them safely in a shed with the intention of fixing them one day rather than scrapping them."
Around 11,000 Vincents were made after the war, and it seems that the Comet – "a terrific 500cc country-lane single" – is returning to favour.
Vincent prices being what they are nowadays, it would be all too easy for an owner's widow to be ripped off by greedy opportunists, but for a flat agent's fee VOC Spares will act as an honest and informed sales intermediary to ensure that the bereaved obtains the best price – and hopefully, too, that the machine's new buyer will continue to cherish it.
"During more than 40 years in business, the VOC Spares Company has had several heart-searching discussions about the future, and there have always been pessimists who say 'It'll never last', 'Vincents aren't being ridden' or 'the prices are too high', but I see no reason to believe that the business won't carry on," said Ian.
"After all, Vincents are still coming out of garages after 20 or 30 years unused, or being sold by families into new hands, and we remain as busy as ever."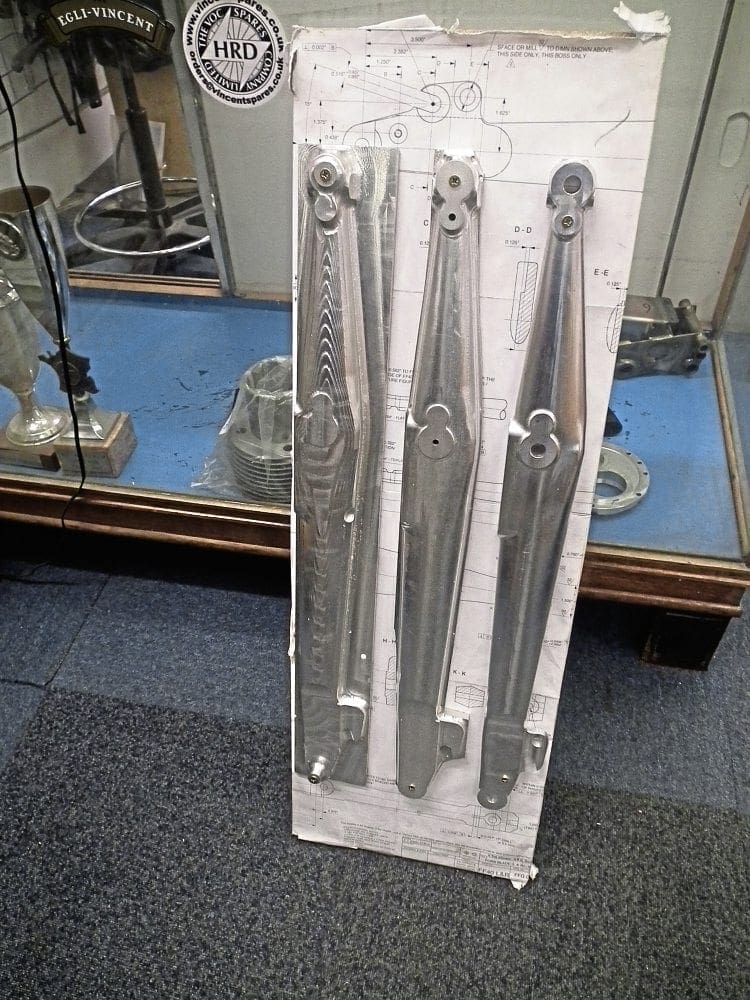 Read more News and Features at www.oldbikemart.co.uk and in the latest issue of Old Bike Mart – on sale now!