­Welcome to Old Bike Mart, The subscription-only newspaper with the UK's largest selection of classic motorcycle classified ads.
This month's OBM, as always is the case, features the latest news, reports from the racetrack, part and tool reviews and 'how to' guides. Newly discovered historic machines are revealed in all their unrestored glory and there's a nostalgic look back through the annals of motorcycling history.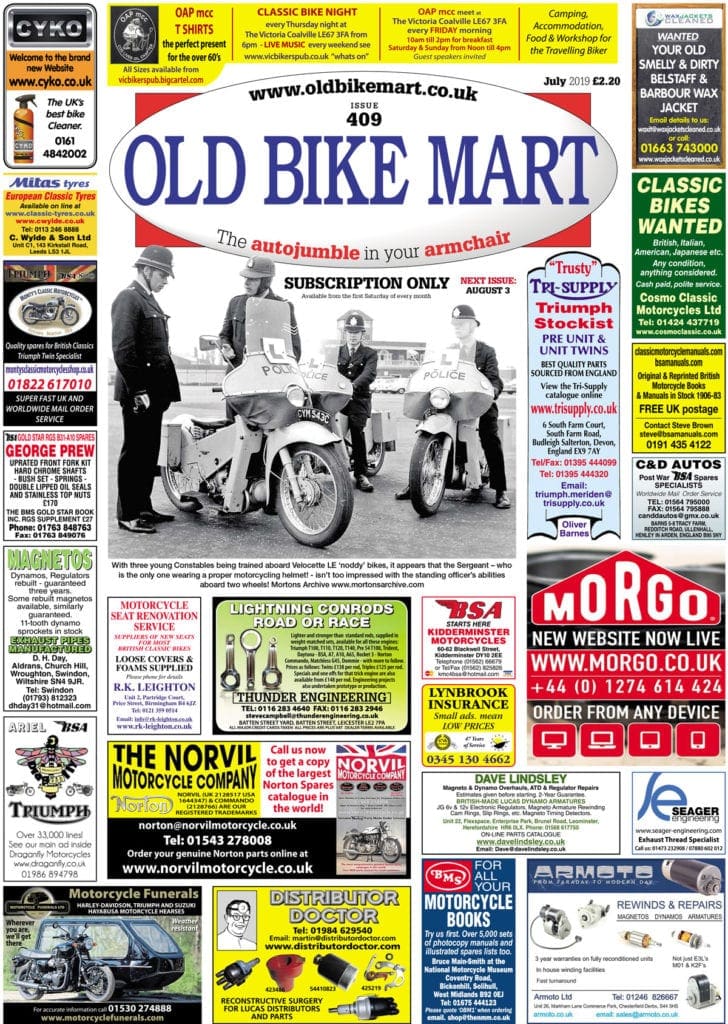 Here's a taste of what to expect in issue 409!
JAWA 350 OHC | Most riders will be familiar with Jawa's 350 two-stroke twin that is very often seen with one of the Velorex range of sidecars attached.
YAMAHA DS6 | Fifty years ago, Yamaha took one final roll of the dice with an engine design that had been part and parcel of their line-up since their very first twin had appeared back in 1959. Steve Cooper takes a closer look.
A TIME TO GO DUTCH | A personal invitation from fellowbut 'proper' classic motorcycle journalist Steve Wilson of The Classic Motorcycle triggered offa trip to the Dutch Ariel Club Rally in St Oedenrode for Nigel Stennett-Cox, resulting in a very enjoyable long weekend in May.
YAMAHA AS1 | Yamaha have long been known for their two-stroke, twin cylinder machines. Steve Cooper takes a look at a machine that kickstarted the trend.
ROADBURNERS TO TORQUE ABOUT | Pete Kelly buries himself in the Mortons Motorcycle Archive to learn how the road testers of old viewed the lusty performances of the 998cc Vincent Black Shadow and 692cc Royal Enfield Constellation.
PLUS | The UK's biggest selection of classic motorcycle classified ads! Discover some of our readers' tales, look back at some of the highlights from the greatest classic motorcycle shows, and make a date for upcoming events in your classic calendar!
Be sure to explore our website too for the latest news updates, teasers, and find out how you can get involved! Just visit: www.oldbikemart.co.uk
Editor Intro:
Can you hear me? I said, CAN YOU HEAR ME? One of the most hotly debated topics on motorcycle-focussed social media at the time of writing this editorial is that of the proposed new 'noise cameras', announced by the Transport Secretary, Chris Grayling, as they're set to begin a trial period of seven months at various roadside locations, after which they may come into operation and begin issuing fines.
Whether it be the gentle chuffing of a mid-capacity sidevalve, the bellow of a beastly vee twin, the crisp 'thrap' of a two stroke trials bike or the twitter of a Gold Star on over-run, there are a great many classic motorcycle noises that are pleasing to the ear, and warming to the heart.
But we have to protect those things that are important to us, and ensure that they're not being taken away for all the wrong reasons.
The trial of the new acoustic camera technology is to determine whether they're capable of showing that a legal noise limit has been breached by a motorist, while taking into account the class and speed of the vehicle relative to the location of the noise camera.
Article continues below...
---
---
Naturally, comparisons are being made with speed cameras (and not just in terms of law enforcement, but also revenue collection), yet it is unclear if the technology exists to be able to pick out a single source of noise by an unmanned noise sensor.
Much like the way a speed camera works, if a microphone in an acoustic camera detects a vehicle breaching legal noise limits, it triggers a camera to take pictures of the vehicle registration number and any other relevant images to allow a fine to be sent out to the vehicle's owner.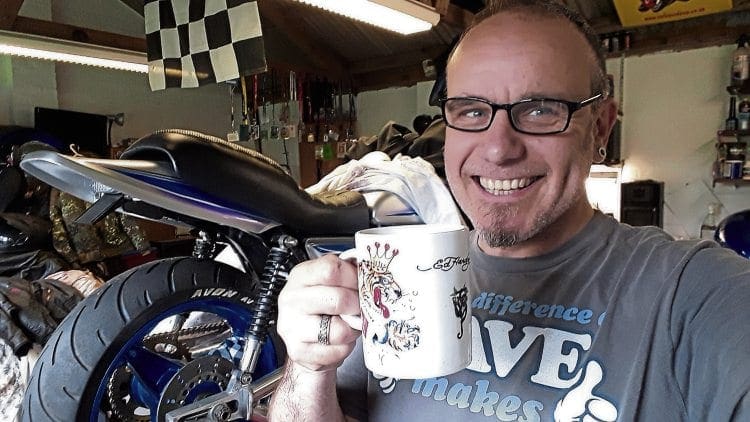 The debate is that, surely, a sensor would be affected by the noise from other sources, such as other vehicles, aeroplanes, industrial sites, etc., and that sound is a very different issue to speed.
The speed of one vehicle is easily determined, but sound is affected by a great many things – not only can sound be deflected (and exaggerated) by surfaces such as the walls of buildings, there is also the Doppler effect to take into consideration (whereby sound waves 'stack up' in front of a moving sound source), and this is before any other noise sources are taken into account.
A speed camera's reading will not be affected by the speed of other vehicles around the 'target' vehicle, but an acoustic camera will.
Speed doesn't change with temperature, humidity or wind, but sound does. Speed isn't affected by the road surface, or if the road surface is wet, yet noise is. And speed doesn't increase with speed (if it did, we'd all have accelerated into oblivion years ago), but noise does.
Much of the press reportage of the new acoustic cameras has suggested that it will be motorcycles that are targeted above everything else, yet I do wonder if it is bikes that are the true noise pollutant that this suggests?
After all, by their very nature, a motorcycle is used to travel from point A to point B (although invariably not by the shortest and most direct route, it has to be said), and is therefore in motion, so any sound that emanates from said vehicle moves with it.
That's not something that can be said for industrial noise, or for agricultural processes, or even domestic noise such as that made by lawnmowers, hedge trimmers, pressure washers, etc.
Even other modes of transport are far more intrusive on the sound front than motorcycles – take helicopters and microlight aircraft as an example. Here on the edge of the Lincolnshire Wolds, they can be heard for a much longer time than even the most intrusive of motorcycle exhausts.
And we must also bear in mind that 'an intrusive noise' may not necessarily mean a loud one, and can be a relatively quiet, yet incessant sound, such as the constant background thrum of wind turbines, or a cockerel crowing at 4am. Would it be fair to focus purely on motorists, who by their very nature will be taking their noise with them while they travel?
Of course, our interest lies in older machinery, and construction requirements state that 'no limits apply to motor cycles or mopeds first used before 1 April 1983', while varying limits have come into place, for different capacities, since then – all of which are tested, by Construction & Use regulations, under a drive-by noise test (there are no static noise tests for road-going vehicles).
Something which the Transport Secretary seemingly is not aware – "The trial isn't intended to target law-abiding drivers, but those who are flouting laws around noise. All vehicles must legally meet strict noise limits before they are allowed on the road."
It seems that Mr Grayling has either forgotten that vehicles existed before 1983, or that he is insinuating that owners of those vehicles are flouting the law.
A government statement on gov.uk also noted: 'It could also help to catch those who rev car or motorcycles engines beyond legal limits, making life a misery for those who live close by.' Yet there are no legal limits to which an engine must be revved, and given the vastly varying nature of internal combustion engines, this wouldn't be especially clear even if there were.
It is said that these acoustic cameras will be able to take into account the class and speed of the vehicle that they're targeting, and the Government has also pointed out that an issue that they wish to overcome is that enforcement is currently reactive and relies on subjective judgement by police.
But surely that has to be part of the answer – being subjective? It'll certainly be part of classic bikes not being targeted for seemingly creating a nuisance, and probably for motorcycles in general.
Interestingly, just about every news outlet that has run the story has also run a comment by the CEO of the Motorcycle Industry Association, Tony Campbell, yet has not run any comments by any car lobby group, or any comments from lawnmower manufacturers, microlight pilots or wind turbine operators, so the mainstream media clearly sees the acoustic cameras as being a clamp-down on motorcyclists and no one else.
Maybe, just maybe, this could be another instance where classic bikes are given dispensation, much like road tax and the low emissions zones that are popping up left, right and centre? Fingers crossed…
Enjoy the issue,
Dave Manning, Editor

Enjoy more Old Bike Mart reading in the monthly paper.
Click here
to subscribe.