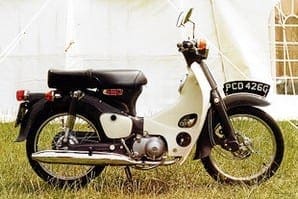 The sale of modern scooters, twist and go's etc. proves there's still a confirmed market for them and with the price of petrol these days thinking small might just be the clever option.
These oft overlooked bikes are ideal tackle for short journeys, the odd bit of shopping, their original purpose of commuting or even, hush our mouths, the odd bit of low speed fun. An old Japanese commuter or a new £500 Chinese import from a manufacturer you've never heard of whose machines are sold via eBay with a 90 day warranty? Is there really a choice? The Japanese classic movement has, by and large, completely ignored the commuter market with notable exceptions such as Yamaha FS1-E, Suzuki's AP50 etc. And this is good news because there are a lot of good, cheap, bikes out there.
Honda's ubiquitous C50/C70/C90 have to be near the top of the list and a 1980s example can still be had for less than £500 if you look around. The really early examples are actually fetching four figure sums which just goes to show how much kudos the little fellas are attracting. As long as the rear mudguard/chassis is free of serious rust it's likely to be a good 'un. Feed it fresh oil and you'll have a dependable steed for more years than you might expect. Honda made its name on these little bikes and you can be assured they'll be reliable. Yamaha's latter-day reply to the Hondas was the T80 or Townmate. Blessed with the considered upgrade of a four-speed box and shaft drive the bike actually aced the C90 providing mess free convenient transport and it's a four-stroke to boot. With slightly scruffy examples (complete with T&T) selling for less than £250 you'd be hard pushed to find a cheaper set of wheels.
For those who prefer the simplicity of the two-strokes the world is almost your oyster. Yamaha's various U and V series step-throughs make for entertaining riding and demand little attention other than petrol and some half decent two stroke oil. The same applies with Suzuki's U50/70; cheap to run and loads of spares. Oily rag examples regularly turn up at autojumbles. Go on, treat yourself, you've nothing to lose but a few half-hearted prejudices.
---
Advert

Enjoy more Old Bike Mart reading in the monthly paper. Click here to subscribe.
---