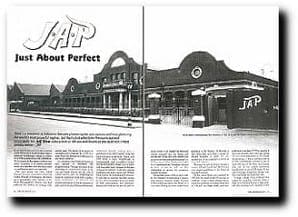 In any technology, it is only a matter of time before one of its early pioneers makes a significant breakthrough, perhaps to achieve world-wide acclaim for his or her contribution. Yet it is unusual for that person to achieve even greater recognition in an entirely unrelated subject at a later date, such that their earlier accomplishments tend to be overlooked.
One such person was John Alfred Prestwich, born on 1 September 1874, in the London Borough of Kensington. His father was a photographer and a Member of the Royal Photographical Society, who had perfected the method of working with gaslight paper. The details of his process he eventually sold to Eastman for £1,000 so it seems likely this background influenced his son's future ambitions.
As a schoolboy, John Prestwich showed an early aptitude in mechanics and draughtsmanship. Through the award of two scholarships he continued his studies at the City and Guilds School, and the City of London School, and on completing his studies he commenced work with a London-based manufacturer of electrical and scientific instruments. It was his intention to make and sell electrical fittings and scientific instruments himself, working from a greenhouse in his father's garden, using only hand tools and a treadle lathe. That is, until 1895 when a major breakthrough in cinematography made it possible to project moving photographic images on to a screen with reasonable clarity. Intrigued by this new technique he realised it would have amazing possibilities and made contact with William Friese-Greene, the cinematograph's inventor. It took little to convince him that moving pictures offered amazing prospects as a means of both entertainment and education.
Instinctively he knew this was the path he should follow, so he changed his plans and instead ventured into the design and manufacture of his own cine cameras and projectors and their associated equipment. In 1898 he married Elinor Bramley and bought No.3. Lansdowne Road, Tottenham, followed by No.1, so that he could use their outbuildings to provide the production facilities he needed.
The excellent quality of the products made by the Prestwich Manufacturing Company soon attracted attention. Queen Victoria's Golden Jubilee procession was filmed on a cine camera bearing his initials, as was Scott's expedition to the Antartic. So why was it that within little more than a decade he decided gradually to phase out the manufacture of cine equipment in favour of motorcycle engines?
The reason for such a bold move remains a mystery, although it would seem likely he saw even greater possibilities in the future of motorised transport.
His first engine design was completed in 1901 with the raised initials JAP cast into its crankcase. It was a single cylinder clip-on engine for attachment to the front down tube of a bicycle type frame which went into production a year later. Of 293cc capacity, it was of the automatic inlet valve type, having bore and stroke dimensions of 70 x 76mm and producing 2.25hp at 1,600rpm. One of his first advertisements appeared in the 29 April 1903 issue of The Motor, and Triumph were one of the earliest motorcycle manufacturers to use a JAP engine. It was only a stop gap arrangement though, until they could design and make their own.
A single cylinder 473cc overhead valve engine, for mounting vertically within a frame soon followed, having a single push-pull valve operating rod. It operated a rocker in a manner like that of the beam of an old steam engine to open both valves. It was the first practical British ohv engine with mechanically operated valves to be made on a production basis. A JAP vee-twin engine appeared in 1904, and for a four year period complete motorcycles were available bearing a stylish JAP logo on their petrol tank. The need to carry a passenger in reasonable comfort inspired the Dual Sociable, a three-wheeler in which driver and passenger sat side by side. Powered by a single cylinder 4.5hp JAP engine mounted between its two front wheels, a later more powerful version became available soon after, powered by an in-line three cylinder 8hp JAP engine.
The company also showed an early interest in racing when two machines fitted with a 6hp JAP vee-twin engine were entered for the 1905 Isle of Man Selection Trials and the 1906 Austrian International Cup Race. A much larger 2714cc ohv vee-twin racing engine was listed in 1908, designed specifically with that year's TT in mind. Water-cooled variants of the earlier singles and twins were now also available.
Pioneers of aviation
John Prestwich also took an interest in aviation when AV Roe, one of this country's pioneers of aviation, used a 6hp JAP vee-twin engine, in 1908, to power a biplane of his own design. There followed a four cylinder JAP-Harding monoplane, which John Prestwich had hoped might be the first to cross the English Channel. However his hopes were forstalled when Bleriot made his successful attempt on 25th July 1909. His vee-four and vee-eight cylinder aircraft engines of 1908 represented the ultimate in JAP aircraft engine design. Despite a record flight in 1910 from Cardiff to the Crystal Palace, by a light airship powered by one of the 4,400cc eight cylinder engines, aircraft engine production had to cease. Aircraft engines were becoming increasingly more complex and Anzani, amongst others, were already beginning to specialise in their design. The over-riding factor was that the demand for JAP motorcycle engines was still increasing and thus upping the rate of production had to take precedence. Unlike Triumph, some motorcycle manufacturers found it cheaper to buy-in a reputable proprietary design than to design, develop, and manufacture their own engine.
JAP had never been the only proprietary motorcycle engine manufacturer, as both Precision and Blackburne had been serious competitors. The Motor Cycle's annual Buyer's Guide of 1910 shows 20 motorcycle manufacturers already had at least one JAPengined model in their range, a list which now included Morgan three-wheelers. By 1911 the company had an almost exclusive market in the supply of proprietary engines and were enjoying a considerable amount of success in competition events, especially at Brooklands where they broke world records. Despite the acquisition of a disused chapel that adjoined the Lansdowne Road site, production space had become so cramped that in 1911 a move to a much larger site became a necessity. A new purpose-built JAP factory was erected at Northumberland Park, three quarters of a mile away and still within the Borough of Tottenham. A boom in cyclecars brought in extra work.
When war was declared in 1914, the company switched over to making munitions and undertook the overhaul and repair of aircraft engines for the Royal Flying Corps. As both Royal Enfield and Sunbeam purchased JAP vee-twin engines, they saw service respectively in sidecar machine gun units and stretcher-carrying outfits. When the manufacture of motorcycles for the civilian market resumed in 1919, Bert Le Vack was taken on as Development Engineer, and Val Page rejoined the company as Chief Designer. Their unique blend of talent led to the design of a double overhead camshaft racing engine and ensured JAP engines would play a major role in the revival of the British big twin.
Made to limit gauge, JAP engines had always been made to a very high standard of precision, such that their component parts were readily interchangeable and would match with replacements. In1918 John Prestwich was awarded a Silver Medal and a Certificate by the Franklin Institute of America for his invention of the fluid pressure gauge. Having no moving parts, it permitted an unskilled person to take more than 100 readings a minute to an accuracy of 0.0002 inch. Representing an advance on the 'go' and 'no go' system of gauging used previously in the factory to keep mass produced parts within tolerance limits, the gauge also helped to reduce costs.
Pencil manufacturer
A year later, John Prestwich was asked by a pencil manufacturer to design a machine for painting pencils on a mass production basis. In typical fashion he set to and designed one half the size of those currently in use, with a greatly increased rate of output. When the pencil manufacturer went bankrupt in 1920 John bought his business, to set up a subsidiary company on the Northumberland Park site, with Roland, one of his five sons, in charge. By 1951 the output of Master pencils had risen to a staggering 1.5 million a week, to make Pencils Ltd the largest pencil manufacturer in Europe.
By 1924 JAP held 95 World and British Records, set up by only eleven riders which included Bert Le Vack, and Teddy, another of John's sons. Outwardly, 1925 appeared to be the company's best ever year, but senior management were only too aware that difficult times lay ahead. Several of their major customers had now begun to make their own engines, and JAP's once buoyant market in Germany was beginning to shrink as their industry got back into its stride. Money had to be saved and closing the Racing Department at the end of the year became a major consideration. Although they left the company on good terms, Val Page and Bert Le Vack had to seek employment elsewhere.
The company now went into a slow decline, even the introduction in 1926 of the AZA two-stroke engine failed to appeal to the lightweight end of the motorcycle market. The situation worsened with the onset of the depression of 1928 and it became apparent that diversification into other areas would be essential if the company was to survive. It was largely work sub-contracted from Ford, Morris, Armstrong-Siddeley and the Bristol Aeroplane Company that helped meet the wages bill to keep the company solvent.
Two new ventures were an outboard engine for speedboats, and a high performance engine for speedway racing. This new form of motorcycle sport had come to Britain that year, with need for a very special engine for short track racing. During 1931/2 the legendary Speedway JAP engine became a reality, at that time the world's most powerful unsupercharged engine of its size and one which dominated the sport for the next 25 years. Totally oblivious of time, Stan Greening and Wal Phillips worked late into the night during its development. Not until the factory started to receive complaints from neighbouring houses did it occur to them that their occupants were being kept awake by a speedway engine running flat out on a dynamometer in the test house!
In 1936 the company decided to concentrate on the production of a wide range of stationary engines for both industrial and agricultural use, to take maximum advantage of their expertise in engine design and manufacture. They also took on the manufacture of the Aeronca flat twin engine for light aircraft, under licence from its parent company in the USA. Only the smaller motorcycle manufacturers were now specifying JAP engines, although JAP vee-twin engines continued to figure prominently in several successful bids for the World Motorcycle Speed Record throughout the Thirties.
In 1939 the company again found itself making munitions and aircraft parts, and supplying portable generators powered by JAP stationary engines. Their contribution to the war effort was substantial, necessitating the opening of a subsidiary factory in Southgate during 1942. After the war the manufacture of industrial engines remained the core of the company's business, updated versions of both the speedway and vee-twin racing engines being produced only in relatively small numbers. Of the motorcycle manufacturers, only AJW showed a passing interest in a JAP vertical twin side valve engine, whilst a new 125cc JAP two-stroke engine failed to make any impression at all amongst those who made lightweight models. Surprisingly, a new in-line 497cc four cylinder engine designed specifically for Formula III car racing which was displayed at the 1953 Motor Cycle Show never went into production, despite quite a flurry of interest.
The end came in June 1957, when the company merged its interests with the Villiers Engineering Company of Wolverhampton. The final links with the Prestwich family were severed on 17 September 1957, when the two remaining JAP directors resigned, leading to the closure of the Northumberland Park works, on 21 August 1963. The company had achieved so much in its time, with over 2,500 employees at its peak, that perhaps John Prestwich should have heeded his wife's suggestion that JAP advertisements ought to be accompanied by the slogan 'Just About Perfect' . View original article