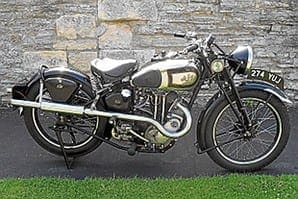 Looking back, I think my mother was probably right to wonder why I'd spent £250 on a rusty motorcycle with half an engine, no wheels, seat or handlebars. I like to think that I could see its potential beneath the rust, but I admit that I was hypnotised by the girder forks, chrome tank and 1930s styling.
This was my first 'big bike'. Until now I'd only had little Villiers engined bikes and could only imagine what it was like to pose through town on a 350cc! I set myself a target of six months for the restoration and started stripping the old bike down.
In actual fact I'd been a little ambitious and what with one thing and another, the restoration actually took more than 25 years. This was partially due to several house moves, starting a family and so on, but it was also due to the lack of spare parts available for the bike. I had to find a new petrol tank as the old one was too thin to be chromed, the main shaft of the old Burman HP gearbox was badly bent and the wheels were missing, so new hubs had to be found. I eventually replaced all of these missing or worn out parts and many more besides and just last year the AJS was registered and back on the Tarmac again.
I'd found an old tax disc in with the mortal remains of the bike, but it was so faded that I couldn't make out the old registration number. In the end I had to admit defeat and applied for an age related number. The writing on the tax disc was just clear enough for me to be able to see that the AJS had last been taxed in Maidenhead in 1942, so perhaps it was laid up during the war when it was only five years old? The wear in the engine would certainly support this as the bearings and other internals were in terrific condition. It certainly had seen use during the war as I found white edges on the mudguards. Such additions were supposed to make it a bike more visible during a blackout perhaps before the owner was conscripted.
Now the bike is finally back on the road and run in, it wafts along making a terrific noise from the twin pipes and is happiest at around 50mph although I have pushed it to 60mph, just to see what it was capable of. The hedgerows and buildings speed by reflected in the chrome tank and the instruments are all easily to hand, in the panel on top of the tank. The old Burman HP is a little sensitive and if you stamp on the lever too hard you can find yourself with more neutrals than you'd expected, so you just have to take your time, show it a bit of respect and be gentle, I have to say that the 25 year wait has been well worth it.
Article continues below...
Advert
---
Advert

Enjoy more Old Bike Mart reading in the monthly paper. Click here to subscribe.
---