Welcome to Old Bike Mart, the subscription-only newspaper with the UK's largest selection of classic motorcycle classified ads.
This month's OBM, as always is the case, features the latest news, reports from the racetrack, part and tool reviews and 'how to' guides. Newly discovered historic machines are revealed in all their unrestored glory and there's a nostalgic look back through the annals of motorcycling history.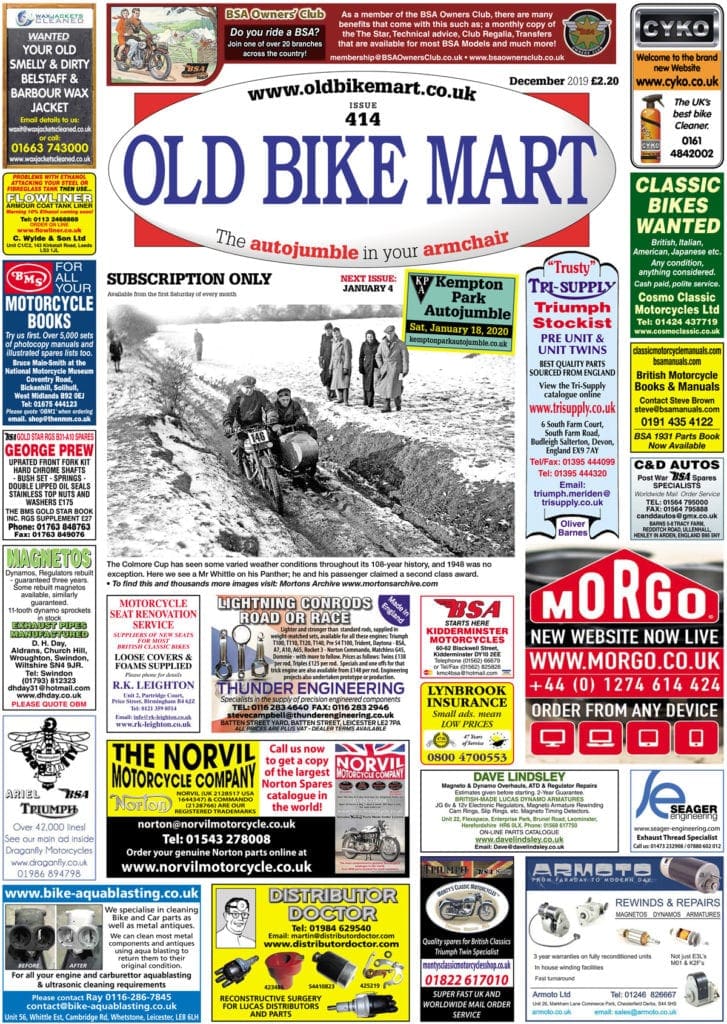 Here's a taste of what to expect in issue 413…
Suzuki TS250
Following the previous articles on Suzuki trail bikes, Steve Cooper takes a closer look at the bike that Suzuki just had to make after a direct competitor jumped the gun in the 250cc class.
Singular Guzzi!
In this month's Mortons Archive feature, Pete Kelly looks up road tests of 500cc and 250cc Moto Guzzi horizontal singles, beginning with a brief gallop in 1921 on one of the first motorcycles the Mandello firm ever made and concluding with a road test of a glorious bright red and chrome 499cc Falcone in 1950 – with plenty of Guzzi racing history along the way.
National Motorcycle Museum Open Day
As you will have read the title to this feature, it takes little explaining as to where Dave Manning was heading on the last Saturday in October.
PLUS | The UK's biggest selection of classic motorcycle classified ads! Discover some of our readers' tales, look back at some of the highlights from the greatest classic motorcycle shows, and make a date for upcoming events in your classic calendar!
A word from our Editor: Dave Manning…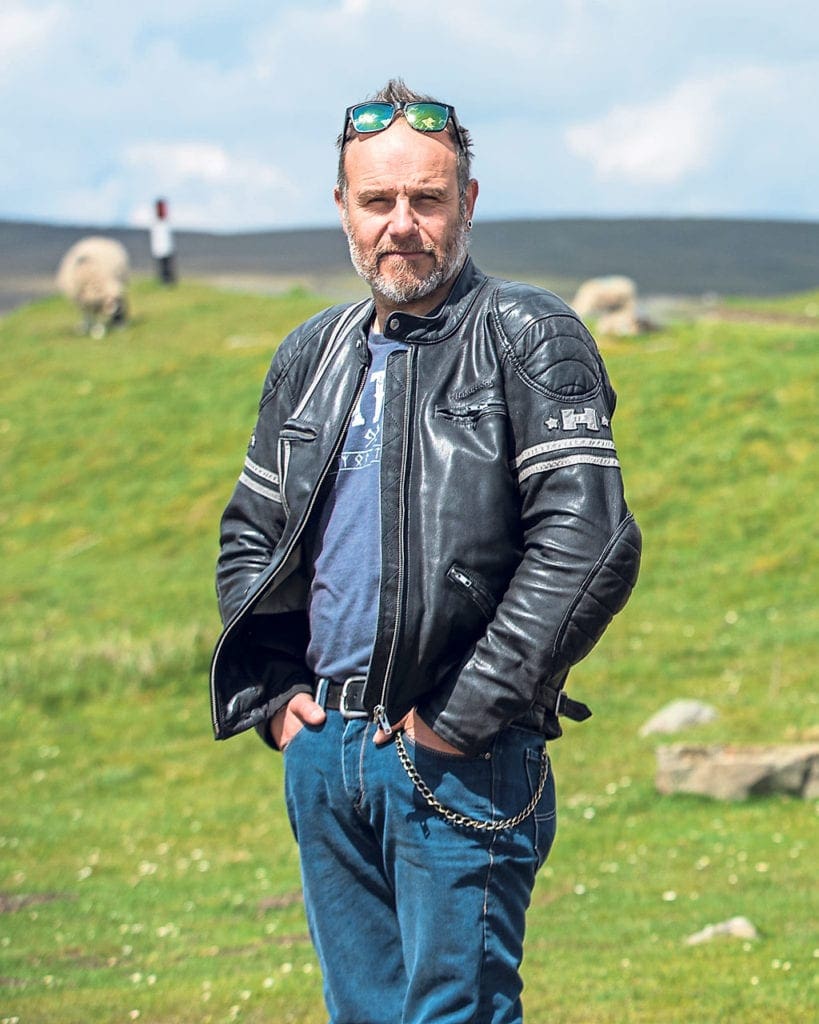 With the last big classic show of the year now out of the way (and it's up to you as to whether you consider that comment relates to Stafford or the classic car show at the NEC), we can all look to the long winter evenings spent in shed, garage, lean-to or purpose-built workshop.
And, like many other classic bike fans, I have an ongoing fascination with the area in which people build and maintain their bikes – why not show us pictures of yours?
As we're in a moist region of the northern hemisphere, the winter can easily be looked at as being the time to indulge in 'shed hibernation', both for our bikes and ourselves, giving us time to repair, restore or modify our own P and J ready for the spring unveiling and the start of more on-road adventures, but it doesn't have to be that way.
You could argue that the winter months are the prime time to be proving a point about classic bikes being practical transport as well as very righteous ways to travel, rather than them being committed to close spanner scrutiny for the darkest half of the year.
Actually, it should be both, although it is perhaps unfair to demand that those folk who have spent every last penny on buying – or restoring – the classic bike that they've always wanted to, must then use it in the cold and wet months of salt-encrusted highways and freezing temperatures…
But then, isn't that just what people did 40 or 50 years ago? Ride their bikes year-round?
Of course, classic machinery isn't as cheap as it used to be, and the cheap hack C15 or Villiers-engined pipsqueak has been replaced by either a 'nice little car' or a four-stroke Chinese-built small capacity bike.
But I still believe that it is possible to make steps into the classic scene without spending a small fortune. And yes, I have heard all the comments made about the price of classics, and I've seen how autojumble bargains have changed over the last few years. Little wonder that places like Stafford have such queues to get in early! It's commonplace for folk to get to a 'jumble as early as possible, even paying an 'early bird' premium to get access to the bargains before anyone else does, but is this really the case, or are people just wanting easy access without the queues?
Admittedly, it is true that there are still some bargains to be had at autojumbles, regardless of the comments made about overpriced project bikes on show (how many times have you heard statements like: "If he gets what he wants for that, I'll eat my hat!").
I personally think that this is due to a combination of increased knowledge, and the reducing amount of stock available for the sort of bikes that we would really like to see at a bargain price in an autojumble. Which is why you'll not see a cheap Triumph twin, or a bargain basement Gold Star, or a Fizzie petrol tank in original Baja Brown for under a tenner.
But you will get to see things that you won't find anywhere else (where else can you go and see half a dozen Triumph conical front hubs all in a row?) and you will get to scrutinise them closely, rather than just looking at blurred smartphone pics on an internet auction site that may disguise the condition, or origin, of the part in question…
Autojumbles have progressed, and, in much the same way, so have auctions too. I hear the same people who're complaining about autojumbles not having bargains saying that auction prices are too high. To me, this sounds the same as someone complaining that the toys in Hamleys are too expensive, or that there are no cheap sausage rolls in a delicatessen.
In the same way that you go to Hamleys to be amazed and astounded by the sheer quantity and variety of cool (and very expensive) toys, and you go to a deli to be shocked by the price of a very small tin of Beluga caviar, you go to an auction to buy something that can't be bought anywhere else. And that's exactly why prices have risen for auction-sold bikes. It isn't something that you can complain about, it just is. I can't afford to buy the sort of classic bike that I really want, either from an auction or an autojumble, but I still like to go along and show an interest…
Although, yes, I am always hopeful that I might just stumble across a gem of a bargain that no one else has seen, even if it might not be exotica and could just be a lowly ex-commuter bike that just about scrapes within the meagre Manning budget. And, on that note, I'd like to end this month's editorial with a statement. In a bid to prove that classic motorcycling isn't as expensive as some folk make it out to be, I'm keen to prove a point and, in that vein, I'm making an attempt to hunt down a cheap and cheerful 175cc Bantam that doesn't have to be in immaculate and mint condition, but it does need to be in running order (or very close to), with a log book and for a very reasonable sum indeed… anyone have any ideas?
I had considered a Tiger Cub but, given the escalation in prices for the little Trumpet (maybe it should've been called the Piccolo?), I guess that I'll have to resort to the two-stroke Beeza instead, although the fact that it was the first bike I ever rode could be a good excuse to 'go chicken'?
And there's also the point that, with a bike such as the humble Bantam, I could indulge in a number of different classic motorcycle disciplines – not just gentle road riding, but long-distance trials, hill climbs, maybe the occasional classic road race or twisty sprint?… Or I suppose I could look at a Villiers-engined James, or…
Enjoy more Old Bike Mart reading in the monthly paper.
Click here
to subscribe.
Comments
comments