In response to 'Pete's Prattle' about useless accessories (OBM February), many readers out there must recall the many gadgets that were offered temptingly in the motorcycling magazines of the 1950s. I fell for most of them, and found that they all had faults.
Way back in 1956, after buying a 125cc James ML ex-paratrooper machine as my first motorbike, I bought a huge windscreen and legshields from Halfords in Lancaster. They reduced my top speed from 40 to 30mph, and even less in a strong headwind. Even in 1956 this was considered slow!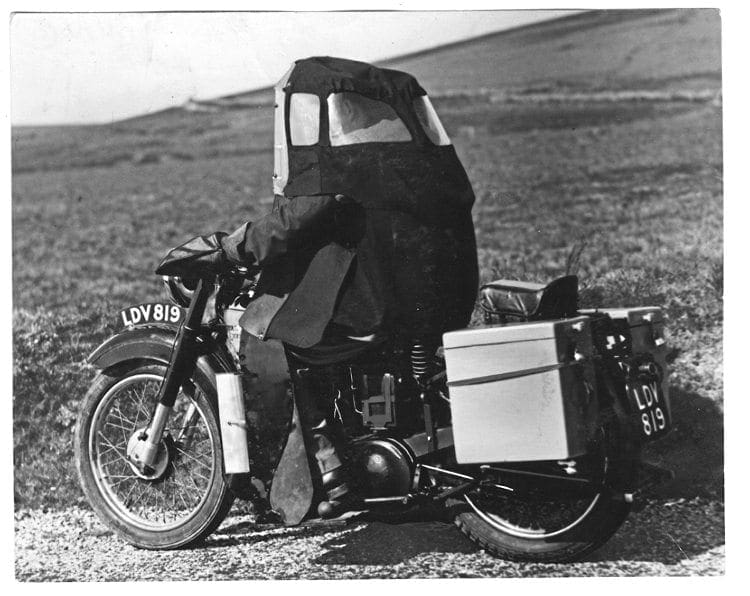 Next, I sent off for a co-ordinated set of legshields for a Triumph Tiger Cub and they looked terrific, but were so thin they had bent beyond recognition within a week.
Remember the theory that engines worked better in damp weather, so why not inject water into them? Guess who fell for that one? The injector apparatus never arrived in the post, so I had to go to the Post Office for an intensive interrogation to prove I hadn't received the parcel (the cheque had already been cashed). After some time I finally received the apparatus and eagerly fitted it to my 500cc single-cylinder AJS. There was no improvement in performance, and then the diaphragm broke so that was the end of that!
The next item to be bestowed upon the long-suffering AJS was an Avon Streamliner full glass-fibre fairing that cost £50 – a lot of brass in those days. I kept it for three years, but the novelty had worn off within six months as the steering lock was reduced by two-thirds. At slow speeds it created a wobble, and I hated the headlight not turning with the steering. There was also a big increase in the engine noise level.
Read more of this letter (and other readers' letters) in the April 2018 issue of OBM – on sale now!
Enjoy more Old Bike Mart reading in the monthly paper.
Click here
to subscribe.
Comments
comments