July 30's H&H Classics auctions sale at the National Motorcycle Museum will see, among others, an amazing collection of bikes from a Kent-based motorbike enthusiast who managed to secrete no fewer than 21 motorbikes in his garage, garden shed and cellar, all unknown to his family!
After the secret collector's death, his family were amazed to discover a file full of motorcycle logbooks and relative documents – receipts, registrations, petrol coupons etc.
They knew that there were a couple of bikes in the garage, wrapped under blankets, but the file contained documents for no less than 21 machines!
The bikes were found under a variety of covers, and include a BMW with Steib sidecar, six 1950s Autocycles that a district nurse might have used around the villages, and his pride and joy – a Velocette LE Vogue.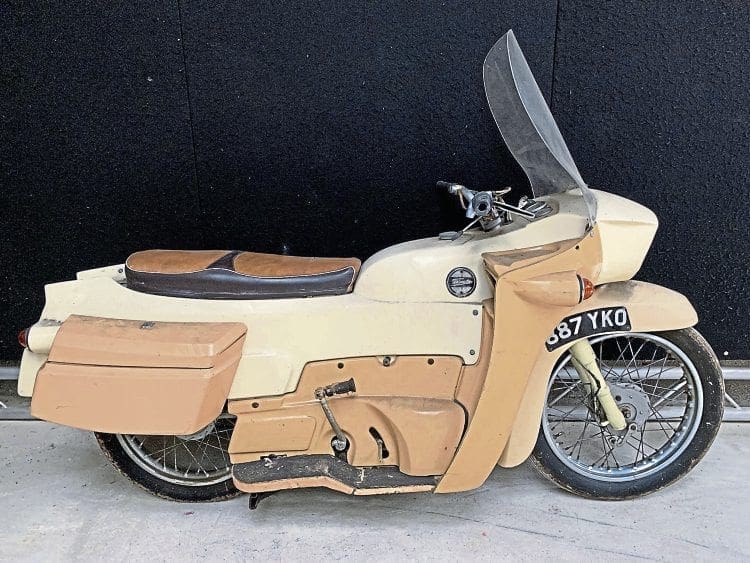 In the garage, there was one obvious bike under a blanket, and they knew that the BMW and Steib combination was tucked behind some hanging curtains, but as they dug a little further and pulled covers off, they found three more motorbikes snuggled under wraps.
A combination and four other bikes were in a little garden shed stashed behind some other normal garden items and a couple of pushbikes, and in another shed they found six more!
So, with 13 found, they were beginning to scratch their heads as to where the other eight could be.
They emptied the smaller shed and found that there was an extra bike stacked in behind one of the others.
Read more in the July 2019 issue of OBM – on sale now!