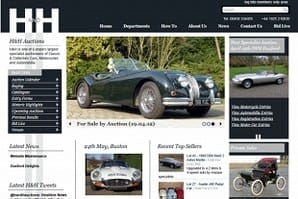 The firm plans to offer 0% vendor's commission on specific sales, settlement time down from eight working days to three, dedicated account managers for each entry and three different types of sale for clients to choose from.
The first of the three different types of sale is the specialist. These will be at prestigious venues and include pre-event receptions, lavish catalogues, national advertising and a vendor's commission of 6%.
General sales will be held at accessible locations around the country, will feature a broad selection of vehicles and will attract a 0% vendor's commission.
Details of the last sale type, open sales, are currently being kept under wraps but these too will have a vendor's commission of 0%.
H&H has undergone a rebranding exercise and hired more staff. Its 11-sale calendar for 2012 includes:
• Sale of more than 90 vintage and classic motorcycles at the Imperial War Museum, Duxford, on April 19
• Private Showcase of Supercars and Superclassics. Motorexpo, Canary Wharf, June 11-17
Some of the Duxford gems include:
• A restored 1939 Brough Superior SS80 (£45,000-50,000) that was once displayed in the window of Polo Ralph Lauren's London premises
• A rare 1952 125cc LEF (£25,000-28,000) raced in period by Jim Dakin, Eric Pantlin and Dave Chadwick
• 1951 Vincent Rapide Series C (£25,000-28,000) – an unmolested example showing just 67,000 miles from new
• 1926 Norton Model 18 (£25,000-28,000) – a fine example of one of the company's most successful models
• 1913 AJS Model D (£20,000-24,000) – a veteran of 15 Pioneer runs and six London to Brighton events. Superb and rare
• 1960 BSA Gold Star Catalina (£15,000-18,000) – restored to a high standard
• 1915 Royal Enfield 8hp Combination (£12,000-14,000) – a delightful example in original, unrestored condition, complete with wicker sidecar
Article continues below...
---
---
• 1968 Cheney Triumph ISDT (£8,000-9,000) – used by Dick Sutton to win bronze in the 1968 ISDT at San Pellegrino
• 1953 Triumph T100 Tiger (£7,500-8,500) – a lovely, restored example of the sprung-hub mode
• 1955 AJS 16MC (£2,000-3,000) – believed to have been ridden by Tom Arter in the 1955 Mitcham Vase trials event
For more information about H&H visit www.handh.co.uk

Enjoy more Old Bike Mart reading in the monthly paper.
Click here
to subscribe.