Mick Payne visits a Yorkshire bootmaker with a proud tradition, after the very comfortable and practical boots they made for him 20 years ago were swiped from under his nose.
During our recent Team Katy charity trip, after I'd left my boots outside the tent to air a bit, some light-fingered Herbert decided he'd like a pair without having to go to the trouble of paying for them.
This, along with the theft of my fishing bag at the same time, was the only downside of the long journey.
I'd had the boots since they'd been given to me to test on another sidecar trip (this one in aid of Macmillan Nurses) by Yorkshire bootmaker Alt-Berg about 20 years ago.
They had become a faithful and comfortable friend, and I'd ridden many, many miles in them.
Alt-berg's history goes right back to the formation of a co-operative in Rochdale by Mr William Shepherd, and although it was eventually forced to close, he went on to make shoes and boots embracing the new generation of machinery, materials and techniques of the late 1940s and early 50s.
He expanded to a second factory on the other side of his beloved Pennines in a disused Army camp overlooking Rochdale.
This was a success, and by the early 1970s 25,000 pairs of shoes were being produced by a workforce of 320.
By the end of that decade though, the story was far from good, and after weathering the bad times as long as it could, in 1989 the firm closed its doors for good.
However a certain Mike Sheehan, who'd been working with William Shepherd since 1969, set up Alt-Berg with his redundancy money, and a group of five people started making walking boots just 100 yards from the old factory.
Although Alt-Berg doesn't just make walking boots – we're not a walking magazine after all – it's worth bearing in mind that such boots can make great sense, especially for motorcycle touring, when it's as important to be as comfortable off the bike as on it.
Hoggs have all the attributes a good biking boot should have, with gear-change patches left and right, padded and reinforced ankles and, very importantly, rigid-enough soles for kick-starting a big single.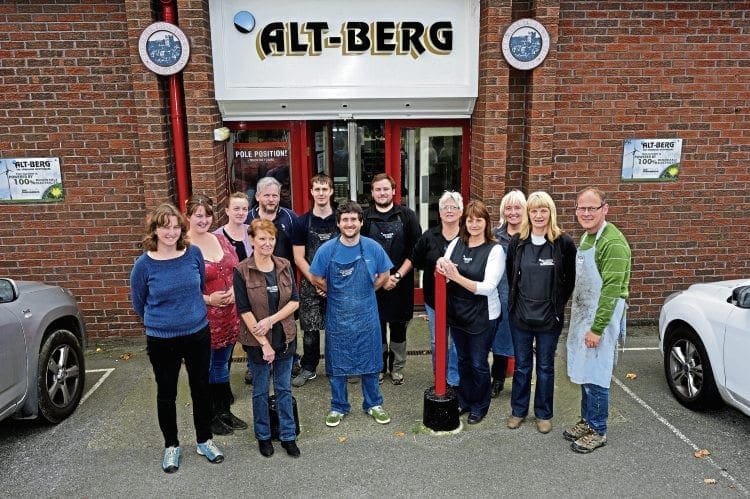 These and the other motorcycle boots are Mike's favourites.
"I've always enjoyed making bike boots, and I'm happy that they remain being produced in lower quantities," he said. "It makes them something a bit more personal.
"I've always had bikes, and my first was a 98cc Excelsior which I bought for £5 in 1960, when I was 13 years old.
"Riding to work, I wanted a boot that I could use all day around the factory and outside, but with the protection of a 'bike boot', so I adapted one of our military boots and it became a hybrid biking/military boot.
"People would come to the factory shop, see what I was wearing, and ask me if I'd make them a pair, which I did, and eventually, as the demand grew, I tooled up for production."
This was the birth of the Hogg Boot and a new version is currently being developed.
By the year 2000, the demand for Alt-Berg's boots had increased, and the firm used a second factory to cope with demand, firstly Orton's of Earl Shilton, Leicestershire, but when that closed in 2002 a new factory in the Treviso area of Italy.
"The motorcycle boots are mostly made in Richmond," said Mike, "but if demand is high, I'll make a batch in my factory in Italy, I swap backwards and forwards depending on demand, but all the boots are exactly alike, and I spend at least one week each month working in my Italian factory."
The lasts, materials and components are the same wherever the boots are made, but all styles are designed and developed by Mike in Richmond.
He explained that the Richmond factory was set up to make small quantities of up to 10 pairs each batch, and bespoke boots.
In Italy, the batches are from around 50 pairs upwards, so this means that the Richmond factory is set up like a workshop, specialising in 'one-off' boots and smaller quantities, while the Italian factory is set up more like a production line to handle larger quantities better.
Soldiers from nearby Catterick have been visiting Alt-Berg's factory for over 20 years to buy boots, but the first Army design was a bit of an accident.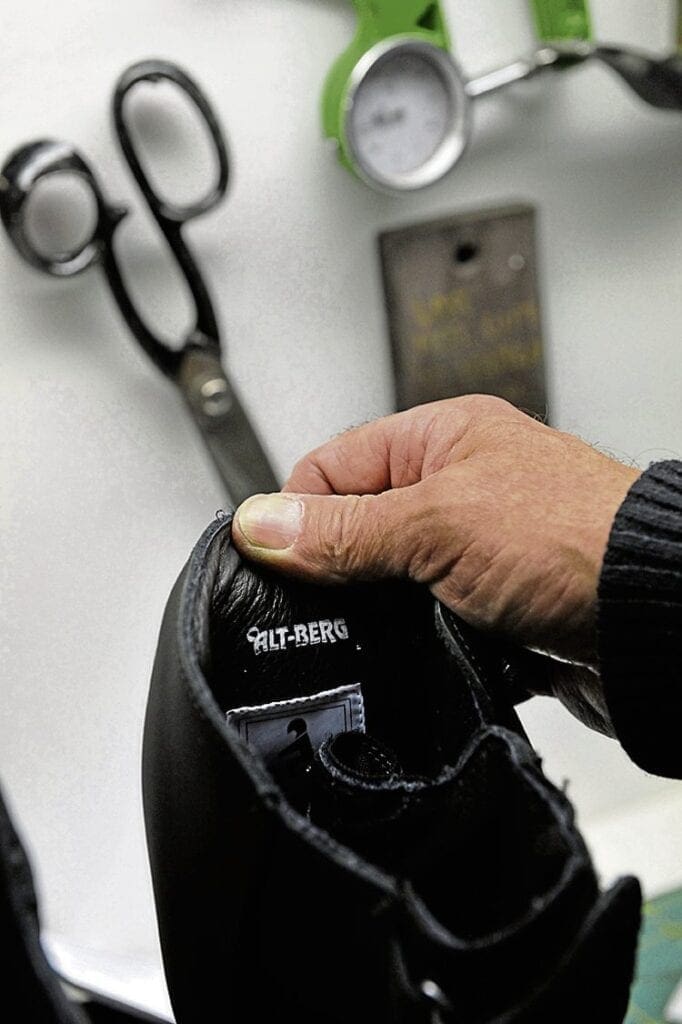 "The very first military boots that we made in the late 1980s and early 90s were in fact black walking boots. We had some black leather left over from an auction, and didn't have enough money to buy any more, so we had to make our walking boot styles using the left-over black leather," said Mike.
" Some soldiers bought these, and then started to ask if we could adapt the boot slightly for military use, and as a result the military Peacekeeper and Defender products were born, the latter still being the basis for the Hogg Lite and Hogg Ultralite."
Today Alt-Berg makes some of the finest boots in Europe – a testament to skills and knowledge built up over many years – and they can also be repaired.
"Nowadays," Mike explained, "we stick to the resole service, using the original lasts, and maybe some small repairs. We used to do a refurbishment service, but I struggled to manage the expectations of some customers who appeared to expect 'new boots for old'. This might have been OK for Aladdin – but we make boots, not lamps."
Alt-Berg extends this ideal by making its own leather treatment, Leder Gris.
"I developed this at the Myers Tannery in Leeds, and nowadays it's made for me under licence," Mike continued. "During the late 1990s, I noticed some problems with the Gamekeeper boots we make because people were using dubbins and oils, and this made the boots less waterproof and destroyed the adhesion of the soles.
"In the early days of Alt-Berg, things were very bleak, and sometimes we had no money, no orders and the machines kept breaking down.
"I didn't know if we could last another week, but I was taught by a good man who'd survived the dark days of the 1930s' depression that when times are bad, just concentrate on making good boots, because there'd always be someone who wanted a pair of good boots.
"This we did, and it's what we still do."
Read more News and Features at www.oldbikemart.co.uk and in the latest issue of Old Bike Mart – on sale now!