Tragically, even during the lockdown period, light-fingered 'tealeaves' abound in the shady underground world of bike thievery, and we're still hearing about bikes being stolen…
The two you see here were stolen, along with the Ford Transit van in which they were loaded, ready to be delivered the following day.
The van went missing from High Haden Road in Cradley Heath, West Midlands, on May 28, and if any readers happen to have any information about the van (registration NU64 EMJ) or the bikes therein, could they please call Yeomans Motorcycles on 0121 453 8886 with the details.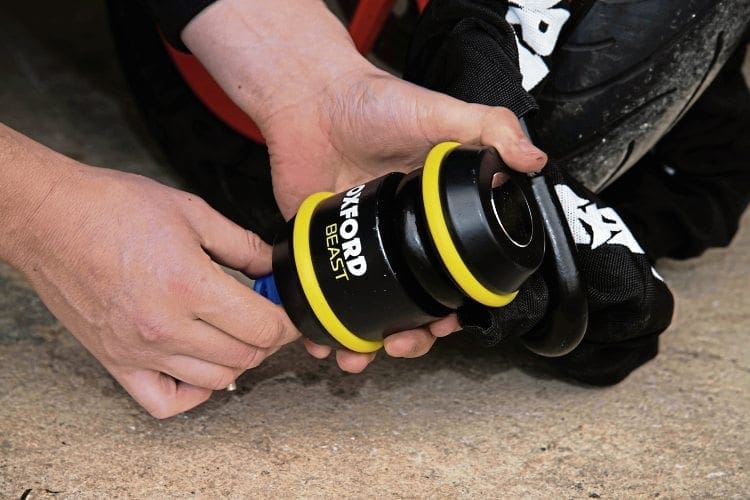 None of us want to be in the situation of locking the stable door after the (classic) horse has bolted, so we'll be occasionally looking at the sort of security products that are on the market that may persuade those with dishonourable intentions to look elsewhere.
This month, we cast our gaze upon the lock that is top of the range in the Oxford Products security catalogue, the impressive Beast.
Weighing in at an astounding 3.6kg for the lock alone (the corresponding chain is a back-breaking 15.5kg), the surface-hardened Beast is nigh enough the same girth as a pint glass, with a 30mm locking pin, while the chain's links are each 22mm in size and weigh the same as a bag of sugar… each.
Given the Beast's dimensions, there's no great surprise that it surpasses the Sold Secure Diamond standard. For those who aren't aware, Sold Secure is the premiere testing and certification house for security products, with its certification giving viability to a product's claims.
Naturally, a product with the statistics of the Beast won't be available for the price of a loaf of bread and a pint of milk, but how much do you value your bike's security? The Beast lock alone is £149, with a 1.5 metre chain £149.99 and a longer two metre costing £214.99.
More details are available fromwww.oxfordproducts.com or your local Oxford Products dealer.
Read more News and Features at www.classicmotorcyle.co.uk and in the August 2020 issue of The Classic Motorcycle – on sale now!