Mark Gooding tells the story of his late father-in-law's 1952 350cc AJS, OMA 859, now thought to be fitted with a 500cc engine, and wonders if any Old Bike Mart reader can help him trace its whereabouts.
Sadly my father-in-law Graham died last year. I knew him for 30 years, and in that time he recounted many a tale of himself and his then future wife Jean riding his 1952 350cc AJS around Europe.
During the clear-out of the mountain of paperwork and photographs, my mother-in-law found two images, one showing Graham on London's Tower Bridge (they lived in Ealing during the early 1950s) and the other showing my mother-in-law in Italy. She even made her own blouse, being a textiles, or sewing, teacher at the local high school.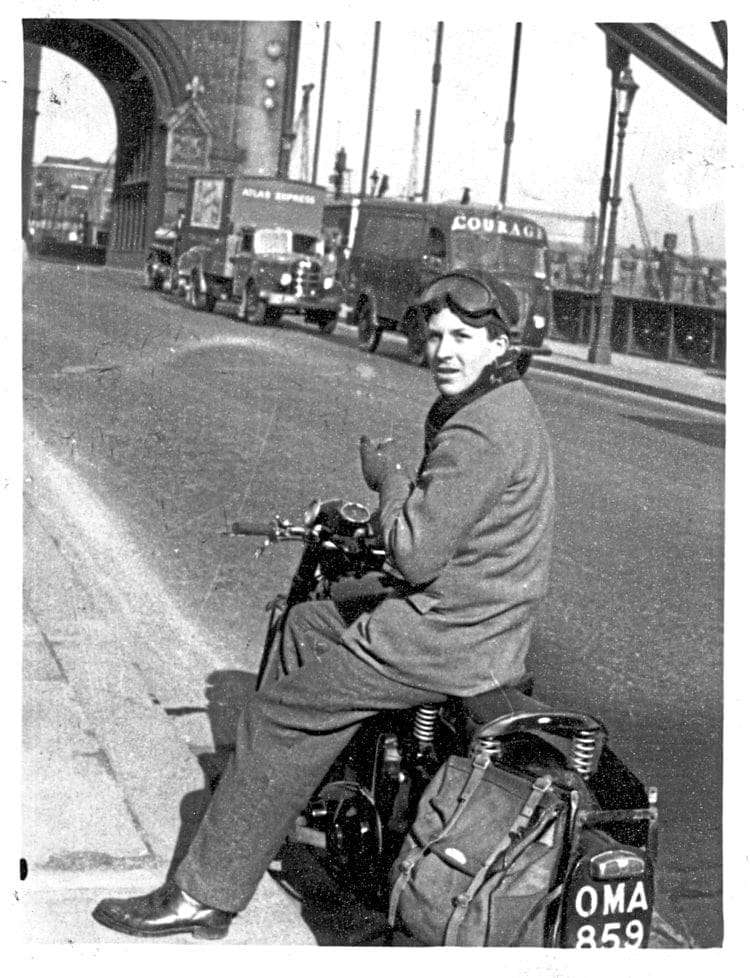 Graham's father bought him the bike, but when Graham asked: "Why can't I have a 500cc AJS?" his father replied: "350cc is big enough for anyone" – a bit rich coming from a man who bought a brand new JAP-engined Brough Superior SS100 and sidecar in 1936!
So, it was to be the 350 Ajay. Graham, whose cousin worked for the AA at the time, was asked to test the new Silver City service that flew from Lydd to Le Touquet in France using the Bristol Super Freighter whose front opened up to let the cars or bikes in. In fact he flew out three times between 1953 and 1955. The trip cost £10 per person and bike each way
Graham and Jean went to Italy on the AJS, eventually travelling down to Sicily. Graham took along spare parts, including inner tubes and piston rings, and the stuff to do an oil change when required.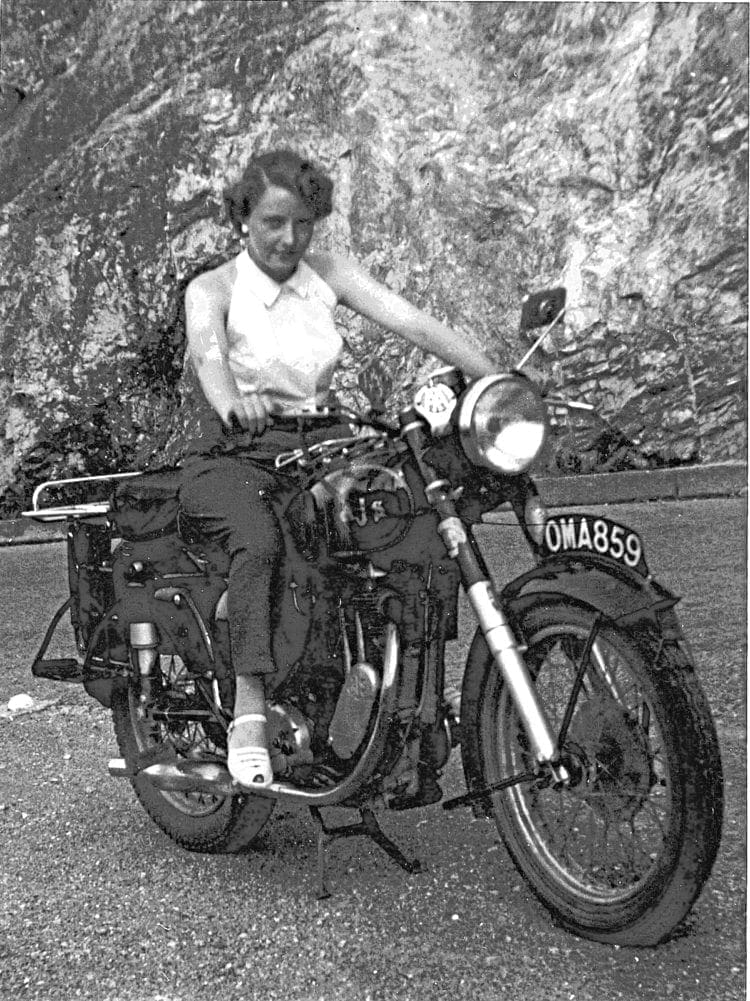 He even stopped half-way up a mountain to do the oil change as the milometer had just gone past service time.
He also pushed his bike a few miles, in his motorcycle gear, just to get to a proper Shell petrol station rather than use the fuel from an ARAL station which he had never heard of.
It just goes to show the faith people had in good engineering; so long as the bike was looked after, it did what it was designed for.
This journey was repeated a few more times, just the two of them riding to Italy in the mid-1950s. The reception they got from the guest houses is hard to believe now. The bike was guest of honour and it was brought through the house to the back yard for safe keeping.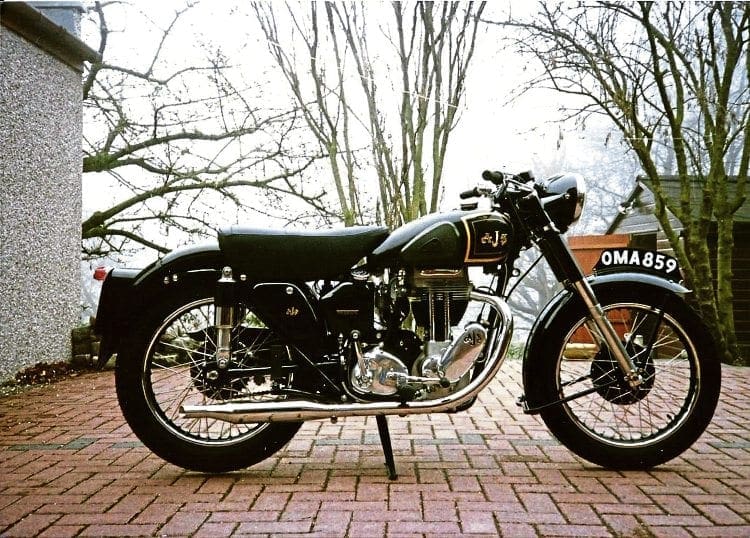 During one journey they had piston problems and the local mechanic made a new piston overnight. When asked if he would need the piston rings that Graham had brought, the reply was an emphatic: "No, I make my own," and the bike was ready to go the very next morning.
Later, in 1957, when the bike was taken to Plumstead for repair work, they asked, holding the Italian piston aloft: "What the heck is this?" (or similar words befitting a south-Londoner!).
The bike was sold as time and jobs moved on, but having seen the original photographs of OMA 859, I checked the DVLA web site only to find is still listed, but as a 500cc machine, so does anyone know who owns it now?
After parts of this article were first published in Jampot, the AJS & Matchless Owners' Club magazine, we received an email from a kind man in Scotland who'd bought the AJS in the late 1970s as a number of cardboard boxes filled with parts.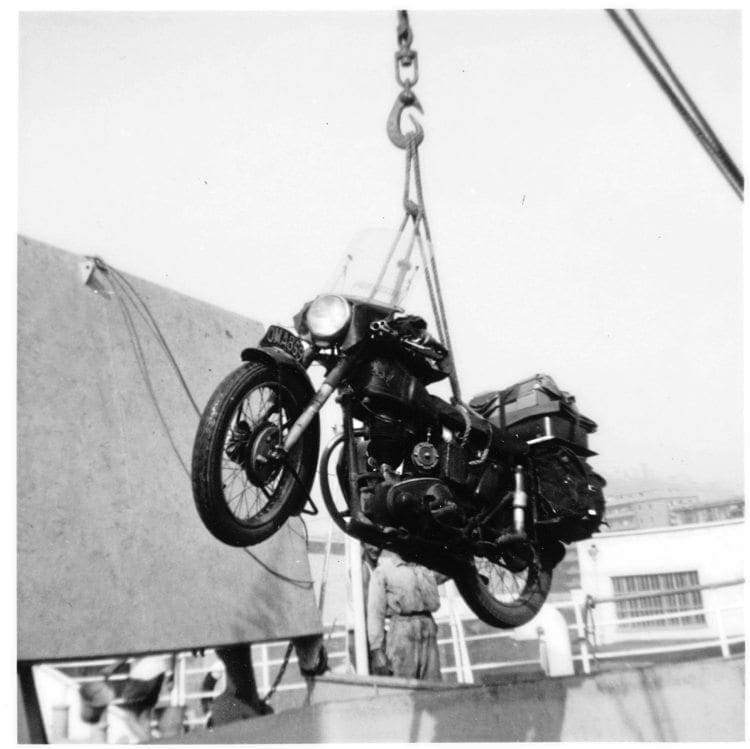 When he got the parts home, he realised he had a complete machine apart from an engine, thus explaining how OMA 859, a three-fifty, became a 500cc machine.
As he already had a wrecked 500 AJS 18S engine, his next move was clear – to go ahead and build a beautiful black and gold AJS to add to his AMC family, which comprised two Matchlesses and one AJS.
Twenty years later, the bike was sold on and found a new home, but soon afterwards the new owner also sold the machine and the trail was lost again.
I wonder if any Old Bike Mart reader knows of the AJS's present whereabouts?
I can be contacted on 01621 857130 or at [email protected].