Andrew Kenningley, who's built up a fine reputation as a skilled Vincent restorer, tells why he'll be showing off his work atthe forthcoming Stafford Show.
In recent years the word 'iconic' has been over-used almost to the point of becoming a throw-away cliché, but one motorcycle that truly merits the description is the Vincent.
Andrew Kenningley, who's been skilfully restoring Vincents of all models for the past 10 years, investing heavily in a spotless £50,000 workshop along the way, is about to introduce himself and his work to the public by taking a stand for the first time at the 36th Carole Nash International Classic MotorCycle Show at the Staffordshire County Showground on April 23-24.
He learned his skills the hard way. "My brothers all raced in scrambling and motocross, and I was mad on the sport from my schooldays," he said, "but when I finally got the chance to race myself, they insisted that I learn to do all the engine and maintenance work myself."
He entered several British motocross championships as a weekend rider with no backing at all, racing 15 different makes of motorcycle over 20 years. "It was all about being the best and winning," he said, "and now I want to be the best restorer."
His association with Vincents began a long time ago when he acquired a single-cylinder Comet in a box of bits and rebuilt it. "I've loved Vincents ever since, they are my life," he said.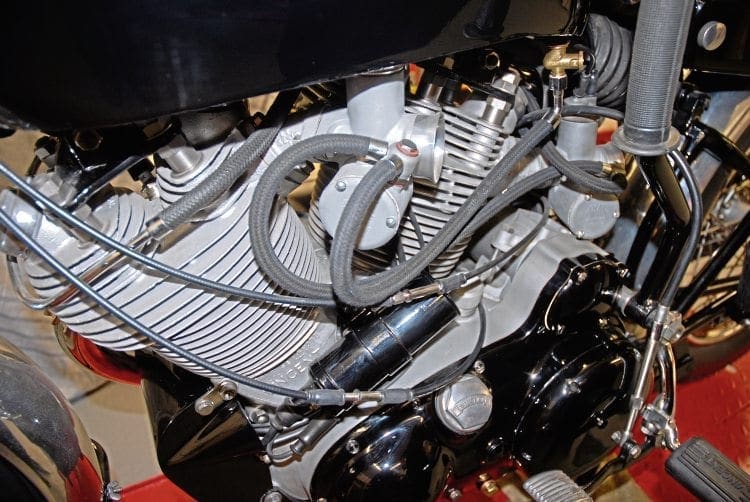 "Once I'd done it, I didn't want to work on any other make, and as people saw my work, more started to come in."
Actions speak louder than words, however, and Andrew, who'll be accompanied by his wife Barbara at Stafford, will be showing off and hopefully selling a 1955 Series D Black Shadow that comes with complete documentation and a genuine mileage of just 19,000.
Its provenance demanded that he approach the restoration from a very sympathetic point of view indeed. "It's had only three owners from new, and was one of the last 17 Series D Black Shadows ever made," he said. "It's one of the best left in existence with that much originality."
Every Vincent Andrew has ever restored has been carefully photographed and placed into an album that now boasts multiple spotless restorations of Comets, Rapides, Shadows, Princes and Knights.
"I'm looking forward to meeting Vincent owners who know every nut, bolt and washer of their machines and inviting them to peruse my work as closely as they wish," he said.
If he completes it in time, a second Shadow, this time a Series C, will also be on the stand. "Two lovely Black Shadows, and they'll speak for themselves," he said.
Precision is the key to everything he does, and he enjoys it so much that he regularly spends 10 hours a day in his workshop, sometimes not leaving until well after midnight, and returning at the crack of dawn.
All the engine work – including stripping and closely inspecting every single part, removing the tiniest traces of grime with a hot wash industrial cleaning machine that he felt compelled to make himself, and then rebuilding the engines so that they perform as well as on the day they were made.
Using the best-quality marine plywood and the finest leather work that money can buy, he makes new seats that faithfully follow the originals in form but are better in every way.
When the rechromed wheel rims are returned, he skilfully rebuilds them to the last detail, including painting the red-lined black centres and balancing them with the original style of lead weights.
"Although I'll rebuild an engine for a customer or do just the restoration he requires, I much prefer to restore the whole bike," said Andrew, concluding: "The intricacies of a Vincent are massive, and there's a lot you need to know."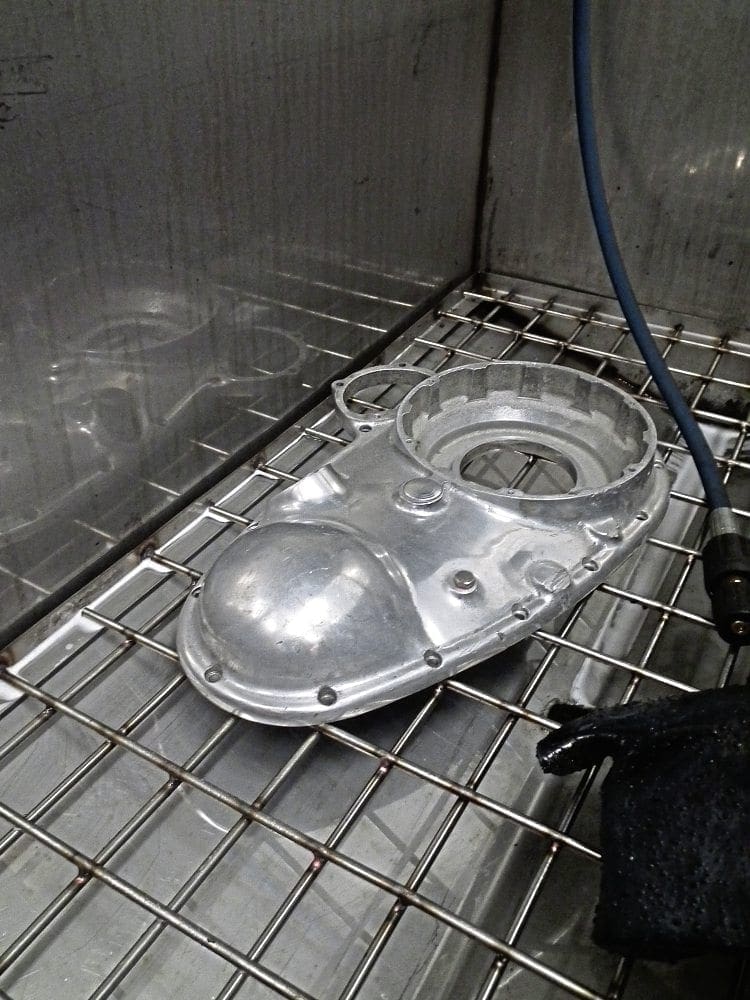 Read more News and Features at www.oldbikemart.co.uk and in the latest issue of Old Bike Mart – on sale now!