'Ullo, 'ullo! What's an Italian motorcycle doing on Steve Cooper's Japanese pages? It's all about comparisons and giving praise where it's due, that's what – and something the more extreme 'Jap knockers' might consider reciprocating once in a while?
Classic motorcycles from Italy tend to polarise opinion perhaps more widely than just about any other country of origin. The oft-spouted negatives are that they are woefully unreliable, desperately uncomfortable, electrically cursed, have rock-hard suspension and are fragile beyond measure.
The positives are generally agreed to be that the same machines hold the road like limpets in a storm, make sounds like no other, have astounding performance and look a million dollars even when covered in road grime.
The truth is roughly somewhere between the two, yet if there was ever one Italian manufacturer which did its utmost to produce commercially competitive motorcycles that went beyond the usual stereotypical generalisations, it has to be Laverda.
Originally a manufacturer of mechanised agricultural equipment, the Laverda organisation was a relative latecomer to the world of motorcycle manufacturing, but this actually played into its hands. Rather than adopting a "we've always done it this way" mindset, Laverda was always open and receptive to new ideas.
Small four-stroke singles, hairy-chested triples, two-stroke dirt bikes and even a longitudinally-oriented V6 endurance bike all typified the free thinking of the company.
In among all these and many more was a motorcycle that epitomised the business's commitment to all things on two wheels.
Today the Laverda 500 twin rarely gets any coverage or exposure, but arguably it represents the pinnacle of the half-litre, air-cooled, parallel twin.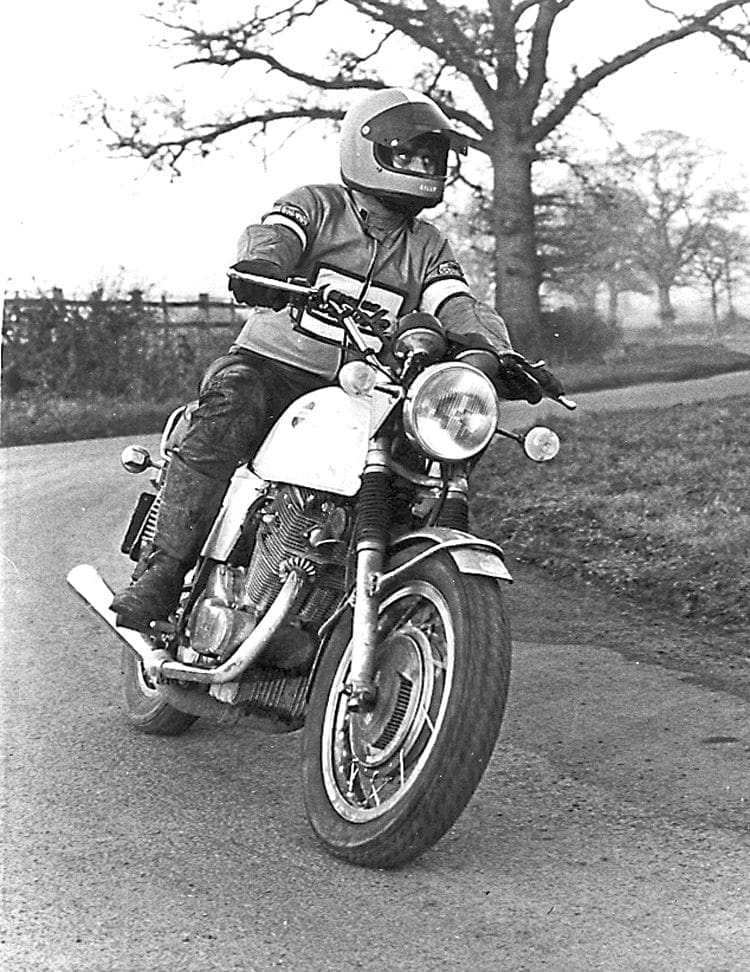 It's a poorly kept secret that Massimo Laverda was hugely taken with Honda's CB72/77. He spotted the value of the 180 degree crank for its less intrusive vibrations and followed Soichiro's principles when designing the legendary 750 SF.
Therefore it was only logical that when the company came to build a 500 in the mid-1970s, it should follow the same established pattern… to a degree.
Even if the notion was seen by some as being past its sell-by date, Laverda reckoned it could breathe some life back into the genre.
Rather than simply lop off a pot from the hugely-successful triples, or downsize the 750 twin, the design team started with a fresh sheet and drew up what is now recognised by aficionados as a mechanical gem.
Opting for a substantially oversquare bore and stroke ratio (72 x 61 mm), the designers automatically provided the engine with a dramatically larger cylinder head area than had been the norm up to that this point, and almost by default, this layout made itself available for more than the normally mandatory two valves per cylinder.
With four valves fitted nicely into the head, it would have been rude not to operate the inlets and exhaust independently, so Laverda automatically fitted double overhead cams run from a centrally-located cam chain.
Equipped with relatively large bore 32 mm Dell'Ortos to make the most of the engine's top, the bike was exceptionally over-carburated by the perceived standards of the day, but it worked beautifully.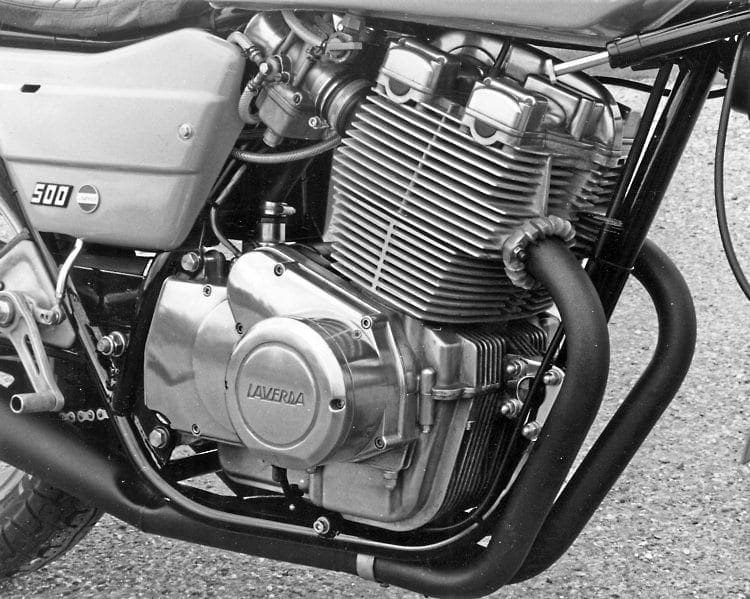 With a comparatively high compression ratio for the period of 9.6:1, the motor put out a fairly respectable 44 horses at a quite frantic 9500 rpm – not massive power but quite sufficient.
Perhaps more crucially, the peak torque of 33lb-ft was delivered at just 5300rpm.
Someone had done his homework on this motor by placing peak power as far away as possible from maximum torque, thereby ensuring a supremely flexible package – and as if all this wasn't sufficient, the bike was equipped with a six-speed transmission to ensure the engine could be kept on the boil.
Almost embarrassed by its own country's terrible reputation for electrical mayhem, Laverda went to its default supplier for the 500's generator – Bosch of Germany.
Because the bike was Italian, the running gear was also laid out from first principles.
A strong yet not especially heavy steel frame held the engine firmly between a single downtube and bifurcated lower engine cradle. It also provided precise mounting points for the Marzocchi suspension front and rear, which in turn hosted cast alloy wheels sporting twin Brembo discs at the front and a single at the rear.
As with most of Laverda's other models, clocks and switches were Japanese Nippon Denso in origin.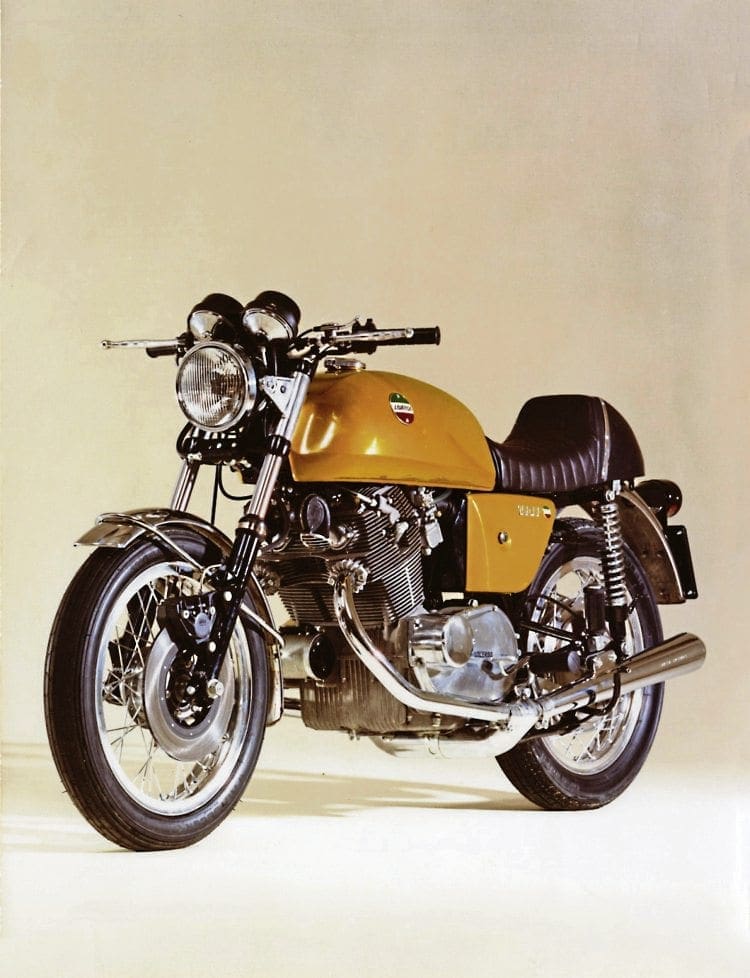 From the outset the bike gained a huge reputation for handling well, even if the ride was a little unforgiving.
Compared with machines of the period, it was proudly more sure-footed. Against Honda's resurrected CB500T it was a racehorse versus a carthorse, and even Yamaha's equally technically sophisticated XS500 would be struggling to keep up.
The bike was better than good, yet in typical Latin style far from consistent and occasionally flawed.
Top speed seemed to vary from one bike to another, anything between 93 to 104mph has been quoted.
Fuel consumption wasn't the bike's strongest suit, either, with figures around 44mpg regularly quoted.
Temperate test riders eked out as much as 50mpg from the bike, while the less kind were able to boast a figure that would be seen as bad for a 350 stroker at 33mpg.
Electronic ignitions were relatively new on motorcycles, and Laverda had taken something of a gamble by opting for Bosch's nascent system.
When it worked it was fine, but often the advance-retard part of the system operated purely as an on/off system and those who owned bikes thus afflicted were less than happy.
Despite this apparently mixed bag, however, the general press impressions were good.
It was a rewarding machine to ride, handled well, possessed stunningly good brakes and, for an Italian motorcycle, generally proved reliable. And for a European machine of period it was even reasonably affordable.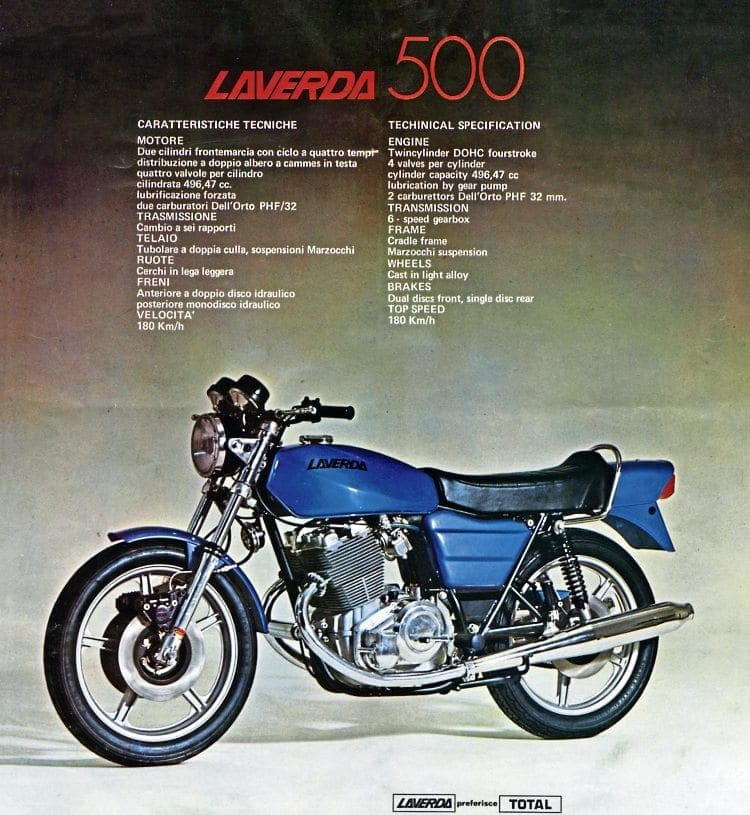 Although more expensive than the Oriental offering at just under £2000 at the time, it still cost 10% less than BMW's R65.
Pandering to licence restrictions, Laverda produced a sleeved-down 350cc version with a smaller bore and valves, but this never proved to be a big seller.
The variously titled 500cc Alpino, 500T or 500S spawned a hugely famous production racer christened after some high level success on the Iberian peninsula.
Taking its name from a Spanish Royal Park where a stripped down version sporting a 2-1 Sito exhaust, revised cam shafts, high compression pistons and some very careful fettling, these all-orange production racers barked load and proud worldwide, extolling the engineering excellence of the Laverda factory.
This might have been the swansong for the 500 twin but for fate and financial issues stepping in.
By the mid 1980s the company needed to make money however it could, and hogged the motor out to 588 then dropped it into an endure-style chassis to produce the OR600 Atlas.
A few years later, a workers' co-operative showcased two prototypes based around the now-ageing engine.
The strangely-named El-Cid was a rework of the OR600, and the fantastically-named Hidalgo was a truly revolting pseudo cruiser.
Various machinations and changes of ownership saw the motor grow to 650, the 688 and finally 750 with fuel injection, electronics all over it and ultimately water cooling circa 1996.
Not a bad track record for a minor middleweight by anyone's standards!
Read more News and Features at www.oldbikemart.co.uk and in the April 2020 issue of Old Bike Mart – on sale now!