Fitting a sidecar with the aim of obtaining the best-possible handling will pay big dividends out on the road, writes Mick Payne.
What keeps an asymmetric vehicle like a sidecar on the road? There is no real reason why a solo motorcycle should work with a single-wheeled lump bolted onto the nearside, and I'm sure that in some cases it doesn't!
When I served my apprenticeship at SKF in Luton you could still bolt a chair onto a 650cc bike and ride it on a provisional licence, whereas the limit for solos was then 250cc, and I dread to think what some of those outfits handled like. I rode a Lambretta, so what did I know about handling?
There are a few 'rules' that need to be applied to make a motorcycle and sidecar steer well without wrenching the rider's arms from their sockets. These, however, are almost like black magic, with every 'expert' having a particular opinion.
The three variables are lead (the distance the sidecar wheel is in front of the rear wheel of the bike); toe in, also applied to the sidecar (this is how the sidecar wheel is effectively turned slightly towards the centre line of the motorcycle's wheels); and lean-out (how the bike is set up to allow for the camber of the road by leaning slightly towards the centre of the road).
This feature came about because I picked up an old Velorex sidecar-fitting guide that goes into quite a lot of depth about how to bolt one of their chairs to a variety of conventionally-framed bikes. However it is rather lacking on detail, with most recommendations 'between this dimension and this one' or 'start with this figure'.
There are no hard and fast rules, so I asked some of Britain's best-known sidecar manufacturers, importers and fitters for their opinions. As can be imagined, these are varied, but these guys really know their stuff and between them have fitted more chairs than anyone.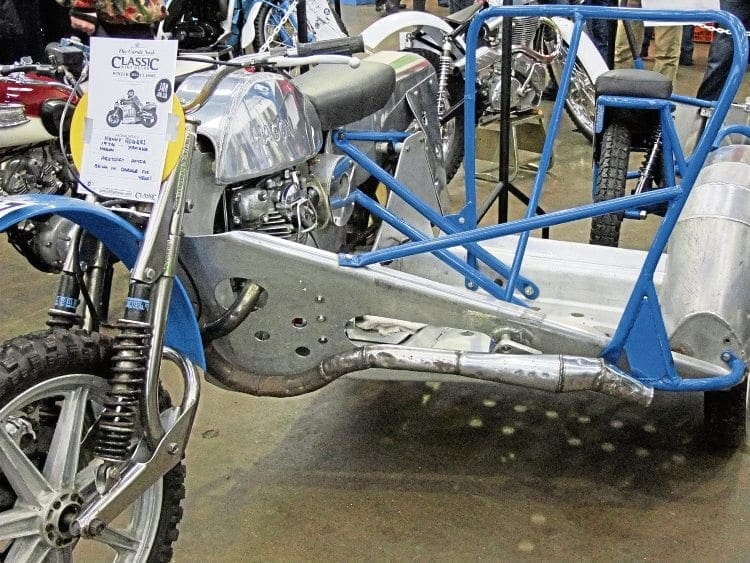 There isn't going to be room in this short piece to cover the subject fully, so it will overrun to at least one more feature, but let me just touch upon the Velorex data first.
This folded sheet of A3 is a 'cover all eventualities' guide to fitting one of their chairs to a variety of tube-type frames, and the four basic types are shown with recommended positions for the clamps.
There are a couple of diagrams showing the measurements for lead, toe-in and lean-out, the first being a measurement of 8 to 10 inches (203-254 mm) from the centre line of the bike's rear wheel to that of the sidecar chassis.
Toe-in is a little like keeping the bike's wheels in line, but in this case the sidecar wheel and the bike wheel must have a track slightly smaller at the front than the rear by ½ to ¾ inches (12.5 to 19mm) and the amount the bike should lean away from the sidecar is about ⅛ inch (3.2 mm).
As I said earlier, these rules are not written in stone and next month the real experts get their say.