Mick Payne discovers many ways of improving the lighting performance of classic motorcycles as he talks to Paul Goff.
It can't have escaped your notice that car lights are getting brighter.
Not a bad thing, perhaps, but it does mean that the less efficient lighting systems of older motorcycles struggle to be seen in the sea of brightness.
There's not a lot you can do with a dynamo system, especially if it's only six-volt, but even if you want to keep the bike looking as standard as possible, Paul Goff can help make your ride stand out far better than Joe Lucas ever did.
First though, a bit of history. The first machines had acetylene lights, with their separate canister producing a flammable gas from calcium carbide and water.
The resultant carbide gas was piped to the front and rear lights where it was lit, providing a surprising amount of light.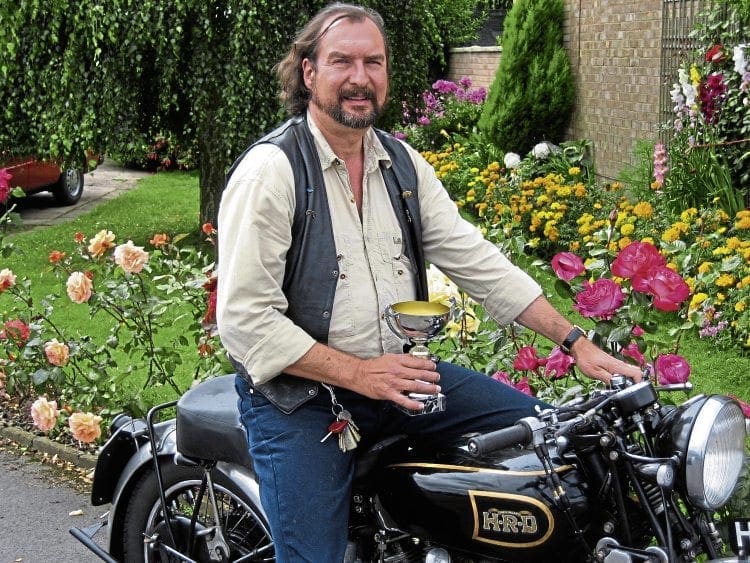 An old friend of mine used to ride a veteran Scott to work, and reckoned that the performance and lights were as good as on a contemporary Honda Cub.
Although electric headlamps were introduced as an expensive option in 1898, by 1912, Cadillac had introduced the first integrated electrical lighting and ignition system.
By 1924 the 'Bilux' bulb offered both main and dipped beams from a single bulb, and this was the standard until the sealed beam unit all but replaced it in the 1940s. These were a long time coming on bikes, though.
1962 saw the first H1 halogen bulb for automotive use, and then came the modern H4 item that is still popular today.
Paul Goff brought me up to speed on bulb design: "The term 'sealed beam' only applies to complete lens/reflector assemblies that have a bulb filament or filaments built in," he said, "so that when they blow, the whole headlamp has to be replaced.
Pre-focus
"Introduced onto cars late 1950s but never used on bikes, British Pre-Focus bulbs predated these and were used on British bikes almost to the end.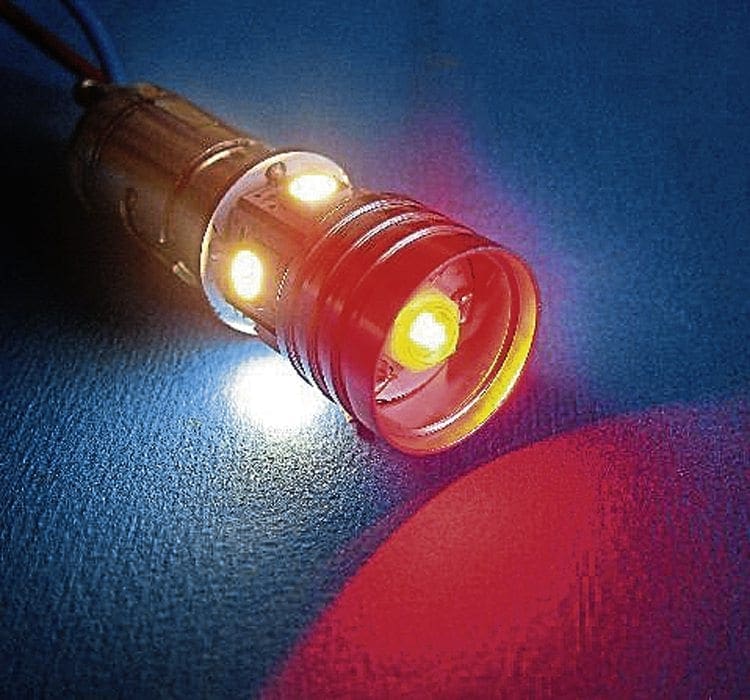 "These are some of what I've had quartz halogen versions made of. They are sometimes called sealed beam because the lens is fixed to the reflector, but they are not.
"The name British Pre-Focus arises because, before these arrived, the bayonet cap-type bulb had to be slid backward and forward in the reflector to get the focus, and therefore the beam right. I do the BC type in QH as well."
"High-intensity discharge was the next big thing," said Paul, "first for BMW before spreading to most other European and Japanese vehicles in the early 1990s.
"In 1962, however, the earliest light-emitting diodes were able to emit a low infrared light, but modern LEDs are available with very bright visible light (over 300 lumens per watt) and with a huge service life."
Ideal? Not for bikes, says Paul. "The LED bulb replacements that are currently available for the older type of headlights, British Pre-Focus and bayonet cap types are rated as 40/36W.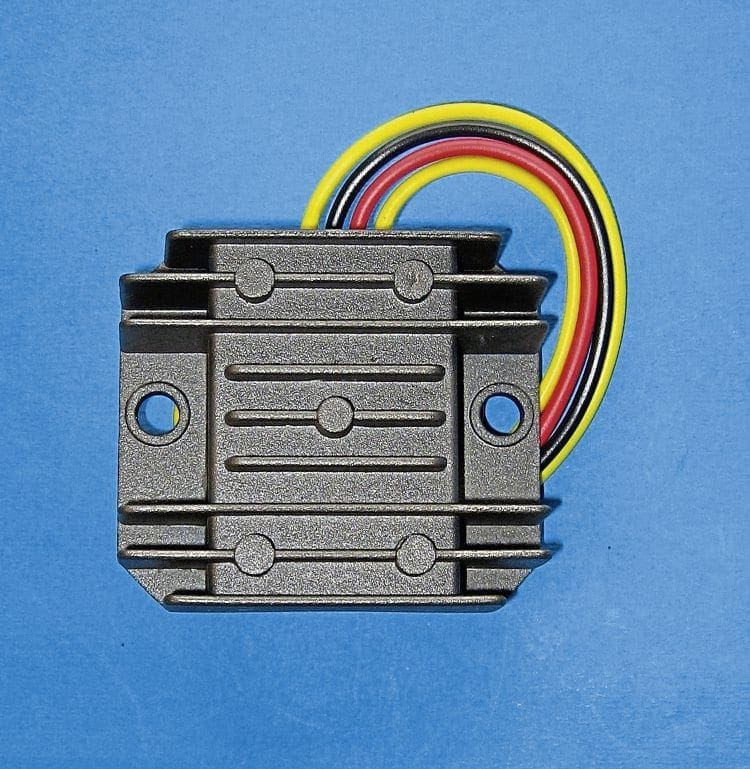 That is an estimation of the light output compared to standard Tungsten filament bulbs as originally fitted to bikes and cars from the 1920s on.
"The light is 'whiter', but the total light output is no greater than that of a standard bulb, and considerably less than our quartz halogen replacements. Most 6V postwar bikes and cars can use our 35/35W quartz halogen bulbs, which are considerably brighter than these LEDs and also provide a better beam.
"The British Pre-Focus type bulbs I have tested in a current 7in Lucas headlamp give a low dip beam and a weak main beam that is up in the trees. LED headlight bulbs draw little current, so would be suitable for cars like Austin 7s with a low dynamo output and low road speed. For anything else quartz halogen bulbs are better.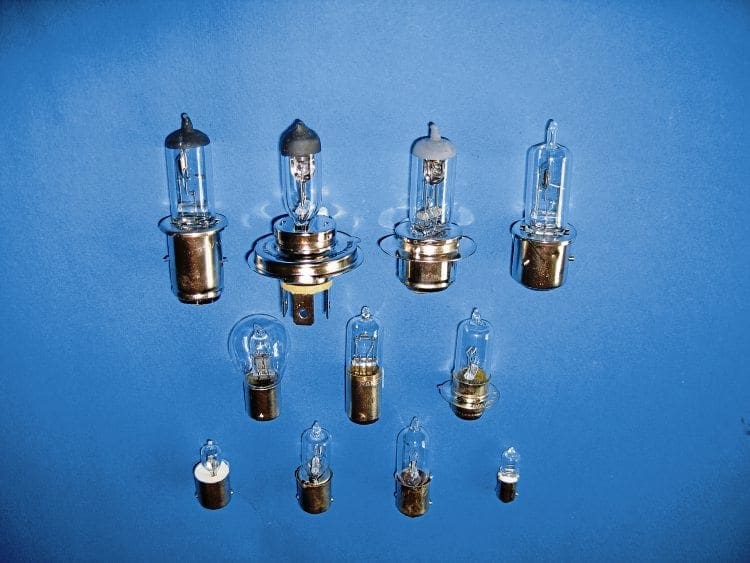 "In 12V we stock 45/40W and 60/55W in British Pre-Focus, the latter giving you a headlight beam as bright as most modern cars, and it can be used with most bikes fitted with a 12V alternator. For 6V we stock 25/25W and 35/35W, both of which are brighter than a British Pre-Focus LED," said Paul.
"LEDs are also available for the modern H4 type of headlamp. These can be made more powerful than the British Pre-Focus type as the fitting allows room for the required heat-sink behind the mounting, but be aware that many of these are still too large to fit inside a motorcycle headlight shell, especially if there's a lot of wiring in there.
"I have tried several of these from Taiwan, and none compares with the brightness or beam pattern of a quartz halogen H4, let alone the Osram Nightbreaker Xenon.
"LED headlamp bulbs are also generally around three times the price of Quartz Halogen headlamp bulbs. For stop/tails, indicators, daytime riding lights and even speedo lights, LEDs do however give good service and can be better than ordinary bulbs," he concluded.
I can substantiate this, having just fitted an LED pilot bulb to my own bike. The light is bright and white, and indeed on a dull day it is sufficient to light up reflective road signs.
Paul started dealing at Ascot's autojumbles, selling second-hand parts merely to pay for his own bikes. He has a nice collection of British bikes that are profiled in detail on his website, although he did say: "I've just bought a Guzzi 1000S for something different to play with."
Jumble stands
After he was hit by redundancy in 2002, things were stepped up. "I started doing every jumble I could find," said Paul, and he attended no fewer than 53 in 2007 – he still usually does around 20 per year.
It was the redundancy money that set him up in the bulb business. "I'd seen adverts for Quartz Halogen headlight bulbs for old British bikes, but when I decided to buy one I couldn't find the advert," he said. "I went online and found a supplier overseas, but had to buy 500 of each type – thanks but no thanks!"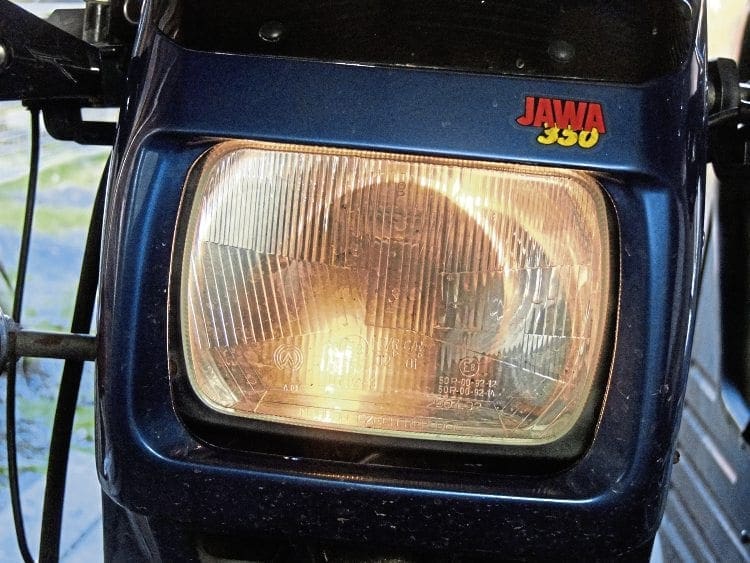 The redundancy money enabled him to buy several thousand bulbs.
"These and QH daytime riding bulbs have been the backbone of the business ever since," he said. "LEDs are proving popular, but there's still a case for QH bulbs in many applications."
His website, one of the easiest to navigate, was set up in 2002. "I did a course in website building and designed it myself," said Paul.
It's not just bulbs on there, however, as he has branched out into other parts for classic bikes.
He sells things he'd find useful himself, such as his light boards for classic and vintage bikes that consist of a rear light with brake and numberplate lights included, on a board that fits inside any number of Lucas and Miller units.
"I have these made to my own specification," said Paul. "I determine the spec, and the manufacturer comes up with a design that works," – and work they do. I've had them on the back of a Triumph T140 and a BSA A10, and enjoyed bright light and low watts.
Most of what's on the website is in stock, and usually goes out the day the order arrives. Paul's preferred method of payment is by good old cheque, followed by debit card for telephone orders, and although he will accept PayPal, he does point out that it's a very expensive option.
My final questions were where he expected the business to go now, as more people seem to be buying and restoring Jap stuff, and whether he sees himself branching out into supplying electrical parts for Japanese bikes.
"I do sell bulbs and LEDs for Jap stuff, but I've no intention of expanding that way," he said. "There's still plenty of business in old British bikes."
It's great to see that someone like Paul is still here to improve our old British Iron and keep it where it belongs – on the road.
A vast array of lighting and other accessories can be viewed on Goffy's website, www.norbsa02.freeuk.com
Read more News and Features at www.oldbikemart.co.uk and in the April 2020 issue of Old Bike Mart – on sale now!