As Ian Kerr points out, anybody familiar with old motorcycles will know the name Juris Ramba, a resident of Latvia, and the self-styled 'Baltic Pioneer'.
Over the years, in difficult political conditions, he has rescued many old, unique motorcycles and, thanks to his engineering skills, became the man to go to in Latvia when all else had failed on a restoration.
His mastery of the English language has also led to him writing many an article in English magazines about motorcycling behind the Iron Curtain.
He has also organised the Kurland Rally every two years, giving visitors the chance to ride their machines in Latvia and see some of the local history, as well as becoming a regular entrant in the Pioneer Run on one of his immaculately restored machines.
Now he has been asked by the Ogre Town History and Art Museum to organise an exhibition detailing his experiences and history with antique motorcycles.It will run from August 15 until November 10, and Juris promises everyone a warm welcome if they manage to make the trip.
Ogre takes its name from the river it is situated on and is just 20 miles from Riga and the main airport.
The exhibition will tell the story of the challenges and some unbelievable sheer luck in finding antique motorcycles, in the most unusual places, over half a century.
In his own words, Juris has literally pulled machines from ditches, flooded basements and attics with leaking roofs. They have been found buried behind a church wall, dug up from the ground and lifted off a 7th floor balcony.
They've been exchanged for a book, camera, a dog kennel, a small lathe and even swapped for a couple of bottles of vodka.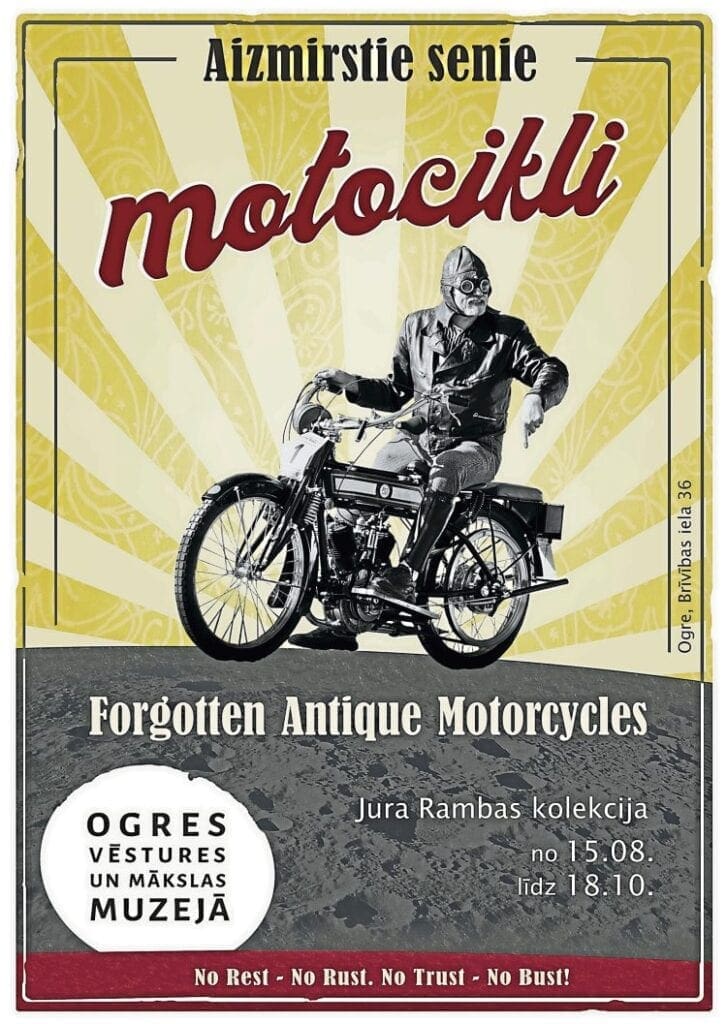 These forgotten "bourgeoisie" motorcycles were apparently regarded as worthless scrap in Soviet times.
It is not all good news though as Juris managed to trace several dozen Compressor DKW racers but found that were destroyed by "walking the plank" – being thrown onto a concrete floor from the 2nd floor and then buried in a ditch somewhere in Russia.
Over the years Juris has put back together several motorcycles from their original components that he found literally scattered in a 100km radius around his home.
Some machines needed a worldwide search for parts in the 1990s, after Latvia gained independency, such has been his dedication.
Juris has also been responsible for helping to keep many unique machines in the country as opposed to allowing them to be sold and shipped abroad.
One such gem is a fully restored survivor of the 1917 Russian military, a Sunbeam/JAP 5hp model. It is from a batch of only 100 made exclusively for the Tsar's army and is known to have been used by the Latvian army after 1919.
"The exhibition will reveal the antique motorcycle collector's problems and responsibility to our ancestors' historic vehicle heritage with vehicles from prewar free Latvia", said Juris.
It will show the importance of craftsmanship in historic vehicle restoration as art, science and magic and feature some of the machines restored by Juris and ridden in many rallies in Western Europe over the years. These will be joined by rare motorcycling artefacts from the beginning of 19th century – engines, tools, and photographs and documents will also be on display.
From talking to Juris, it will be an interesting exhibition and well worth a visit to get a different perspective on classic motorcycling and you will certainly get a warm welcome from the man himself.
Read more News and Features at www.oldbikemart.co.uk and in the September 2020 issue of Old Bike Mart – on sale now!