Being regular readers of this monthly missive, you'll know that the classic bike world has a lot of clubs. Look at Club Call on page 19 if you need that fact reaffirming. So many different
clubs, there must be a suitable one for everyone?
I'm not a 'club person', but I have learned that being a member of a club doesn't necessarily mean committing yourself to anything – it can be more of a self-enlightened way of doing something to help yourself, and to help others. That sounds like a bit of a hippy attitude, or the script to a charity advertisement, but I'm referring to this with relation to the passion in which we are embroiled –
classic bikes.
Many of you are club members – some have joined for parts or insurance discount, some may simply like the social side, while others join a club to lobby against dangerous changes that may affect our ownership of classic bikes.
Yes, while you may think that changes in legislation will only give cause for worry to those who're buying new bikes, think again. There is much to be concerned about in the world of classic vehicles – times they are a-changin'…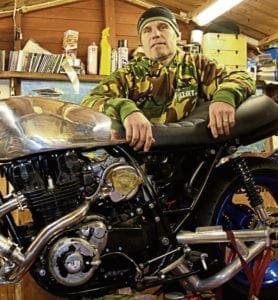 Old Bike Mart has already covered the introduction of ethanol into pump fuels, which may have deeper implications than the removal of lead from fuel in the last century.
Time will tell what the side effects of ethanol really are, but it appears that they're not insurmountable – fuel hoses, filters and seals can be changed, and fuel tanks can be sealed against the effects of the
new fuels.
But what good is ensuring that your bike can still run when there's nowhere to ride it? Many councils, of borough, city or town level, are closely watching the implementation of London's Ultra Low Emissions Zone – the area in central London in which vehicles have to meet tighter emissions standards or face a daily charge of £12.50, starting on April 8, 2019, and which expands to the North and South Circular roads after two years.
Motorcycles produced post-2007 will pass (the standard being Euro 3 compliance), but this does mean that, after October 25, 2021, if you want to go to the Ace Cafe on the North Circular on your pre-'07 bike (regardless of its value, or fuel consumption), you'll pay a charge that is exactly the same for a fuel-efficient motorcycle as it is for a gas-guzzling four-wheel drive – £12.50 – so there does seem to be a little imbalance in the regulation.
There's a gleaming gem hidden in the midden though, as bikes that are old enough to be tax exempt (i.e., 40 years) are exempt from the ULEZ, thanks to lobbying by the Federation of British Historic Vehicle Clubs.
The city of Birmingham is also due to be implementing a low emissions zone, although I can cheerfully say that motorcycles – of all kinds and all ages – will not be included, thanks to the political lobbying of the Motorcycle Action Group.
There are more issues that need to be addressed. There's the startling rate of motorcycle theft, seemingly ignored by the constabulary as a 'victimless crime' (after all, we're covered by our insurance).
Anyone who saw the online video of the stolen 1951 Triumph Thunderbird being held to ransom, and then burnt to a wreck when the money wasn't forthcoming, will be enraged at the police's reasoning.
And then there's 'Vision Zero', the drive for zero road casualties that was instigated by Swede, Claes Tingvall, and adopted by the Mayor of London, Sadiq Khan. This suggests that personal mobility should be sacrificed in the name of reduced casualties, in an Orwellian piece of legislature that beggars belief…
I mentioned that I'm not a club type of person. I like owners' clubs, and am friends with many, but not actually a member – if I was going to join one, I'd want to join them all! I am, however, a long-standing member of the Motorcycle Action Group, and after enjoying the training day at Curborough earlier this year, I joined the VMCC.
As mentioned, both groups are doing sterling work in not only ensuring that we can continue to ride bikes in the future but also that classic motorcycles have a future too. To reiterate, the VMCC supported the FBHVC in removing classic vehicles from the London ULEZ, and MAG lobbied for the exclusion of bikes from Birmingham's low emissions zone, and they'll be fighting any further anti-bike legislation. And, for those reasons, I feel justified in paying my yearly subscriptions.
But there are those that feel that the likes of MAG and the VMCC are little more than self-aggrandising fellows intent on little more than pretentious self-promotion and pomposity.
And yes, I have heard those very words said, about those two groups, usually by people who haven't got full knowledge of the two clubs in question. But, right now, there is good reason to support those very two institutions, in much the same way as we should all support the people who advertise in this magazine, those who organise bike shows, and those who run your local bike shop/autojumble/race track/ bike pub or cafe. If we don't support them, they'll disappear, and we'll be left alone, with nowhere to go and no one to turn to…
In the same way as we're urged to 'buy local' or, as the phraseology a couple of decades ago said 'Buy British', (although I have the feeling that doing either of these things is, somehow, not politically correct in the confusing modern political climate), then we should support those who are looking after us and our chosen lifestyle.
Every single person reading this issue of OBM has an interest in classic motorcycles and, therefore, a vested interest in the survival of bikes, old and new. And every reader needs to support the very people who are ensuring that we can ride our bikes now, and in the future.
Enjoy the issue,
Dave