With the somewhat irregular operation of the standard speedometer on many classic bikes, and the necessity for having very accurate speedos in these days when you can land yourself a hefty fine and points on your licence for just a couple of mph over the posted speed limit, it makes sense to fit a more modern speedo that records an accurate velocity.
However, that doesn't mean that you have to fit an instrument from a modern bike, or use something that doesn't fit the classic style of your machine, as there are stylish equivalents available that are as accurate as any production machine's instruments.
We spoke to Jon Pullara of Digital Speedos and went over some of the most frequently asked questions the hears.
Early versions
If we look back to early motorcycles, the speed was generated by a rotating metal speedometer cable, driven from either a separate gearbox on a wheel or directly from the engine gearbox. To operate an electronic digital speedometer we must first generate a speed signal.
How do we do that?
Nowadays we can generate a speed signal in a number of different ways: Directly to the original mechanical drive attached to the wheel or gearbox via an electrical sender, or via a universal cable drive adapter connected to the top of the original cable.
If no mechanical drive is available or suitable we can supply a separate speed sensor. This can be either a magnetic type, similar to that used on a bicycle, or a non-magnetic speed sensor that can be triggered by spokes, brake disc bolts or even the slots in the sprocket.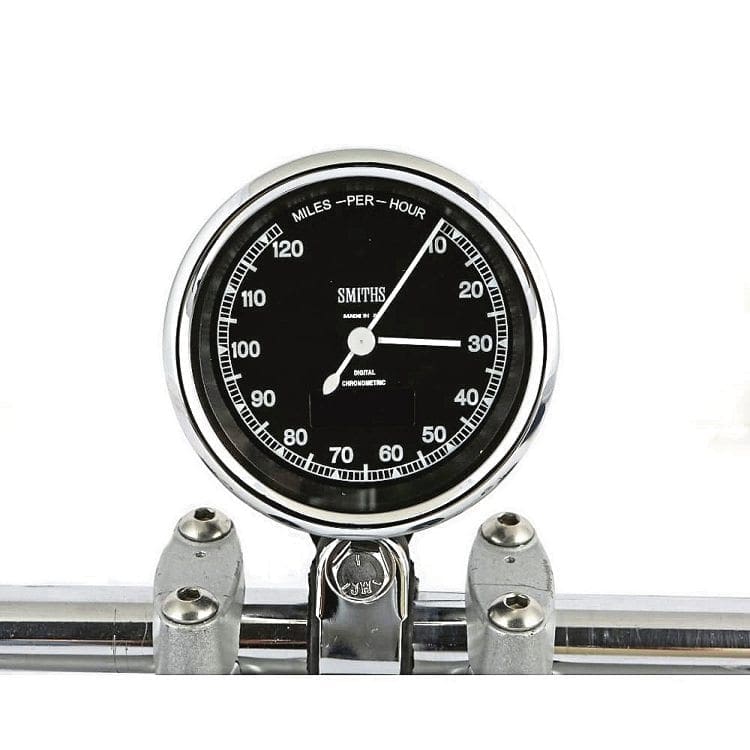 We also have the option to produce a speed signal via GPS (global positioning satellites). For this we use a fast 10hz (10 times per second) motorsport receiver that doesn't show up any kind of lag in speed and has fewer dropouts, unlike satellite navigation systems and smart phones, which use a much slower receiver (typically 1hz or one per second).
There are a few urban myths surrounding GPS such as "it does not work up or down hills". Not true: We are still moving forwards. "It only works in straight lines, not around twisty roads." Again, this is untrue. Multiple satellites ensure the speed is registered no matter what position it is in.
Once we have given the motorcycle a suitable speed signal the gauge is calibrated to your specific configuration. This is a job easily completed by the purchaser of the new gauge, and of course experts such as Jon are always available with technical support if it's required.
What power supply do we need?
The vast majority of Jon's products require a 12 volt DC supply, which can be provided from the motorcycle itself or via a small rechargeable battery.
They also have 6 to 12 volt converter units for 6 volt systems. Some scooters and off-road bikes only have an AC power supply. And, if that's the case, there's an AC/DC converter that will accept an input of between 12 and 30 volts, AC or DC, and will output a smooth 12 volt DC supply.
A few of the models of gauge they supply will operate from an internal battery and only require the addition of a speed signal input.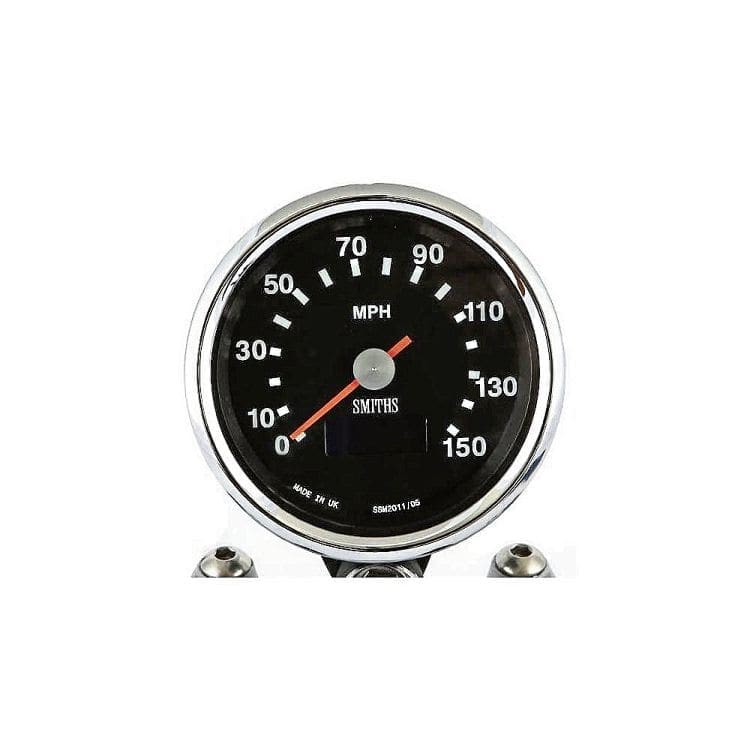 What about 'positive earth' motorcycles? In the UK there are still many motorcycles which go under the title of 'positive earth'. this should really be described as positive frame, as there is in fact no electrical connection to earth on a motorcycle, owing to the rubber tyres.
The basic concept of the electrical system is positive and negative. If we think of it as this – rather than earth – it's less confusing: positive connections to the positive and negative to the negative.
■ More information can be had from Digital Speedos on 01564 775522, email jon@vmaxbitz.com or visit the websites at www.vmaxbitz.com and www.digital-speedos.co.uk
Read more News and Features at www.oldbikemart.co.uk and in the July 2020 issue of Old Bike Mart – on sale now!
Enjoy more Old Bike Mart reading in the monthly paper.
Click here
to subscribe.
Comments
comments