Creating a reputation for a factory with just one machine isn't easy, yet Steve Cooper shows just how Kawasaki managed it.
Whether you like two-strokes or loathe them, you need to give thanks to Kawasaki's launching of their mad-as-cheese 500cc triple.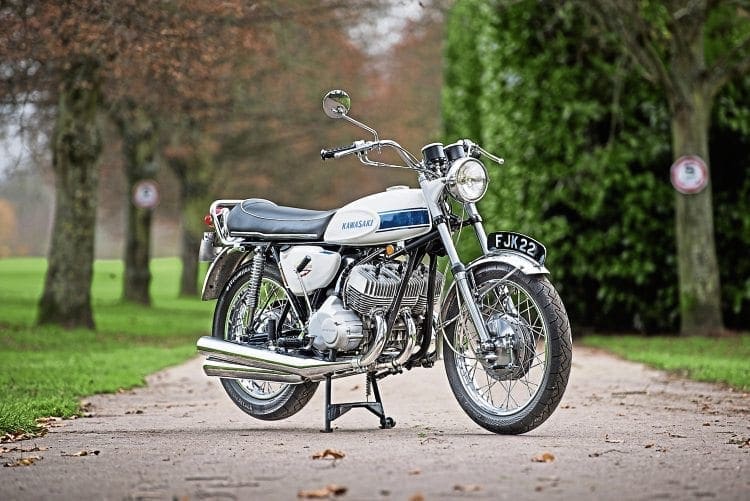 This bike, above all others, marks a line in the sand whereby motorcycles cease to be simply methods of transportation and become overtly leisure devices, toys for adults, recreational artefacts and so on.
This was THE MOTORCYCLE that changed how the trade, the public and the media at large perceived motorised two-wheelers.
In the early 1960s, Kawasaki was an industrial giant that found its aeronautical wing at a loose end. They'd previously acquired Meguro, which brought with it a heavily reworked 500cc BSA A7 clone that Kawasaki latterly hogged out to 650.
The machine was supposed to be the company's first serious foray into larger capacity motorcycles, yet the W series failed to make strong inroads into the all-important American market. The company had done reasonably well with its A1 Samurai and A7 Avenger two-stroke twins, yet these bikes alone weren't sufficient to give Kawasaki the credibility it required.
This hiatus catalysed a research programme that sought to deliver a fast, relatively lightweight, 500cc machine that, crucially, would score on performance.
While Europe measured a bike's kudos and worth via top speeds, Kawasaki had noted that in America it was standing start quarter mile times that impressed both the press and the bike-buying public. Whatever machine the company were going to deliver, it had to be hot off the line and focused on that all-important 440 yards of tarmac.
Read more and view more images in the May 2019 issue of Old Bike Mart – on sale now!