Following last month's feature about motorcycles powered by Villiers two-stroke twins, Pete Kelly raids the Mortons Archive to bring road tests of Excelsior's 1951 244cc Talisman, featuring its own two-stroke twin engine, and Cotton's 1956 322cc rotary-valve twin powered by a British Anzani two-stroke.
Smoothness, torque and brisk acceleration have always been desirable characteristics of the British two-stroke twin, going right back to the Scott years and, in the later 1950s, embracing the brilliant engines at the heart of Ariel's Leaders, Arrow and 'Golden Arrow'.
As for the more typically cheap and cheerful lightweights of the 1950s, particularly the earlier part of the decade, Excelsior and British Anzani two-stroke twin engines also vied for attention – and this feature concentrates on a March 1 1951 road test by The Motor Cycle on a 244cc Excelsior Talisman and Motor Cycling's July 5 1956 road test of a 322cc British Anzani-powered Cotton.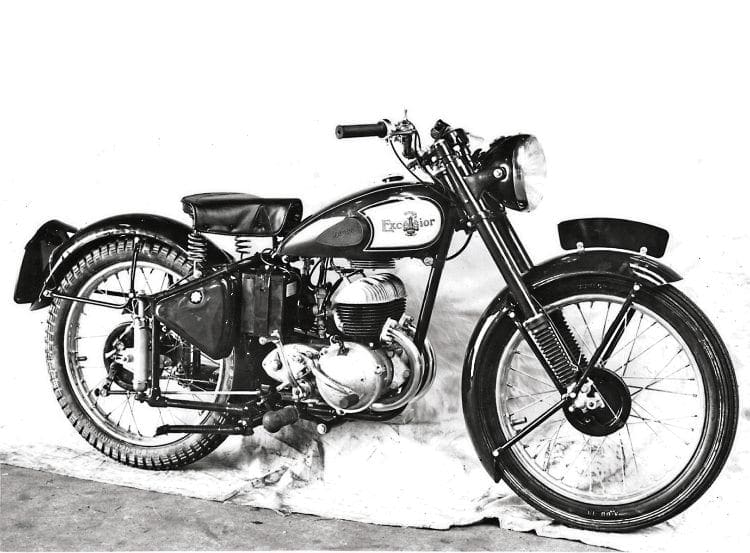 Don't allow expectations to become too high, however, for we're talking about machines of well over 60 years ago, and by modern standards they neither went nor stopped very well.
Introduced at the 1949 Earls Court Show, the Talisman tested by 'The Blue 'Un' was described as having 'lively performance allied to smooth torque, good handling and braking' and the report began: "Four-cylinder torque, with its consequent 'top gear performance', has for many years been an eagerly-sought characteristic in motor cycles. Hitherto, however, almost without exception, it has been available only in expensive, luxury mounts.
"Today the 244cc Excelsior two-stroke twin, the Talisman, offers four-cylinder torque at a price within the range of many. Exceptional smoothness of engine and transmission is one of the Talisman's most impressive features. True, like all normal three-port two-strokes, the Excelsior engine suffers from erratic firing when it is running on light load, but the low-speed torque is so good that, with intelligent handling of the throttle, the occasions during which uneven firing need occur are so few as to render the criticism nebulous."
Read more and view more images in the January 2019 issue of OBM – on sale now!


Enjoy more Old Bike Mart reading in the monthly paper.
Click here
to subscribe.
Comments
comments