So, what happens when two engineers fascinated by old motorbikes get together and talk about building a vintage-styled motorcycle using modern manufacturing techniques? Martin Gegg and Rob Overy visited a small industrial unit in the Hampshire countryside to find out more.
I first met Steve Hayes at a bike show in 2017. As a lover of '20s and '30s bikes I immediately recognised the styling of the Hollis bike and totally got the 'New Vintage' ethos of marrying original styling with modern safety features.
The look was just up my street, the riding position felt perfect, it was easy to start on a conventional kick-start and, most importantly, sounded great! Keen to find out more about this little-known British production bike, I headed off to Hampshire in 2018 to find out more.
Nestled between the villages of Oakhanger and Blackmoor is the headquarters of Hollis Motorcycles, located in a modest workshop overlooking farmland.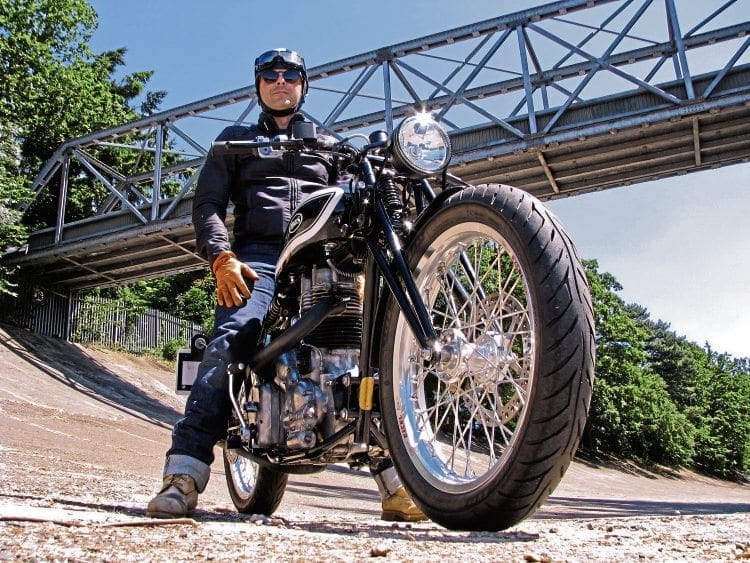 Steve Hayes, joint owner, explained that he met custom bike builder and business partner Steve Lowe a few years ago and they got talking about recreating something old, but built using modern techniques. It started out in theory styled as an Edwardian pioneer motorcycle, but as these idle thoughts moved to more serious discussions about the feasibility of producing a machine more relevant to the current market, the Hollis Type A was born.
Sketches became drawings, and the detailed drawings slowly became a concept build. That, it transpired, was the easy bit. They soon realised that if they were serious about going into production they would have to get involved with the DVLA.
However, their intention was always to bring the vintage classic up to date with the latest state-of-the-art suspension and brakes, so the rigorous standards applied by current legislation in these areas was unlikely to cause any concerns.
The Steves were clear about the goal, which was for a practical bike for the 21st century. Something stylish to run down to the pub, while not compromising on the heritage styling, which was inspired by a 1930 Model 18 Norton.
Steve Lowe recalls Steve Hayes's obsession with the design detail, such as the straight line of the exhaust and the subsequent challenges of manufacturing the pipe's exit from the engine. "We would send out the pattern, only to get it back in the post a few days later with a 'can't do it' note."
Steve Lowe went on to explain how nobody seemed to be able to achieve what manufacturers had done as a matter of course back in the day, so they decided to fabricate it themselves.
Steve Lowe's modest 'can do' attitude is built on a solid foundation of good old-fashioned craftsmanship and knowledge, built up over 20 years of experience creating custom motorcycles.
Read more and view more images in the January 2019 issue of OBM – on sale now!