Steve Cooper investigates the launch of what many people termed as being the Japanese Brit twin.
Fifty years ago, in 1969, came the announcement of possibly one of the most contentious motorcycles to be made in Japan up to that point. Yes, indeed, Honda had already announced the game-changing CB750/4 and, to many, it looked like it was bordering on science fiction.
When the renegade free-thinkers at Iwata pulled the covers off the Yamaha XS-1 at the 1969 Tokyo Motor Show, few could believe what the firm had achieved. Aimed fair and square, full bore, and with both barrels cocked, Yamaha was taking on the might of the combined British motorcycle industry and few could believe that they'd achieve their aim.
The development goes back to the mid-1960s, when Yamaha realised that they needed a large-capacity machine if they were to make it big in the American market. They believed a four-stroke was needed and, fortunately, had a rather handy blueprint to hand.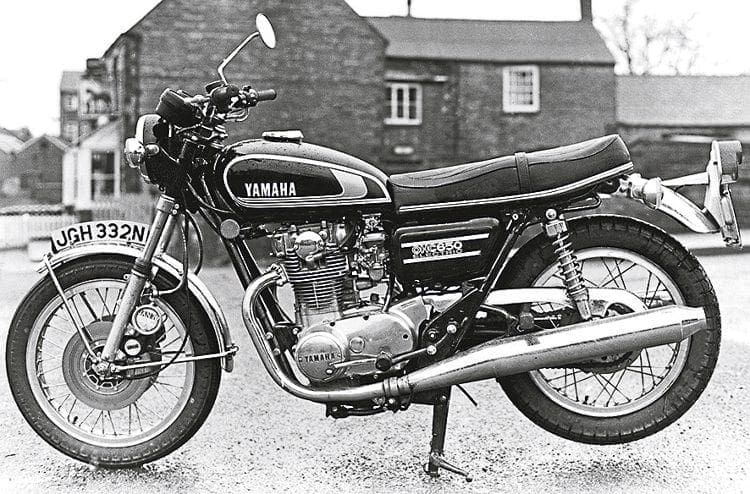 Despite being a 'two stroke only' company, Yamaha had worked in partnership with Toyota, helping them to develop the engine for the miniature E Type known as the Toyota GT2000. The motor ran a DOHC top end which instantly aced the British twins that Yamaha was trying to usurp. However, two cams would put any Yamaha engine too close to Honda's CB450, so a single OHC motor was agreed upon. Toyota was happy to allow Yamaha access to other key details and from there it was game on.
The XS650/XS-1 bottom end was based around what Yamaha knew… two strokes; therefore a roller-bearing bottom end was nominated. This allowed the use of a low pressure trochoidal oil pump which also reduced the likelihood of oil leaks, so far so good.
With a substantial set of main bearings, needle rollers in the big ends and direct gudgeon pin to little end eye contact, Yamaha turned its attention to the cylinder head. With an alloy casting applied to an iron skull, the motor was already prepared for unleaded fuel; Yamaha was taking no chances.
And to ensure the top end was bombproof the camshaft ran in four massive bearings, two at either end. With motorcycle engines having little in common with cars, Yamaha had to come up with a bike-friendly transmission and looked inhouse for inspiration.
The recently launched YR1 350 stroker twin was already proving its worth and the subsequent TR2 racers verified that the design was exceedingly robust. Yamaha's initial prototypes ran the YR gearbox almost unmodified! The YR 350 also lent the 650 twin its chassis geometries and general layout; Yamaha had a fully functioning machine they could now shake down.
Read more and view more images in the January 2019 issue of OBM – on sale now!