Imagine being the development manager at a maker of mobile phones in 2007. There you are, happily turning out straightforward push button phones by the shipload. Your customers can't get enough of your designs – and then Apple introduces the Iphone and you suddenly discover your entire range is out of date.
Words Oliver Hulme
Pics Gary Chapman
That's almost what the bosses at BSA-Triumph found themselves dealing with in the mid-1960s.
After decades of turning out solid and sporty, if occasionally unreliable, machines, their market was booming. And then the long derided and scorned Japanese started to come up with bigger and better motorcycles of increasing sophistication, while the Italians wiped out what was left of the lightweight market with nice clean scooters.
As managers ran around like headless chickens or buried their heads ostrich-like, the designers remained at their posts. In 1963 Doug Hele, who had been poached from Norton by Bert Hopwood, had taken Triumph's 500 twin engine, added a third cylinder and created, on paper, the P1 – a 750cc triple. The design was rejected by Triumph's boss Edward Turner, who had his own ideas for a multi-cylinder big bike and Hele, along with Bert Hopwood and Jack Wicks, put the P1 on the back burner.
t was only when Turner retired and BSA Group went into a panic about the state of their business that the triple resurfaced.In 1965, with rumours of four-cylinder machines to come from Honda and Kawasaki beginning to escape Japan, Doug Hele was able to placate the bosses with his design for a triple.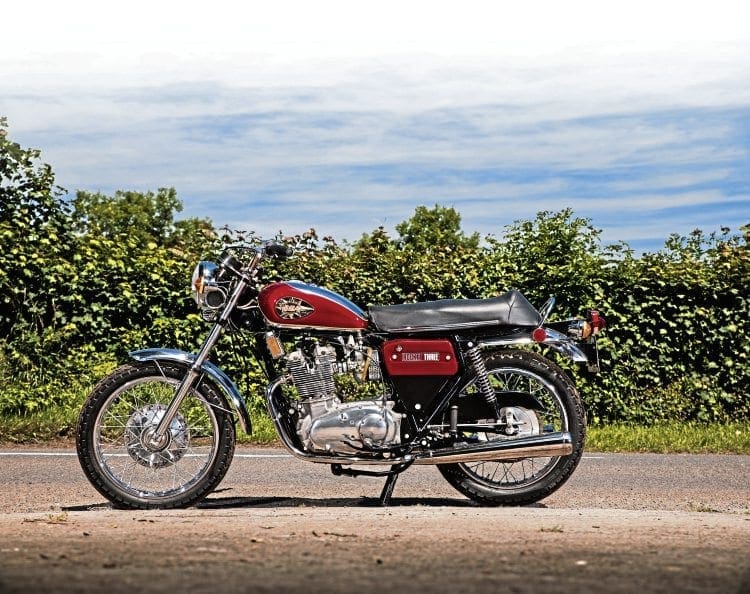 Three complete sets of engine casings were produced and it was road tested in 1965 using a 1965 T120 Bonneville rolling chassis. The new management saw the triple as a winner and development went ahead. Who knows what might have happened if Hele had been given the go-ahead in 1963?
Although the original style for the triple had been based on the Triumph twin, the job of styling the triple was done by Ogle Design, the initial designs being penned by Jim English – uncle of classic racer and Manx Grand Prix winner Glen English.
Ogle Design had also been responsible for the Bond Bug and the Raleigh Chopper and were later the designers of Luke Skywalker's land speeder in Star Wars.
The 18-month delay caused by Ogle's work meant the bikes, which should have taken the world by storm in 1965, were fatally late to the market.
Read more and view more images in the February 2019 issue of OBM – on sale now!