With many anniversaries of significant Japanese motorcycles coming up, Steve Cooper looks at one we almost completely forgot last year – the golden anniversary of Yamaha's ground-breaking YR1 350cc two-stroke twin.
The marking of special occasions comes under the umbrella title of 'anniversary' or, to use the dictionary definition, the date on which an event took place or an institution was founded in a previous year – so we'll add machine launches to that as well – and fortuitously, 2018 is a good year for them with various popular classics marking significant milestones.
It's worth remembering that in almost every instance the Japanese factories gave precious little emotional attachment to their products. Bikes that might have been supremely significant to a company's expansion, its success on the race tracks, its sales figures and in some cases even its commercial future have received little in the way of home-spun recognition.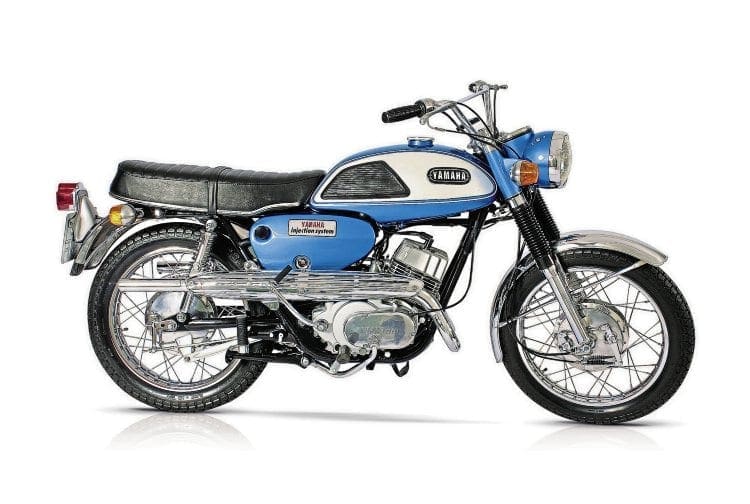 At times, Honda has insisted that mainstream prototypes, and even race-winning bikes, be cut up, crushed or otherwise rendered as scrap.
Yamaha has also been vague about the fate of numerous machines, denying that any of the mystical GL750 four-pot two-stroke superbike prototypes still exist – yet more than one insider has caught a glimpse of the bike's unique white vinyl seat cover in a secure strongroom.
Perhaps the senior management nip down the basement for a look at what might have been every now and again when they're having a bad day?
Suzuki hasn't been immune to ignoring its corporate past either, for it's well documented that numerous quantities of parts and models from Hamamatsu's racing days were used as hard core under the floor of a factory extension! It's enough to make a grown motorcyclists cry.
Thankfully the Big Four, including of course Kawasaki, have been moved by the collective powers of public pressure, the burgeoning classic scene and an ever-ageing demographic, to embrace rather than ignore their history.
Each manufacturer approaches the classic scene with a different mindset, but at least they are finally in contact with their past. Arguably Suzuki is the most pro-active, having unearthed caches of previously-forgotten spares, tooled up and turned out small batches of long-obsolete vital parts and asked for dealer/importer ideas on what to replicate next.
Read more in the August 2018 issue of OBM – on sale now!