Often forgotten among the Ariel four-strokes that were consigned to history, to make way for the Leader and Arrow two-stroke twins in 1958, was the long-lived 597cc VB.
Pete Kelly raids the Mortons Archive to find out more about this well-loved side-valve single, and its stablemates.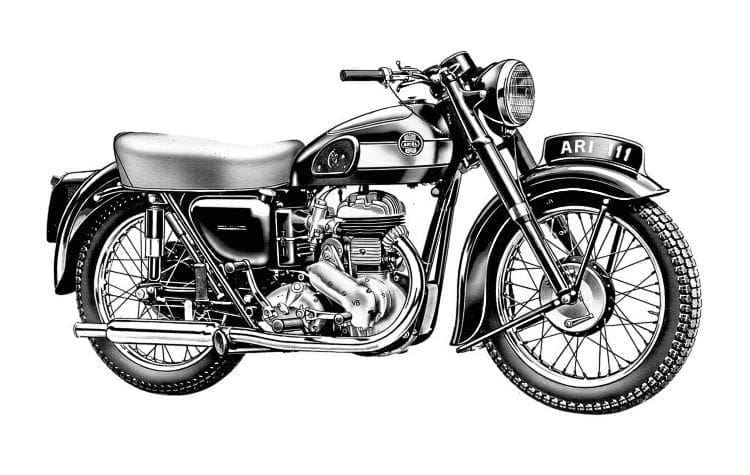 Ariel's long production of side-valve motorcycles began more than 100 years ago with a 3.5hp 499cc single, and continued well into the 1950s with arguably the nicest-looking of the lot, the 600cc VB of 1954, its flowing lines enhanced by a swing-arm frame, buff-coloured dual seat complementing its claret finish, and the up-to-date tank styling that typified the final four-stroke range.
The engine had been perfected many years previously, and was absolutely gremlin-free.
The lasting appeal of the side-valve engines in general was their fat wallop of torque at very low rpm and absolute ease of maintenance – and to underline the latter fact, my younger brother and I shared a sturdy old BSA M21 for a while during our teenage years, and never touched it once!
Such characteristics made 500cc or 600cc side-valve machines ideal for sidecar work during the days when a 45mph gait on lower gearing was perfectly acceptable – and this remained the case in the very last road test of an Ariel VB outfit that I could find in the bound volumes of The Motor Cycle and Motor Cycling in Mortons' priceless Archive.
The machine was paired with a Watsonian Maxstoke – just like the one my late dad had on his Matchless G9 – and the test appeared in the December 30, 1954 issue of The Motor Cycle.
Read more and view more images in the April 2019 issue of Old Bike Mart – on sale now!