While so many events are being cancelled and postponed, it still seems reasonably safe to consider that those towards the end of the summer will be taking place.
So, it's time to put self-isolation to the back of your mind, and think ahead to the time when we'll be able to drag our classics out of the garage and go out and play.
In fact, it's an ideal time to enter that most iconic of all festivals, The Kop Hill Climb weekend of September 19-20.
More than a century ago an intrepid group of motorcyclists gathered at the foot of a steep Chiltern hill and started a tradition that's still flourishing today, the Kop Hill Climb.
After its initial rather amateur start, Kop Hill Climb went on to be a premier 'must attend' event for the next 15 years.
Being just a short drive away from the new circuit at Brooklands meant that motorcyclists and car drivers could easily compete in both.
Despite the introduction of cars the following year and the furious attempts by many famous drivers of the day, motorcycles remained the fastest machines to take to the hill.
Pictures of the day show that no expense was spared by the likes of Malcolm Campbell, Count Zborowski and Henry Seagrave taking to the hill in ever more powerful aero-engined, monster cars, to try to take the hill record.
Yet the record stands to a motorcyclist, the ebullient and fearless Freddie Dixon on his 500cc Rudge. Today, looking at the smooth, closed road that winds its way up through the woods, it's hard to imagine what it must have been like back in those halcyon pre-war days.
The Chiltern hills are formed of chalk and the unmade road of those years would have been little more than a farm track. Yet in 1925 Freddie recorded a time that has never been beaten.
An average speed of just over 81mph. Yes, averaged. That must have meant he was taking those curves at more than 100 miles an hour. On chalk. On a 1925 Rudge, albeit one which was highly tuned and modified.
Archive photos show us that the distance between the thousands of spectators and the competitors was no more than a grass verge and a slender rope away from contact.
So it was probably inevitable that things might go awry. At the 1925 record-breaking event, a spectator pushed his way forward, despite the best efforts of the RAC officials on the hill to stop him.
A Bugatti, a Type 35B racing model, ran over his foot. Unfortunate enough, you may think, but worse was to come.
He complained to friends in the House of Commons, a debate ensued and, within a week, all racing on the roads of Great Britain was banned.
Fortunately, thanks to a relaxing of the rules forbidding motoring events on public roads, Kop Hill Climb was revived in 2009.
To be clear, Kop Hill Climb is now a very different event, certainly not the race to the top at all costs it once was.
Today it's not timed, and is more of a show and go – a celebration of those early years, an event that gives riders an open well-made road completely clear of traffic and a chance for them to show the 18,000 or so spectators just what their machines are made of.
Given that the emphasis is now not solely on racing, Kop Hill Climb can probably boast a wider range of pre-war machines (and they must be road legal) than they ever had pre-war.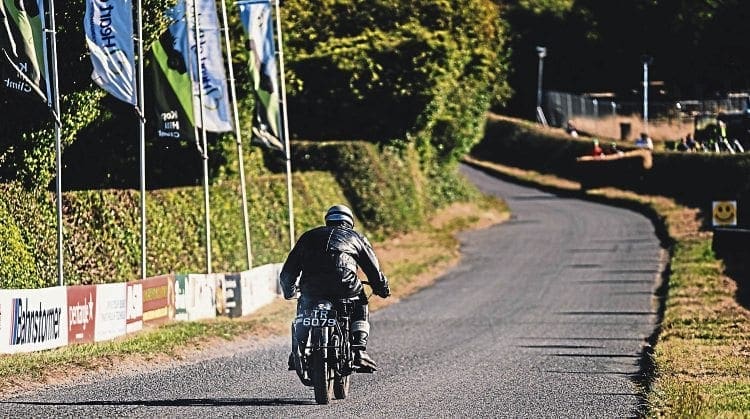 So what's it like to run the hill? Many Old Bike Mart readers will already be able to answer this question, but for those just wondering whether to put Kop Hill Climb on this year's very short event list, here's a guide.
After being called up from the paddock you will be ushered to the start line to sit, engine ready, under the large start banner. The hill before you starts off innocuously enough with a quarter of a mile of tarmac that slowly rises to the bend that takes you up through the woods.
Vast crowds, with their view enhanced by raised walkways, line the road.
After that deceptive start, the hill rises steeply. At its steepest it rises from one in six steep to one in four! Many of the very earliest machines from around the turn of the century start wheezing here.
The hill then levels out before a small chicane slows down the faster bikes and the chequered flag is waved. For many the next bit is as enjoyable as the climb.
The descent by another hill takes you through the town of Princes Risborough – a chance to wave to the residents who come out in their hundreds to cheer on the hill runners.
Then it's back to the paddock to join the festival and do it all again in the afternoon.
The paddock itself, crowded though it is with hundreds of magnificent machines, is only the start of the treat for those interested in things automotive. Kop Hill Climb has become a mecca for clubs, from priceless veterans to cheeky, somewhat careworn tiddlers.
Expect a few older ex-TT riders to ride the hill in 2020 to mark this 110-year bike anniversary.
Kop Hill Climb is run entirely by volunteers, about 300 of them, and all the income supports local charities.
Last year saw the total collected since 2009 amount to more than £750,000. Yet Kop Hill Climb still remains one of the most relaxed, friendly and open weekends in the historic calendar.
An English garden party of picnics and entertainment blended with the noise and fury of more than 700 cars and bikes from across the ages.
So, get fettling in the shed and get your entry in as soon as possible as the event is always oversubscribed. Come as an individual or perhaps get members of your club to join with you.
Club pitches are free with only the members who display or run the hill paying a fee for charity.
It's April 1 for pre-war bikes, two weeks later for postwar bikes, with entries closing at the end of May.
With pre-war bikes getting priority, start planning for a truly great weekend later this year.
To register go to www.kophillclimb.org.uk and scroll down to 'Entrants'.
Read more News and Features at www.oldbikemart.co.uk and in the April 2020 issue of Old Bike Mart – on sale now!