With the popularity of BSA's two-stroke lightweight seemingly growing by the week, especially within the twin-shock off-road trials arena, it's little surprise that the aftermarket is expanding to suit.
What you see here are folding kick-starts for the Bantam – for trials or road use – as supplied by Alan Wright at Trico Products.
These fold in nicely to allow freedom of rider movement plus they clear the footrests on trials machines. They are made in steel, so are strong but small and don't go sloppy as aluminium ones do on the "post".
There are two sizes of kick-start shafts for Bantams – the ¾" as fitted to all three-speed models, plus the D10 and early D14 models.
And then there is the 7⁄8" shaft, as fitted to late D14 and all B175 models to which these kick-starts fit.
The BSA factory increased the shaft size in 1969, as with the smaller shaft when the kick-start is tightened it fouls on the gear lever shaft which runs through its centre and thus impacts on changing gear sweetly.
Article continues below...
Advert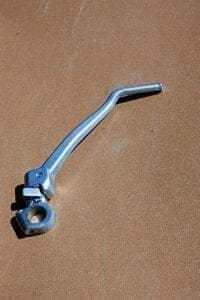 If your bike has a smaller bore shaft, the conversion is simple. Just bore out your side casing to 7⁄8" and buy a new 7⁄8" shaft now available from Alan – ¾" shafts are also available, but not ¾" kick-start levers.
The kick-start costs £65 plus £5 for postage and packing. Contact Alan at Trico Products on 01789 751422.
Read more News and Features at www.oldbikemart.co.uk and in the June 2020 issue of Old Bike Mart – on sale now!
Article continues below...
Advert
---
Advert

Enjoy more Old Bike Mart reading in the monthly paper. Click here to subscribe.
---