Vintage motorbike racers from Cornwall have achieved their ambitious targets of breaking American Land Speed Records against the epic backdrop of the Bonneville Salt Flats in Western Utah, US.
Team Wildcard consists of Phil Betty and Miki Sprosen, both vintage and classic clubman racers for more than 20 years.
They are sponsored by Monty's Classic Motorcycles, which, like the racers, is based in the Tamar Valley in East Cornwall.
Both riders have been track racing with British Historic Racing since the 1990s and four years ago they made the mutual decision to branch out to land speed racing.
Taking up the opportunities afforded by Straightliners at Pendine Sands and Elvington, they quickly achieved UK records and so set their sights on the racing mecca of Bonneville, for the Speed Trials AMA Grand Championship 2019.
Miki and Phil have been Triumph enthusiasts for a number of decades, so the opportunity to take their Triumphs to Bonneville was a natural choice.

They also wanted to get the relevant records back on the classic British bikes, as before their trip the 350 record was held by Moto Morini and the 650 record by Kawasaki. Phil was determined to regain the 350 record on a 1957 T21, owned by Lenny Diggins, and Miki set his sights on the 650 record on his 1971 production 650.
Miki said: "Bonneville is an iconic place, a mecca for racers across the world. Anyone who's seen The World's Fastest Indian would want to give it a shot. After we started straightlining, and achieved our initial aims and records at both Pendine Sands and Elvington, we knew it was now or never.
"We made the decision to go a few years ago and in between we have been saving the money while researching all of the details and preparing our two Triumphs."
Phil said: "As with all racing, you spend hundreds of hours in the shed building and re-building the bikes, then testing them. All this for a few minutes on the track. But those few minutes are what inspire you to do it all again next time.
"We were both ready, and hungry, for the Bonneville adventure – and prepared to go out and get those records back for Triumph."
Following months of research, both flew out to Salt Lake City, eager to see the bikes which had been air freighted via Seaborne Freight.
There was a palpable relief in the air when the bikes, tools and gear were ready and waiting in an industrial unit on the edge of the city.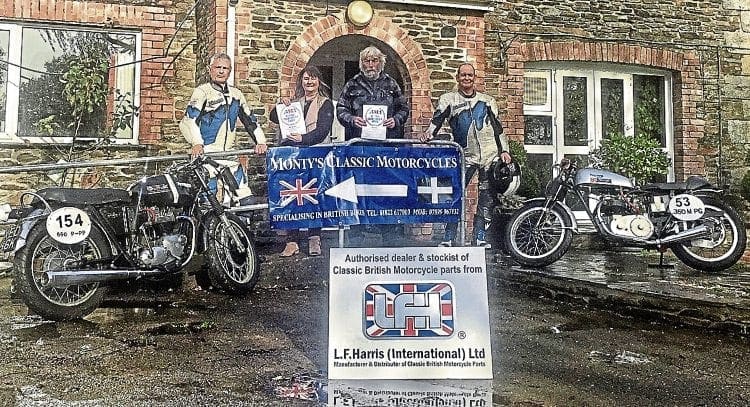 The team then journeyed across Western Utah to get their first view of the hallowed Bonneville Salt Flats, and meet the volunteers who create this global racing phenomenon.
After the first two days of racing, the bikes were just off the existing record times, so both guys worked on their bikes well into the night, making changes to valve timing and compression, and on day three, after a 5am alarm call, they went out on to the salt in the cooler morning conditions and scored the American Land Speed Records that they had crossed the Atlantic to gain.
A significant part of classic motorbike racing lies in finding and squeezing speed out of engines and machinery that was originally built to achieve much lesser figures.
Phil took two seconds off the existing record for his class, making more than 98mph on the 1957 Triumph T21, a bike originally built with speeds suitable for a gentle commute to and from the workplace.
Miki followed quickly behind, initially taking two seconds off the 650 pushrod production record, and then returning each day to continue to break his own record, taking the final speed to more than 106mph.
You are not allowed to modify bikes in the production class, so performance gains are minimal, and a one mile an hour improvement can take months of development.
Both records were recently affirmed with the official certificates which were delivered back to Cornwall on their return.
Phil said: "All the planning and logistics came together for both of us on Day 3, along with the weather and the salt conditions which enabled us to achieve our goal of taking these Bonneville records on Triumphs.
"Riding the bikes out on the salt for the first time was like living a dream – intense but somehow completely natural. We had dreamt of coming to Bonneville and worked so hard to get those records, but none of it was ever a given.
"Then, when we both achieved our records in quick succession, it was quite possibly the best day of my entire life."
Miki said: "We felt like rookies before we arrived, but by the end of the event, with the overwhelming support of everyone there, it felt like we were always meant to be there.
"The Bonneville organisers, scrutineers and all the volunteers, plus all of the other racers and their supporting crews and families, are phenomenal and we cannot thank everyone enough for looking after us so well – especially The Edwards Racing team.
"Our thanks also go to our sponsor, Monty's Classic Motorcycles and his parts supplier, LF Harris."
Miki continued: "Our classic Triumphs caused quite a stir over there and it was brilliant to connect with the small number of other Triumph racers who were also competing.
"We would absolutely recommend that any interested racers make the journey to Bonneville.
"There really is nowhere like it and we'd be delighted to pass on any advice, or information, to any other British racers who are keen to discover this epic experience."
The Team Wildcard riders are now considering conquering new FIM Land Speed World Records in 2020 on more modern Hinckley Triumph bikes.
Read more News and Features in the February 2020 issue of Old Bike Mart – on sale now!