Dave Manning tells the story of the Triumph legend, forged on the Bonneville Salt Flats, that became a byword for mile-gobbling performance after production began in September 1958.
Sixty years ago the Triumph Bonneville, a motorcycle that would become an icon of its time, first came off the production line in September 1958. The inspired name reflected its mind-blowing performance, something it endeavoured to hold on to throughout its production life, but this became very much a secondary thought when the Bonnie came back from the dead for a second chance at the motorcycle charts.
In the 1950s, Triumph was well aware of the importance of the American market for its sales figures and for the future of the Meriden factory. It had also become very clear that sales in the States were driven neither by practicality nor thriftiness. A burgeoning motor industry stateside, and a society that craved personal transport, performance and entertainment in equal measure meant that, in order to gain sales, Triumph would need a competition clothes peg on which to hang their hat.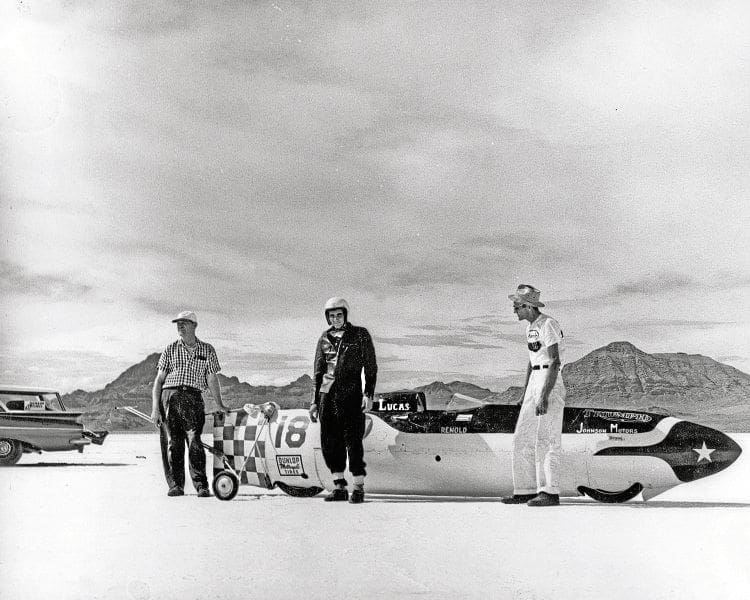 The high-profile sporting achievement that Triumph needed arrived in 1956, with the appearance of a young Texan on the Bonneville Salt Flats in Utah that September. Johnny Allen, a 27-year-old chrome plater with an affinity for motorcycles and a yearning for speed, clambered into the cockpit of a streamlined special built by the duo of Jack Wilson, service manager at Dalio's Triumph in Fort Worth, Texas, and the fantastically named airline pilot JH 'Stormy' Mangham. The streamliner, given the name of Texas Ceegar, was powered by an engine from a Triumph Thunderbird, with a standard capacity of 649cc but tuned by Wilson.
The entire engine had been prepared, with the Thunderbird's iron cylinder head being skimmed and ported to suit the twin Amal GP carbs that supplied the fuel (methanol mixed with 20% nitromethane and 5% benzole), and then tweaked to attain an 8.5:1 compression ratio, all fired into life with a Lucas racing magneto. Wilson also fitted a 30lb crank which was reportedly made from 'Natralloy', which seems to be a material that was only used for this bike's crank, as there are no other references to it anywhere! He also fitted Cadillac V8 plain bearings on the con-rod big ends, while retaining standard Triumph roller main bearings. A Lucas magneto supplied the sparks, while a new gearbox gave the tall first gear and close gear ratios required for top-speed racing. The potent twin was housed in a one-off chrome-moly tube frame chassis, and the beast was clothed in a bespoke glass-fibre shell made by Stormy himself.
Read more in the April 2018 issue of OBM – on sale now!
Article continues below...
Advert

Enjoy more Old Bike Mart reading in the monthly paper.
Click here
to subscribe.