A motorcycle view of East Germany in 1989, as undertaken by John and Kath Robinson. But why East Germany? This was a question they would be asked by lots of people… including the East Germans!
Having read an article by the late Terry Martin in the VMCC journal, detailing a tour of the Harz Mountains, I was fascinated by the description, writes John Robinson. The only option was for me and my wife, Kath, to see for ourselves. It was 1989 and the iron curtain was still very much in place.
The ferry from Hull to Zeebrugge was booked by telephone, but accommodation in the DDR was more difficult. All accommodation had to be booked and paid for before a visa could be obtained.
We opted for two nights in Potsdam (near Berlin) and six nights in a village called Berga in the Unter (Lower) Harz. This was booked through Berolina Travel, the official agent for the DDR.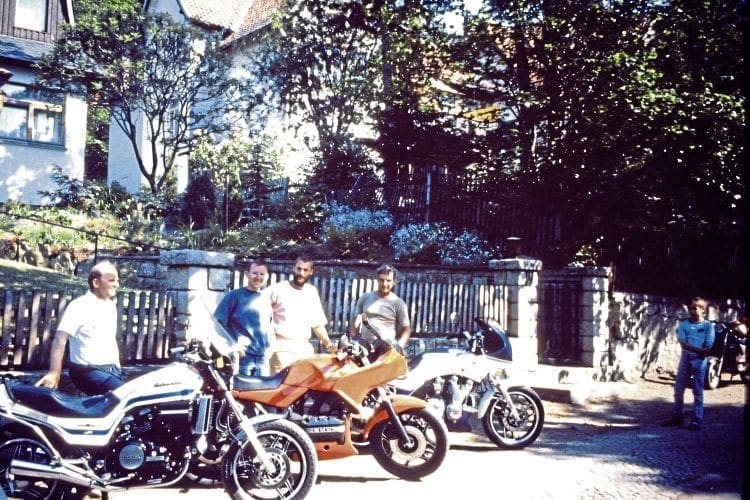 Our motorcycle, a BMW K75S (registration number F913 MJH), was readied and we practised packing and repacking our luggage into the panniers and rucksack.
Our date of departure arrived and, after mentally checking through all our paperwork (for the fourth time), we set off for Hull in brilliant sunshine. This set the pattern for the rest of the holiday – in two weeks we had only 10 minutes of rain!
Our first day on the continent was spent travelling to and sightseeing in Hameln (known as being the location of the famed rat-catcher, the pied piper of Hamelin), still in the West. The following day we travelled to Helmstadt to cross into the East.
After having travelled from Belgium to Holland and then Holland to West Germany without being stopped by customs even in those pre-EU days, the crossing into the DDR was rather awe-inspiring.
On the West side we went into a car park and then onwards into a large hall marked 'Allied personnel'. Going to the British desk, the border forces soldier gave us a run down on do's and don'ts when visiting the East.
On crossing the border we were stopped at four separate checkpoints. All our documents were taken from us and placed in a leather pouch, which in turn was placed on a conveyor belt, to be checked by the powers-that-be. These were returned to us at a later checkpoint.
The crossing had 12 different lanes; we got the wrong one and the East German border official became more and more angry with our failure to understand him. His voice got louder and I'm sure he was saying 'watch my lips' in German.
Read more and view more images in the October 2018 issue of OBM – on sale now!