I thought I would tell you the often told tale of when my wife lost me off the back of my Bantam on the way back from the pub in 1971.
When I was courting my now wife Pauline – when she was 16 in 1971 – it seemed a good idea that she should learn to ride a bike as well as myself.
At the time I had a 1952 D1 125cc Bantam – with leg shields and a bum pad on the back – for a spare bike, as well as my 1949 BSA 500cc B33.
In those days if you had passed your test you could ride on the back of a learner up to 250cc when they had L plates, but you were supposed to obey the drink-driving laws like the driver, and the breathalyser had only been introduced a few years previously.
Most people did not take too much notice of it at the time as there were no random checks and you were only tested if you were driving erratically or had an accident, but still were banned for a year if caught.
It was a good idea to be allowed to ride on the back for a learner as you could steer the bike as well as shout instructions in their ear while they were learning, as there are quite a few things to learn when never having driven or ridden on the road before.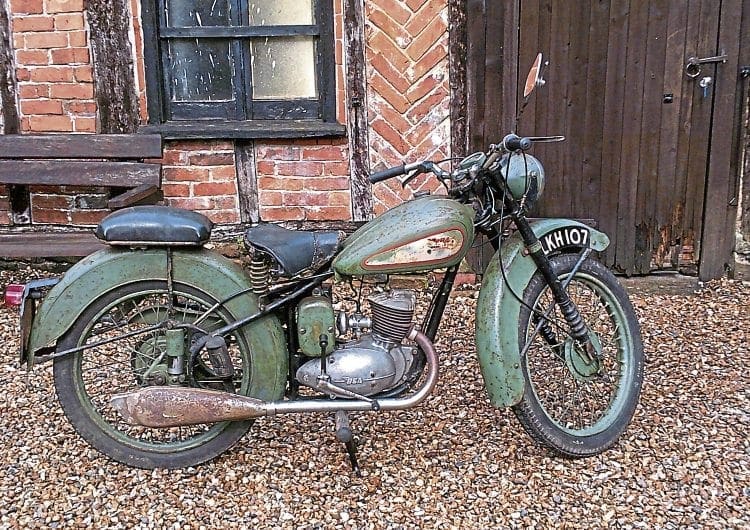 Pre CBT days, it was straight out on the roads with no instructions or training!
On the way back from the pub one night, with my wife Pauline riding, we came to a T-junction on the normal route home.
She started to pull away nice and gently as usual so I relaxed a bit on the bum pad on the back, then all of a sudden she seemed to open the throttle fully and fully let the clutch out.
You can imagine the surge of acceleration from all 41/2bhp of Bantam power, and I had relaxed well assuming the normal gentle pull away, plus having consumed my regular half-a-gallon of beer.
I did not shout as I did not want to startle her and make her crash, so I just gently, quietly rolled off the back like one does in that sort of situation.
When she arrived at my parents' house, I was gone.
She thought I had jumped off the back coming down my parents' long drive and was hiding somewhere ready to jump out and startle her.
Anyway, after a while she had realised I was lost somewhere en route.
After a while of searching for me, Pauline had to go into my parents' house in tears and tell them: "I have lost him!"
My dad said: "No problem we better go and find him," and they all jumped in the car and found me walking through the next village two miles away, totally happy, carrying and swinging my helmet totally unharmed.
This story has been told many times. Attached is a photo of my current Bantam, very similar to the one I had back then, although Pauline does not go on a bike any more as she has a bad back.
Alex Taylor
Read more Letters, Opinion, News and Features at www.oldbikemart.co.uk and in the April 2020 issue of Old Bike Mart – on sale now!