Just before this issue of Old Bike Mart went to press, H&H Classics started to auction a collection of no fewer than 30 unrestored Ariel Leader, Arrow and Arrow Sports motorcycles, plus a range of parts, at Donington Park.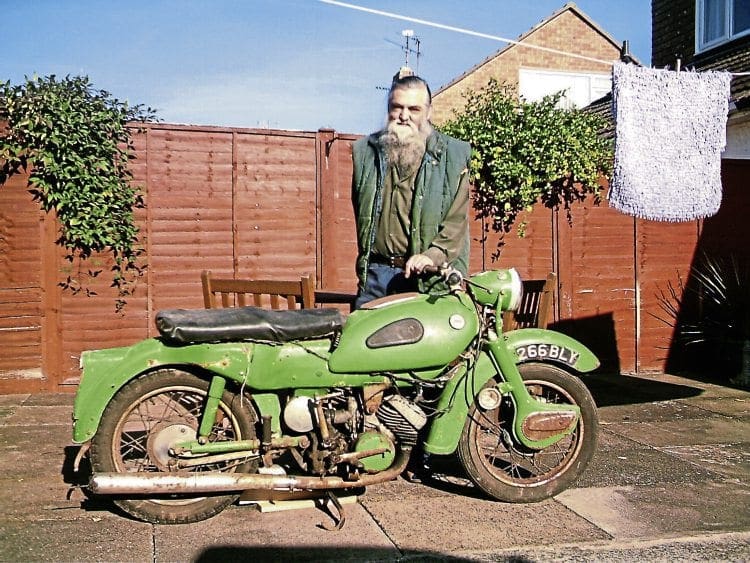 The two-stroke twins, which have been collected by Clive Pearson, 68, of Leicester over the past three decades, will be sold at H&H Classics auctions throughout the year, from February 22, and Clive is selling them to fund his other passion of German machines from the Second World War.
Having restored a tracked German NSU Kettenkrad in the past (road-legal because they have rubber treads in the metal tracks) he's on the lookout for another.
Clive's passion for the Ariel two-stroke twins started when, against his parents' wishes, he bought one for £10 because he was so taken by its "futuristic looks". His ambition was always to own a 'Golden Arrow', but his parents would never lend him the money to buy one.
Years later his father, then aged 90, told Clive that, having said no all those years ago, he would relent and buy him one. That bike remains Clive's pride and joy and is definitely not part of the sale.
A foundry pattern-maker by trade, Clive loved the Ariels' outstanding cornering ability afforded by the sturdy leading link front forks. "I searched out bikes about to be broken up for scrap and rebuilt them," he said. "My idea was to save them for posterity, but now the time has come to pass them on to others who love the marque."
As for the Kettenkrads, he said: "In first gear they can pull down a house, and in top gear they can top 50mph. Once I pulled a 13-ton beer truck out of the mud at a festival with one after a Land Rover made no headway. We all ended up having free beer all weekend!"
In German 'ketten' means chain, or tracks, and 'krad' is an abbreviation for 'kraftrad', a military term for 'motorcycle'.
Read more News in the March issue of OBM – out now!