The recent OBM article about the Ariel FH Sports took me back to my days as an apprentice compositor at McCorquodales (Printers) in Euston.
I left school at the age of 15 on Thursday, July 24, 1958 and began a six-year apprenticeship the next day, so there was no holiday that year!
In 1959 a 'journeyman comp', Tony Ayling, joined the firm and campaigned the Queen's Highway on a very noisy road-going racing Bantam. However he'd just ordered a brand-new Ariel FH Sports sidecar outfit in black and red from Pullins in Lordship Lane, Goose Green, East Dulwich. Attached to the bike was a Garrard Grand Prix single-seat sidecar in matching colours, and the bike was also adorned with an Avon Streamliner fairing in black.
This beautiful and fast outfit was more expensive than the Austin Mini that had just been revealed to an excited public.
Tony and I became friends, and I often acted as ballast in the chair. On some evenings we'd go from his home in East Dulwich to Brighton, and we'd get there in just under an hour despite there being no motorways then.
Occasionally we were accompanied by an enthusiastic BSA Gold Star owner who claimed we once did 103mph past London Airport in that outfit.
If I remember correctly, the tuned-spec Ariel was made for the Canadian export market, and just a few of them were sold in England. During the very first week the back wheel collapsed and had to be rebuilt with extra thick spokes as it was producing so much grunt. The bike also sported solo gearing despite the sidecar.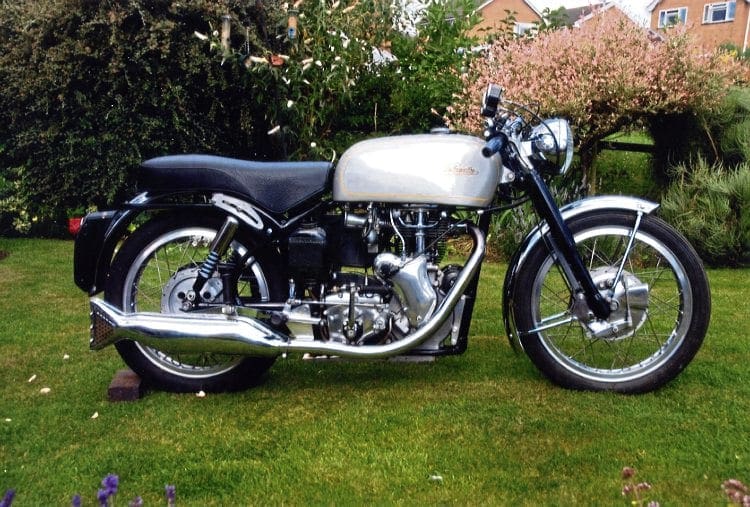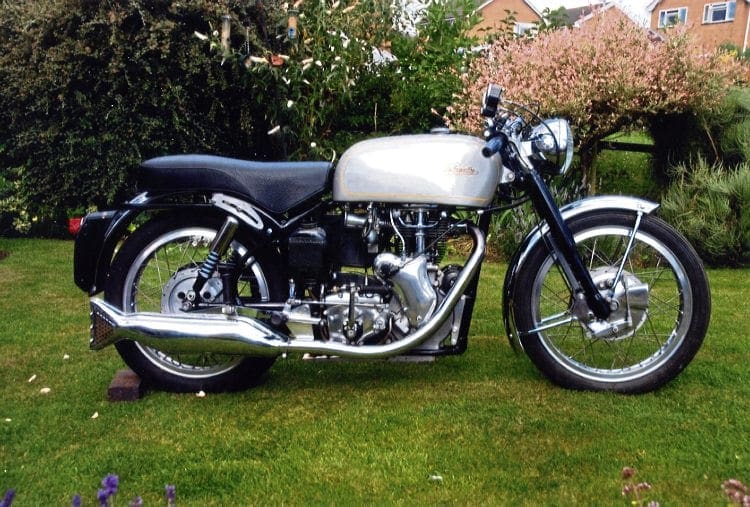 I bought the Bantam from Tony while I was doctoring/tuning the 1948 Velocette MAC that became my main source of transport before I rebuilt a completely dismantled 1939 KTS, but that's another story.
By now I was anxious to take my test. Clearly the unsociable Bantam wasn't the best to use, and the Velo was taking longer than expected to get back on to the road. It was then that Tony offered me the use of his lovely outfit. Over time he duly taught me the art of driving a sidecar outfit, and the day arrived for my test in Lewisham at 3.30pm.
It was the Friday before Christmas Day, with many inebriates on the roads, and as I walked from my home in Herne Hill to Tony's in East Dulwich, I was badly shaken when I witnessed a serious accident.
When we arrived at the test centre, Tony plonked himself in a nearby cafe and the examiner offered to cancel my test when he learned of my earlier experience. I declined, and with the examiner safely tucked in the chair, the test began.
At one point I stalled the bike on the hill start, and had to explain to him that, because the bike was pulling solo gearing, it needed quite a handful of revs to get it moving on a hill – and with his ear about two feet from the silencer, I was concerned about the noise this would make.
"Do whatever you must to get it going, son," he said – and I passed! We arrived back at the test centre at 5pm, and considering that we'd been out for 90 minutes, I'm sure the examiner had simply enjoyed himself in the chair as we negotiated the roads around Lewisham, Catford and Greenwich.
"Where the hell have you been?" Tony asked.
"Get in", I said. "I'm taking you home without the 'L' plates".
Sadly, I haven't a photo of the outfit – perhaps those clever computer chaps out there could produce a CGI of it?
Tony's usual passengers were his wife Alvis on the dual seat, and his young son, Tim, in the chair.
Alvis told me that on one occasion they were cruising along a wide road in Brixton with the twistgrip closed as the traffic lights were showing red in the distance, but as they neared, the lights turned to green so Tony snapped open the throttle and sped off.
Neither of them had noticed that young Tim had been standing up on the sidecar's seat, and the acceleration resulted in him doing a backwards somersault, landing on his feet in the middle of the road!
A following car driver stopped, gathered him up, chased after Tony and handed the young lad back to his astonished parents.
A lot of time was spent tweaking the Ariel after taking it out for a thrashing, or maybe Tony just liked playing with it, but after a few years it was replaced by a 250cc Honda, which just carried on working whatever was asked of it.
The writing on the wall was screaming loudly! The 250cc Honda was replaced by a 305cc model (I think) and then a 750cc four. I did once borrow the seven-fifty, but it simply didn't like going around corners and seemed absolutely determined to go in a straight line – quite frightening when you were used to the superb handling of a Velocette.
Eventually I adopted speedway-style steering, riding on the back edge of the tyre and forcing it over, but was glad to hand it back.
Earlier articles in OBM have mentioned the various cafes that were used by bikers around the North Kent/South London area. I visited all of them at various times, with my fiancée on the pillion, but my favourite was The Saltbox at Biggin Hill.
Although I was a keen motorcyclist, I wasn't really into the Rocker image and was what they called a 'Mocker', wearing smart Mod clobber but on a motorcycle.
I much preferred my tuned Velo, which I used for commuting and pleasure, and I always wore a waxed jacket and trousers for protection, knee-high, highly polished leather boots, courtesy of Lewis Leathers, sheepskin-lined for winter, unlined for summer.
The pudding basin crash hat was painted bright red and sported a 'White Rose of York' transfer as the girl that I was courting (later to become my first wife) came from Yorkshire. She was kitted out in matching style, and we looked the canine's gonads!
While I'm at it, does anyone else remember the biker who used to thrash a Constellation around Box Hill? He had horns on his crash hat and looked like a Viking warrior, and he scared the wits out of me once when he managed to whiz past me as I was absolutely flat out on the Velo on that particular curve!
A couple of years ago I bought my current bike, a 1959 silver and black Venom Clubman. Looking to replicate the Rocker image of the past that I had previously rejected, I bought my first-ever leather motorcycle jacket. Picture the image, dear reader – highly polished, knee-high leather boots, matching silver and black full-face crash hat, black leather jacket and silver scarf blowing in the breeze – looking all the part of a ton-up Rocker.
I was doing about 50mph along the A5 at the Kilsby roundabout when one of those horrible little scooter things went zapping past me – and it was wearing 'L' plates!
The irony was not lost on me, and yes, I laughed my socks off!
George Sampford,
Email
Read more Letters, Opinion, News and Features in the October issue of OBM – on sale now!