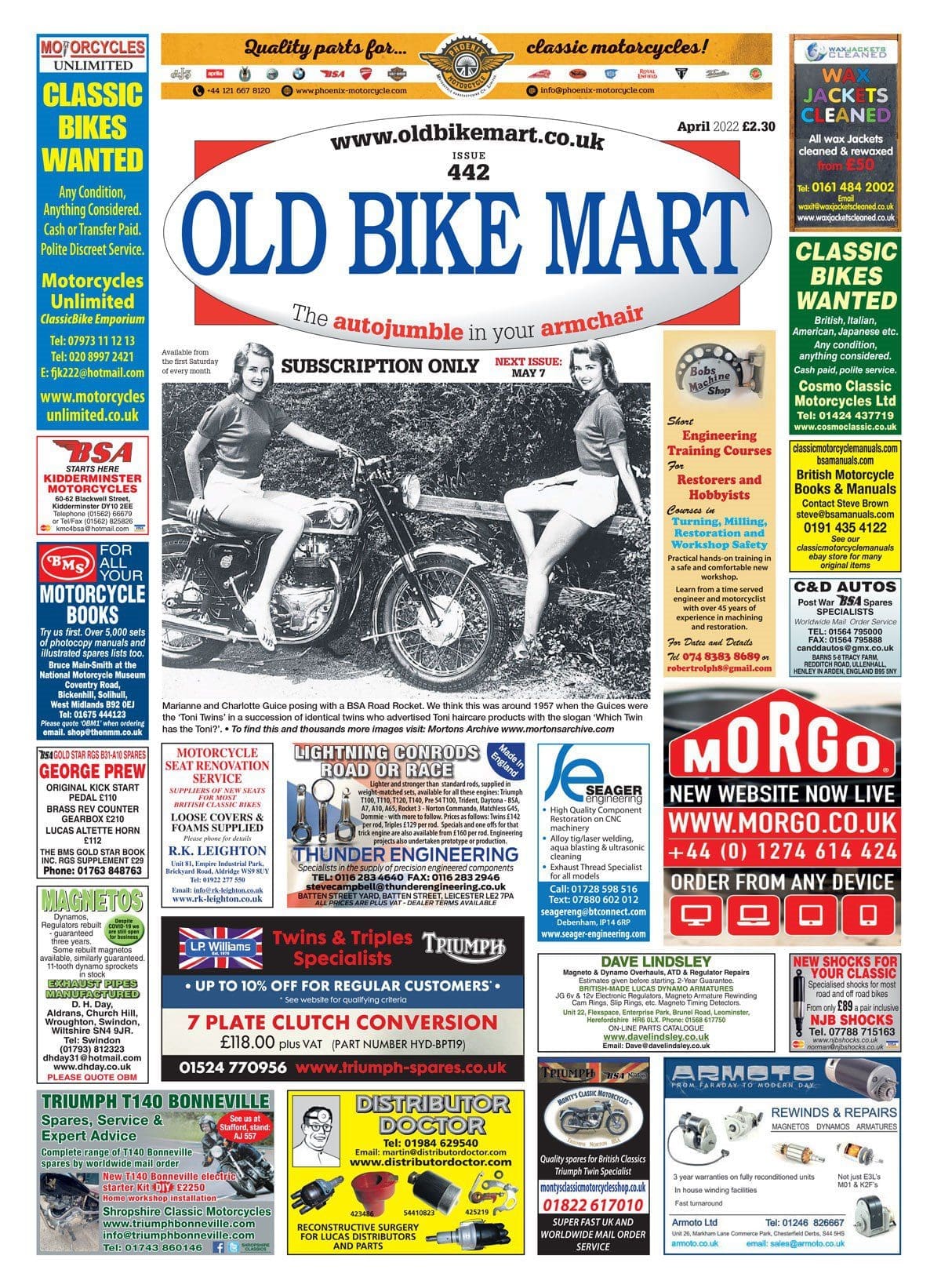 Welcome to Old Bike Mart, the subscription-only newspaper with the UK's largest selection of classic motorcycle classified ads.
This month's OBM, as always is the case, features the latest news, reports from the racetrack, part and tool reviews and 'how to' guides. Ensure you get your copy by subscribing to OBM here.
We call OBM the autojumble in your armchair, which it is… but there's so much more to this publication. It's like meeting an old friend for a walk down memory lane, with plenty of laughs thrown in and some evocative pictures to mull over.
Here's a look inside the pages of this month's issue…
Behind F2 Motorcycles
In this second of his profiles of sidecar movers and shakers, Mick Payne gives an insight into the background and business of David Angel of F2 Motorcycles.
Bristol Classic MotorCycle Show
Returning after a year's rest, the Bristol show swung back into action in February. John Milton was there to soak up the atmosphere while Del Hickey was on hand to record it all in pictures.
Motor Cycle's final makeover
First published at the start of the 20th century, and an irreplaceable source of many of our archive features today, the legendary titles Motor Cycling and The Motor Cycle remained in magazine format throughout two world wars – but in the 1960s newspaper-style took over and things would never be the same again. Pete Kelly gives an insight into a hectic period of change.
And lots more, including…
Stafford Show celebrates Mike Hailwood
The Golden Era Run goes back home
From Bantam boy to Speedtwin tearaway: Part 3
Part 13 of A-Z of British motorcycles: G