The world of motorcycles lost one of its most eccentric geniuses when coronavirus claimed Angus 'Ag' McPhail in April.
He was best known in drag racing and sprinting circles, particularly for Jade Warrior, that had him stretched out on his stomach ahead of a supercharged two-litre four cylinder engine that used a Cosworth cylinder head on a home-brewed barrel and upper crankcase, cast as one. It drove a big car slick through a torque converter and, in the 1980s, he was the first Englishman to get into the seven-second bracket for the standing start quarter mile without using nitro-methane for fuel. Google 'Jade Warrior' to see him in action and prepare to be amazed.
He was born in Pinner and made his mark early on with a 1930s 250cc BSA that went better than it should, but him serving an apprenticeship at the De Havilland aircraft factory in Hatfield meant access to advanced knowledge and materials.
He built a Formula Junior single-seater racing car there and was renowned for getting special parts made; a set of close-ratio gears for the Volkswagen gearbox would have cost close on £200 in the 1960s, but not with his connections!
Plans for the car didn't advance far when he got involved in bike sprinting and he sold the Macon design to Tony Houghton, who went on to build a series of them.
He had a lesser-known second hobby with the manufacture of small bombs, using a blend of fertiliser and sugar sealed in steel tube with an Airfix model jet engine fuse. If he wanted a long delay, he'd light a fag and wrap the fuse around it, which could give up to 10 minutes' delay while we all got out of the area.
He made a special underwater version with the fuse fed through a long plastic tube and the bomb suspended on bent welding rod, then hung over the sluice gate on the ornamental pond in posh suburban Pinner.
The idea was to blow the gate out and drain the pond, but although it went off with a huge tower of water – think of a small anti-submarine mine – and all the ducks were up and away in panic, the gate held. He gave up being an urban terrorist before he was discovered, and concentrated on bikes.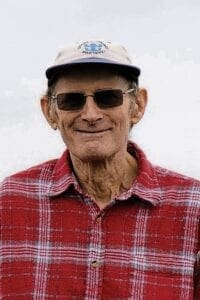 His first sprinter was the knee-high Ariel Arrow-powered Ag's Barrow, breathing methanol through a big carb and later tried on a model aircraft fuel containing nitro-methane, but that wasn't any faster.
The bike had a tubular space frame, with alloy panelling bonded by aircraft adhesive and rivets – like Formula One racing cars had been using.
It was quick and got a front cover picture in The Motor Cycle with an enthusiastic write-up by technical editor Vic Willoughby. He also gave time to help me and John Cruttenden build a 500 Triumph sidecar outfit that won the sidecar class at the 1964 Ramsey Sprint at the TT, then decided to get serious with the Macon three-wheeler.
Lambretta front wheel, driver and crewman lying side by side with fuel tank, supercharger, 500 Triumph engine and Norton gearbox in line down the centre spine, with two Mini wheels on the rear axle.
It took world and national records, standing quarter-mile times in the low 13 seconds before it was sold to Dave Green, who put a 650 motor in and took 750 world and national records.
He never stopped thinking of ways to build something better and faster and his next three-wheeler had room only for driver and ballast, with the first version of his four-cylinder engine driving twin rear wheels via a torque converter. I drove that for an MCN feature and it was a very stable and fast ride. Lessons learned with that led to the ultimate head-first projectile, Jade Warrior.
By that time he was working closely with Mick Hand and then Keith Parnell, whose 750 Triumph was modified to give ground effects with a skirt like Formula One cars of the time used, in this case the exhaust gases sucking the bike down and giving much better traction.
That careful development work gave Keith the bike to make him the first English rider to get below nine seconds for the quarter mile.
When the same technology was applied to Jade Warrior, Angus reckoned it gave something like 1000lb of downward thrust, a nominal bike in some people's eyes, but all it had was two wheels and a huge amount of engineering knowledge; he was a big draw at bike events in Europe, with crowds looking on in wonder.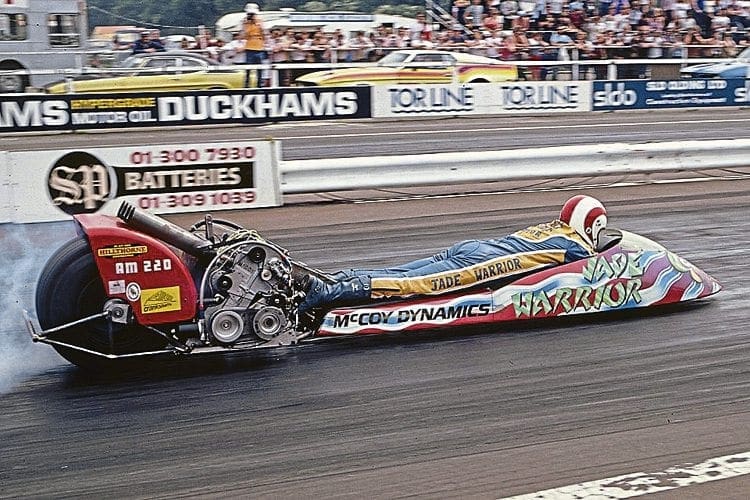 He left De Havilland and worked on the Ford GT40 project from their base in Slough, putting in silly hours and building his own projects at the same time.
When that ended, he set up as a self-employed gas fitter and engineer, again working silly hours either on the business or in his garage at the bottom of the garden.
In recent years he'd been working with old team-mates Mick Hand and Keith Parnell on Keith's son Lorcan's Honda-powered compound turbo bike that is running in the six-second bracket and beginning to make rivals take serious notice.
With the loss of such a vital element you might think that progress will stall, but I wouldn't suggest you put money on that.
I suspect there will be an even greater wish to succeed, simply to honour the memory of an inspiring team member taken by a damned little virus long before his time.
Uncle Jim Reynolds
Read more News and Features at www.oldbikemart.co.uk and in the May 2020 issue of Old Bike Mart – on sale now!
---
Advert

Enjoy more Old Bike Mart reading in the monthly paper. Click here to subscribe.
---